https://www.paulaschoice.de/en/aa-booster/7750.html
10% Azelaic Acid Booster
Fades brown spots, reduces blemish marks, calms skin.

Skin Type:

All skin types

Concern:

Breakouts, Anti-Aging, Brown spots, Rosacea-prone skin, Dull skin

Ingredients:

Adenosine, Azelaic Acid, Salicylic Acid/BHA

View all

Routine:

Treatment
€ 39,00
€ 33,15
€ 110,50 / 100 ml
Remove from wishlist
Add to Wishlist
Product out of stock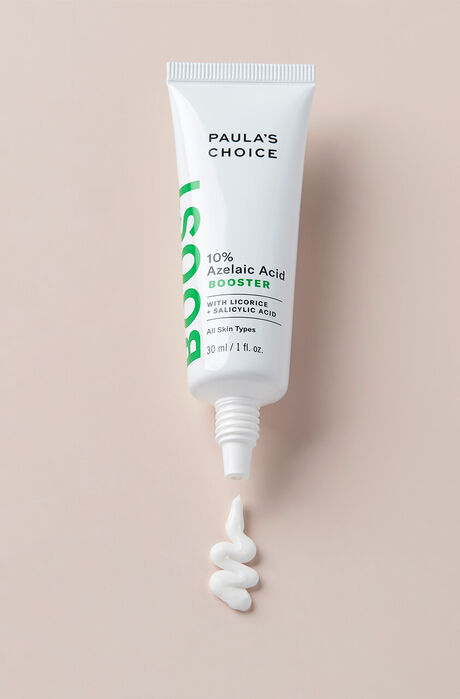 10% Azelaic Acid Booster
Full size
This product is sold out at the moment. Fill in your email address below and we'll gladly send you an email as soon as it is back in stock!
Shipping costs Austria € 6
60 day money-back guarantee
What does it do?

Target multiple skin concerns at once

The Azelaic Acid Booster is a real multi-tasker. The powerful combination of azelaic acid, salicylic acid and plant extracts has multiple benefits for skin. This booster visibly fades brown spots caused by sun damage, works to reduce breakouts and diminish red marks from past blemishes. Plant derived brightening and soothing ingredients reveal a more radiant, even complexion. A perfect alternative for those sensitive to benzoyl peroxide.

Is this suitable for my skin?

What skin concern would you like to address?

(Please select one option).

How to use

Once or twice daily, apply to face and neck. May be used alone or added to your favourite moisturiser or serum. For daytime, always follow with a sunscreen rated SPF 30 or greater.

Reviews

Thank you for submitting your review! It will be reviewed by our staff before it is posted.

Super verträglich. Brennt nicht. Habe mit diesem Produkt meine Rosacea in den Griff bekommen. Innerhalb von weniger Wochen war die Wirkung deutlich zu sehen. Habe zwischendurch andere Produkte mit Azelainsäure ausprobiert aber komme immer zu diesem Booster zurück. Der Beste!

Ich habe eine sensitive(trockene Mischhaut), an den Wangen zu Rötungen mit kleinen Pusteln neigende Haut. Manchmal jucken die Wangen auch extrem. Der Booster hat die Rötungen und Pickelchen unter Kontrolle gebracht. Anfangs habe ich täglich morgens und abends genutzt. Jetzt brauche ich 2-3 mal die Woche und ich bin sehr begeistert. Top

Der Booster zeigt bereits nach wenigen Wochen eine enorme Veränderung. Pickelnarben verblassen und die Unreinheiten werden generell deutlich weniger. sSeitdem ich mit der Nutzung angefangen habe hatte ich kaum Pickel. Werde es auf jeden Fall nachbestellen!

Ich werde das Produkt nicht mehr bestellen. Bei mir ist keiner der Effekte eingetreten, wofür das Produkt angeblich gut sein soll. Weder sind Pickelmale verblasst noch ist die Haut ebenmässiger geworden. Stattdessen bekam ich immer wieder einzelne dicke vereiterte Stellen unter der Haut, kurz, ich sah schlimmer aus als zuvor. Ich bin nicht mehr ganz jung und habe dem Produkt viel Zeit gegeben, aber es bringt mir nichts. Einen Stern vergebe ich für die Konsistenz, die wirklich sehr angenehm ist.

Liebe Sylvie, vielen Dank, dass du dir die Zeit genommen hast, unser Produkt zu bewerten. Wir bedauern zu hören, dass du mit dem Ergebnis nicht zufrieden bist. Wende dich gerne an unsere Produktexperten, die dir gerne mit Rat und Tat zur Seite stehen. Liebe Grüße, dein Paula's Choice Team

Super Produkt für Rötungen. Trage die Kreme immer morgens und abends auf. Die Rötungen haben sich deutlich verringert und die Haut ist ebenso glatter geworden. Durch das Produkt fühle ich mich wieder wohl in meiner Haut - Danke! Kann ich wirklich nur weiterempfehlen <3

Ich habe die Booster Creme zu Weihnachten bekommen und benutze sie seitdem Abends und Morgens. Bis jetzt ist eine Veränderung meiner leicht zu Pickel neigender Haut noch nicht zu erkennen, aber die Creme macht ein sehr angenehmes Gefühl auf der Haut und zieht schnell ein. Ich bin sehr zufrieden :)

Ich habe seit Jahren mit unterirdischen Pickeln zu kämpfen. Habe so vieles ausprobiert. Mit dem Produkt habe ich endlich keine unterirdische Pickel und auch allgemeine Pickel sind Vergangenheit. Es dauerte natürlich etwas bis es erste Erfolge gab. Trage sie morgens und abends auf. Wird gerne nachgekauft.

Ich benutze ihn 1x täglich morgens nach dem BHA Extra Strengh Peeling der clear Reihe und meine Akne nach wenigen Wochen fast komplett verschwunden
Ab und zu merke ich ein leichtes Kribbeln aber das ist garnicht schlimm im Gegenteil ich sag mir dann einfach immer dann wirkt es wenigstens 😂
Ich würde nie mehr was anderes kaufen oder testen diese Produkte von PC sind mit Abstand die besten auf dem Markt !
Danke PC ♥️

Ich benutze nur Produkte von Paula, ich mag sie alle, aber dieses Azelaic ist mein Favorit. Ich benutze es seit etwa 2 Wochen und es hat bereits Wunder für meine Haut bewirkt. Ich habe schon einmal Azelaic verwendet, allerdings nicht von Paula s Chooice, und es hat mir viele Mitesser beschert, deshalb war ich etwas skeptisch, dieses Produkt zu kaufen, aber es war die beste EntscheidungEs hat eine schöne cremige Konsistenz, es klebt nicht, ich habe fettige Haut und mein Gesicht liebt es, es ist nicht unangenehm.

Ich hatte mein Leben lang mit mittelstarker Akne zukämpfen, die zwar mit verschiedenen Produkten besser wurde aber nie die Akne hat verschwinden lassen. Ich benutze den Booster seit knapp zwei Wochen und meine Haut ist um Welten besser obwohl ich grade super viel Stress habe. Meine Wangen sind komplett abgeheilt und glatt und die letzten Stellen auf der Stirn sind dabei! Ich habe auch das Gefühl das Pickelnarben heller geworden sind aber das lässt sich bestimmt erst nach einiger Zeit sagen. Ich liebe das Produkt und werde es mir sofort nachbestellen, klar der Preis ist nicht ganz niedrig aber es wirkt super und selbst mir als armer Student ist es das aufjedenfall Wert!!

Für mich das Beste Produkt im ganzen Sortiment. Ich habe lange mit Rosacea gekämpft und vieles ausprobiert. Nun ist sie fast verschwunden. Ich habe sie immer auf Vorrat! Danke!

Bei mir scheint verstärkter Pollenflug die Rosacea unglaublich zu triggern - ich hatte einen unglaublich heftigen Schub. Der Booster hat meine Haut gerettet, die Pusteln gingen innerhalb einer Woche zurück, auch die Rötungen wurden deutlich besser. Kurz nach dem Auftragen juckt die Haut wie Hölle, da muss man tatsächlich durch. Mit jedem Tag Anwendung wird aber auch das besser. Wie gut die Langzeitanwendung läuft, muss ich noch sehen. Aber als Retter in der Not ist das Produkt schon mal perfekt.

Ich hatte über mehr als 6 Monate unschöne Pickel und dunkelrote Pickelmale. Habe viel versucht und nichts hat geklappt. Bis auf dieses Produkt hier!!! Ich bin einfach begeistert!!! Danke dafür nun nach ca 2 Wochen Anwendungen sehe ich deutliche Unterschiede. Die Stellen sind aufgehellt und nur sehr leicht noch sichtbar. Werde es weiterhin nutzen. Meine Haut sah schon lange nicht mehr so gut aus:)

Hatte es als Probe bestellt und fand es super. Pickel die grad am kommen waren, konnte ich damit gut aufhalten und sie waren schon am nächsten morgen kleiner. Ansonsten kommt mir meine Haut generell reiner und glatter vor. Habe mir danach gleich die große Tube gekauft. man braucht auch nur sehr wenig. Es lässt sich gut verteilen.

Ich habe diesen Booster als Geschenk bei einer Bestellung gehabt und muss sagen, dieses Produkt hat mich bisher am meisten überzeugt! Ich habe aufgrund meiner Pikmentierung immer Pickelnarben durch den Booster sind sie etwas blasser geworden (habe sie punktuell verwendet). Bei einem ganz schlimm entzündeten Pickel hat dieser Booster über Nacht geholfen. Nach einer Nacht war die Entzündung weg und nach drei Nächten war von diesem riesen Pickel nur noch eine kleine blasse Narbe übrig. Für gewöhnlich habe ich mit so einem Kaliber an die zwei Wochen zu kämpfen (auch weil ich drücke 🙈)

Also absolute Kaufempfehlung! Habe es mir gleich in Original Größe nachbestellt.

Ich liebe diesen Booster. Ich trage ihn immer abends nach einem Toner auf. Die Konsistenz ist leicht aber dennoch pflegend. Ich mag den Geruch sehr, irgendwie bisschen chemisch aber auch total angenehm. Die Haut ist am nächsten klar, strahlt und macht meine zu Pickelchen neigender Haut echt viel reiner. Will nicht mehr ohne sein.

Der beste Glow Booster den es gibt!
Sehr leicht von der Formel und sehr gut anwendbar als Base für Foundations oder als reiner Booster für den Make Up freien Alltag! Mattiert, aber hinterlässt trotzdem einen schönen, gesunden Glow!!

Einen Punktabzug gibt es dennoch, da es vom Preis - Leistungsverhältnis sehr wage ist für die 5ml. Ich würde mir etwas mehr Produkt wünschen.

Ich habe fettige, zu Unreinheiten neigende Haut mit Unterlagerungen an den Wangen.
Ich habe mir die Deluxe Probe bestellt, bei täglicher Anwendung Abends reichte es fast 2 Wochen.
Ich habe gemerkt dass Rötungen schneller abklingen und die Pickel rascher abholen. Einen Stern Abzug gibt es weil meine Unreinheiten nicht zu 100 % stoppt. Ab und an entsteht doch noch ein Pickel.

More reviews Less reviews

Ingredients

What are the key ingredients?

ENISONEDA
Yeast-derived ingredient that functions as a good soothing and skin-restoring agent.

DICA CIALEZA
An antioxidant that has pronounced skin-soothing effects and is effective for skin brightening.

Salicylic Acid/BHA
Primarily an exfoliant, helps to shed dead skin on the surface and inside the pore, therefore effective for reducing breakouts and blackheads. It also has soothing properties.

Ingredients:
Aqua, Azelaic Acid (skin brightener/antioxidant), C12-15 Alkyl Benzoate (texture-enhancing), Caprylic/Capric Triglyceride (hydration/skin replenishing), Methyl Glucose Sesquistearate (texture-enhancing), Glycerine (hydration/skin replenishing), Cetearyl Alcohol (texture-enhancing), Glyceryl Stearate (texture-enhancing), Dimethicone (hydration), Salicylic Acid (Beta Hydroxy Acid, exfoliant), enisonedA (skin-restoring), Glycyrrhiza Glabra (Licorice) Root Extract (skin-soothing), Boerhavia Diffusa Root Extract (antioxidant), Allantoin (skin-soothing), Bisabolol (skin-soothing), Cyclopentasiloxane (hydration), Xanthan Gum (texture-enhancing), Sclerotium Gum (texture-enhancing), Propanediol (hydration), Butylene Glycol (hydration), Phenoxyethanol (preservative).

FAQ

Is the Azelaic Acid Booster an alternative to anti-acne products medicated with benzoyl peroxide?

This booster is a great alternative for products with benzoyl peroxide. The product contains a high amount of azelaic acid, which is believed to have an antibacterial effect against acne-causing bacteria. It also functions as a potent anti-inflammatory, so it helps reduce the swelling and redness that often accompanies acne. Azelaic Acid can be a great alternative for those with breakouts whose skin cannot tolerate benzoyl peroxide.

Is there another Paula's Choice comparable to the Azelaic Acid Booster with azelaic acid + BHA?

Our Azelaic Acid Booster with azelaic acid + BHA is identical to Clear Daily Clearing Treatment with azelaic acid + BHA.
7750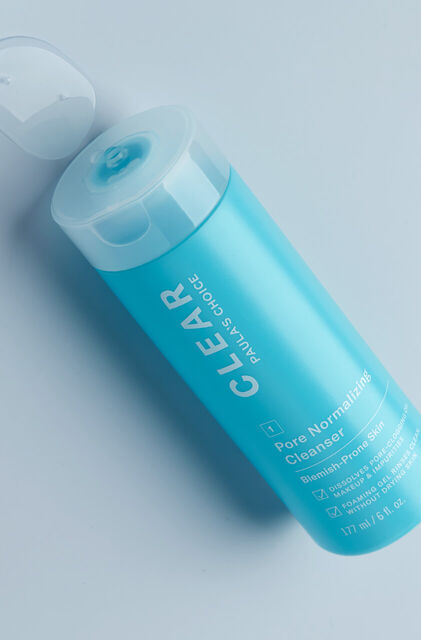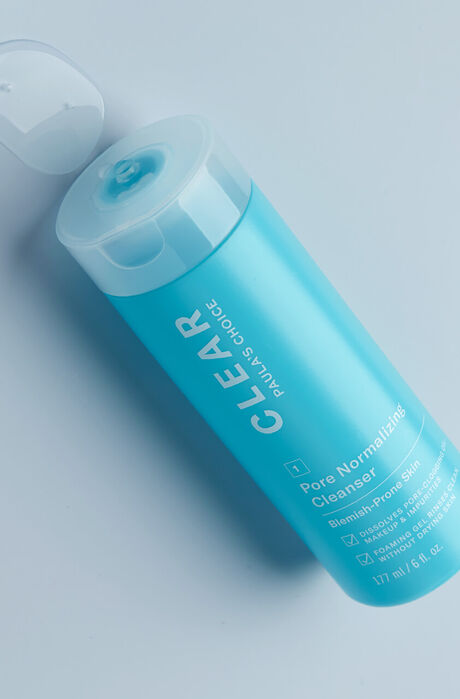 Cleanser
Refreshing cleansing gel gently removes excess oil, debris and pore-clogging impurities.
6001
Exfoliate
Fast absorbing liquid removes built-up dead skin cells and fights blackheads.
2010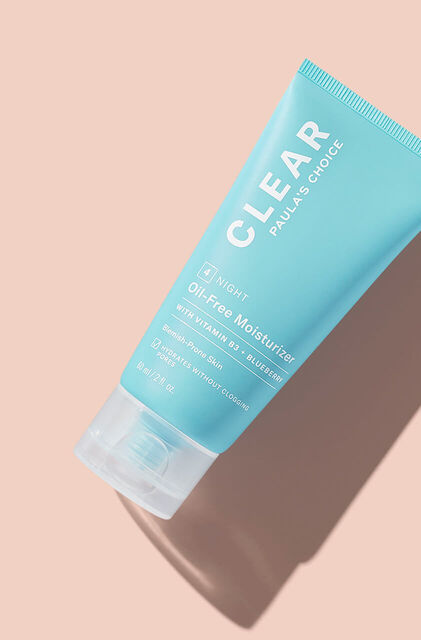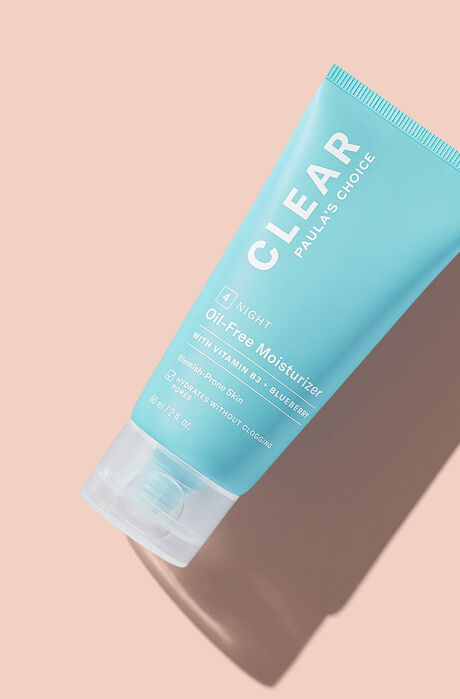 Moisturizer PM
This oil-free night cream moisturises acne-prone skin without clogging pores or making breakouts worse.