https://www.paulaschoice.de/en/calm-redness-relief-combination-to-oily-skin-bundlecalmoily.html
Calm Set - Oily Skin
This Set soothes red, irritated and sensitive skin.

Skin Type:

Combination skin, Oily skin

Concern:

Redness , Rosacea-prone skin , Sensitive skin

Ingredients:

Aloe Vera , Beta-glucan , Glycerin

View all
Remove from wishlist
Add to Wishlist
Product out of stock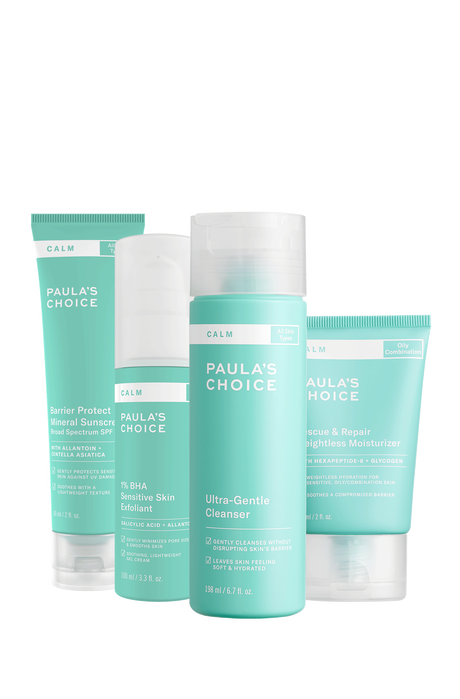 This product is sold out at the moment. Fill in your email address below and we'll gladly send you an email as soon as it is back in stock!
Shipping costs Austria € 6
60 day money-back guarantee
What does it do?

Be extra gentle for your red, sensitive and break-out prone skin

Do you have sensitive skin? Redness that will not go away? Or even rosacea-like spots? And on top of that break-outs? Then this Calm Redness Relief collection is for you. The set soothes your irritated, extra sensitive skin and reduces redness.

Key Features

Suitable for rosacea-prone skin

How to use

First use the cleanser. Then you apply the exfoliant (note: do not rinse). As last step apply the day- or nighttime moisturiser.

Reviews

Thank you for submitting your review! It will be reviewed by our staff before it is posted.

Ich bin total begeistert von der calm und der Clear Reihe für mich funktionieren sie super jedes Produkt ist sein Geld wert. Bestelle jetzt seid fast einem Jahr bei euch und bin sehr froh eure Produkte gefunden zu haben.
Für alle die mit der 1%bh Lotion nicht klar kommen kann ich die 2% ige aus der Clear Reihe empfehlen die hat bei Mir auch besser funktioniert. (fettige, unreine Haut)

Habe mir dieses Set bestellt, da ich eine Mischhaut mit Akne, vergrößerten Poren und einigen Rötungen habe. Der Cleaner funktioniert für mich gut und reinigt ohne zu sehr zu reizen. habe danach kein spannendes Gefühl bzw. nur wenig. Auch die Nachtcreme finde ich gut, sie gibt eine gute Grundlage an Feuchtigkeit. Die Sonnencreme zieht auf meinem Gesicht nicht wirklich ein und ich muss dann Make up auftragen da mein Gesicht sonst noch blasser aussieht. Das BHA Peeling bewirkt leider gar nichts bei mir, ich verwende es nun 3-4 mal pro Woche Abends aber ich habe keinerlei Veränderung meines Hautbildes gesehen außer zunächst eine Verschlimmerung. Hatte mir leider mehr erhofft

Liebe Linda,
vielen Dank, dass du dir die Zeit genommen hast, unser Produkt zu bewerten. Wir bedauern, dass du keine guten Erfahrungen mit dem Produkt machen konntest.
Das BHA- Produkt ist leider nicht das richtige für den von dir beschriebenen Hauttyp. Wende dich gerne an unsere Produktspezialisten für eine Beratung.

Habe es mir bestellt in der Hoffnung endlich meine Pickel in den Griff zu bekommen. Die Produkte benutze ich seit Anfang September. Den Reiniger und die Nachtcreme finde ich sehr gut. Der Reiniger reinigt das Gesicht ohne zu brennen oder zu sehr zu reizen, die Nachtcreme gibt eine schönbe Feuchtigkeit. Die Sonnencreme ist sehr flüssig also aufpassen und weißelt bei mir sodass mein gesicht noch blasser aussieht. Das Peeling hat bei mir leider gar nicht gebracht und nachdem meine Haus sich in den ersten Wochen noch verschlimmert hat (wobei ich dazu sagen möchte dass ich antürlich nicht 100 % ig sagen kann, ob es davon ist), habe ich jetzt noch einige Pickelmale dazu bekommen. Bin deswegen auch am überlegen ob ich in die anderen Produkte, die ich mir eigentlich noch bestellen wollte, wirklich investieren möchte, da dieses für mich leider nicht optimal funktioniert.

Liebe Linda, vielen Dank, dass du dir die Zeit genommen hast, unser Produkt zu bewerten. Wir bedauern, dass es bei dir nicht die gewünschten Effekte gebracht hat, jedoch ist dieses Set auch eher weniger für die unreine Haut und die Beseitigung von Pickeln geeignet. Dafür gibt es wesentlich bessere Produkte. Auch kommt es bei den Produkten, gerade auch bei BHA stark auf die Anwendung am Anfang an.
Wende dich gerne an unsere Produktspezialisten für eine Beratung.
LG, dein PC- Team

More reviews Less reviews

Ingredients

What are the key ingredients?

Aloe vera
Plant extract that has soothing properties, antioxidant qualities, and serves as a hydrating agent.

Beta-glucan
Excellent ingredient for improving the look of redness and other signs of sensitive skin. It has some antioxidant properties and is a skin-soothing agent

Glycerin
Skin-replenishing and restoring ingredient, found naturally in skin. It helps skin to maintain a healthy look and feel, defending against dryness.

Please check the individual products for ingredient listings.