https://www.paulaschoice.de/en/calm-redness-relief-set-normal-to-dry-skin-bundlecalmdry.html
Calm Set - Dry skin
This Set soothes red, irritated and sensitive skin.

Skin Type:

Normal skin, Dry skin

Concern:

Redness , Rosacea-prone skin , Sensitive skin

Ingredients:

Green Tea Extract , Salicylic Acid/BHA , Squalane

View all
Remove from wishlist
Add to Wishlist
Product out of stock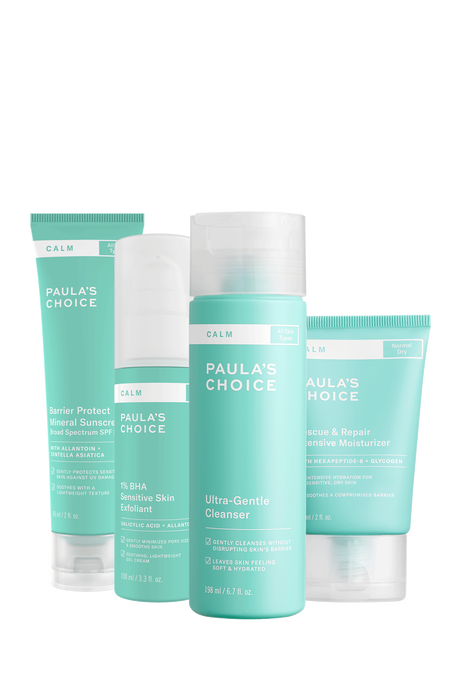 This product is sold out at the moment. Fill in your email address below and we'll gladly send you an email as soon as it is back in stock!
Shipping costs Austria € 6
60 day money-back guarantee
What does it do?

Be extra kind to your red and sensitive skin

Do you have sensitive skin? Redness that just will not go away? Or even rosacea-like spots? Then the Calm Redness Relief collection for you. This set soothes your irritated, extra sensitive skin and reduces redness.

Key Features

Suitable for rosacea-prone skin

How to use

First use the cleanser. Then you apply the exfoliant (note: do not rinse). As last step apply the day- or nighttime moisturiser.

Reviews

Thank you for submitting your review! It will be reviewed by our staff before it is posted.

Vor zwei Jahren ist bei mir die Rosazea ausgebrochen und seit dem suche ich nach den perfekten Pflege Produkten und bin nun fündig geworden.
Das Set funktioniert super! Der Reiniger ist mild, aber gründlich, das BHA Peeling ist der Knaller für den Glow und gegen Rosazea und Entzündungen, die Cremes versorgen meine Haut perfekt und ich hab ein tolles hautgefühl damit.
Ich bin so froh endlich etwas gefunden zu haben, was bei meiner komplizieten haut funktioniert! Ich kann das Set nur weiterempfehlen!

Ich hatte zwei Jahre sehr unreine, gereizte aber auch trockene Haut. Ich habe so viel ausprobiert und nichts hat geholfen. Diese Pflegeserie hat alles verändert! Meine Unreinheiten, Rötungen und vergrößerte Poren alles ist verschwunden, dass hätte ich nie für möglich gehalten!

Ich habe seit lange so Produkte gesucht, jetzt habe ich sie endlich gefunden. Bin sehr zufrieden mit diesem Set, ich werde wieder kaufen. Es hat mein Gesicht gerettet! Bin 26 Jahren, mit einem problematischen Hauttyp normale bis trockene! Seit 2 Monaten nutze ich dieses Set und die Pigmentflecken, Mitesser, Rotenflecken, Pickeln sind schon weg! bin sehr glucklich!

Ich bin sehr zufrieden, seitdem ich dies Set gekauft habe. Schon ab erste Woche habe ich bemerkt, dass mein Gesicht viel besser ist. Ich konnte nicht glauben, dass ich endlich die beste Care Produkte gefunden habe. Ich hab immer gedacht, dass ich oellige Hauttyp habe, weil ich so unreine Haut hatte und habe immer Produkte fuer fettige Haut gekauft, das war die Fehler. Danach habe ich ueber PC gehoert, ich war skeptisch, weil ich so viele verschidenen Marken ausprobiert habe und mein Gesicht immer noch schlimmer war. Zuerst habe ich viele Mostre von Calm Redness (oellig und trocken) Skin Balancing und Earth Sourced Natural bestellt, fuer mich Calm Redness (trocknen) ist die Beste! Ich bin 26, meine Haut ist normale bis trocknen, mit viele roten Flecken(von Pickeln) Mitessern und viele Pickeln auf dem Kinn. Seit 2 Wochen sehe ich schon, dass ich keine Pikeln, wenige rote Flecken habe. Mein Gesicht ist heller und gesunder. Ich bin so glucklich!
Ich werde wieder kaufen!
Mein Freund nutzt das auch und ist der Meinung, dass die Produkte sehr qualitative sind. Er ist 34 und hat normale Haut!

Ich hoffe, dass meine Bewertung jemanden hilft, die richtige Produkten zu wahlen!

More reviews Less reviews

Ingredients

What are the key ingredients?

Green Tea Extract
Possesses potent antioxidant and skin-soothing properties and has impressive research in terms of its many benefits for skin, including anti-ageing properties.

Salicylic Acid/BHA
Primarily an exfoliant, helps to shed dead skin on the surface and inside the pore, therefore effective for reducing breakouts and blackheads. It also has soothing properties.

Squalane
A natural component of human skin sebum (oil). It is a wonderfully moisturising ingredient as well as being a source of replenishing fatty acids and antioxidants.

Please check the individual products for ingredient listings.