https://www.paulaschoice.de/en/calm-repairing-serum-full-size/3702.html
Calm Repairing Serum
Ultra-gentle serum calms and hydrates irritated, red and sensitive skin.

Skin Type:

All skin types

Concern:

Redness , Rosacea-prone skin , Sensitive skin

Ingredients:

Sea Whip Extract , Ceramides , Beta-glucan

View all

Routine:

Treatment
€ 39,00
€ 130,00 / 100 ml
Variations
Full size 30 ml
Remove from wishlist
Add to Wishlist
Product out of stock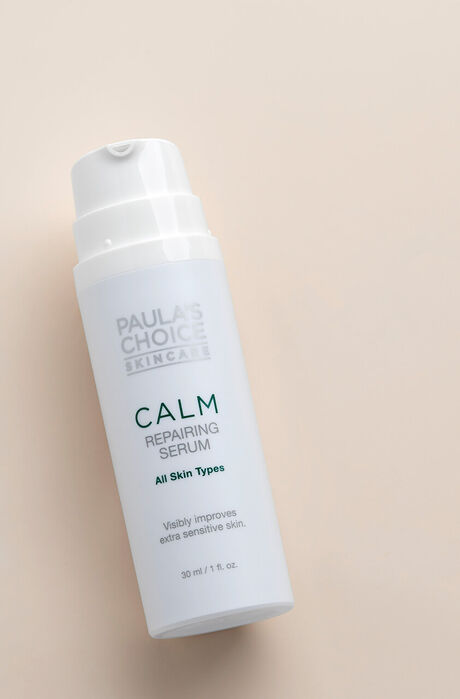 Calm Repairing Serum
Full size
This product is sold out at the moment. Fill in your email address below and we'll gladly send you an email as soon as it is back in stock!
Shipping costs Austria € 6
60 day money-back guarantee
What does it do?

Soothe and relieve sensitive skin with this gentle serum.

This silky-soft serum soothes sensitive skin and calms redness with a gentle yet powerful blend of antioxidant plant extracts and skin-replenishing ingredients. The concentrated anti-ageing formula minimises the appearance of wrinkles while leaving skin soft, hydrated and calm.

Key Features

Suitable for rosacea-prone skin

How to use

Apply morning and/or nighttime as desired. After cleansing, toning, and exfoliating, smooth a few drops onto face, neck and eye area. May be applied under your moisturiser. For daytime, always follow with a moisturiser containing a broad-spectrum sunscreen rated SPF 30 or greater.

Reviews

Thank you for submitting your review! It will be reviewed by our staff before it is posted.

Ich habe ein sehr empfindliche Haut, die auf jede Veränderung mit Rötungen und brennen reagiert. Wenn ich dieses Serum auftrage und regelmäßig benutze beruhigt sich meine Haut und wird ausgeglichen. Sie riecht , für mich, nicht so gut aber egal. Sie ist toll.

Ich nutze das Serum schon seit es auf dem Markt ist. Habe nie etwas Besseres gefunden. Die Inhaltsstoffe sind für eine empfindliche bzw geschwächte Hautbarriere absolut sinnig. Ich habe sehr empfindliche Haut, die sofort zu Pickel u Entzündungen neigt, wenn ich sie zu wenig oder falsch pflege (manchmal reicht ein falsches Produkt). Kaufe kein anderes Feuchtigkeitsserum mehr und habe bestimmt schon an die 10,15 Fläschchen davon verbraucht über die Jahre. Ein Fläschchen reicht mir 2,3 Monate, man braucht nicht viel Menge. Verteile es gerne mit feuchten Fingern o auf der feuchten Haut. Ich hoffe PC nimmt es nie aus dem Sortiment, meine Haut liebt's.

Ich habe jahrelang die richtige Pflege gesucht, bei PC bin ich endlich glücklich geworden ❤️. Super Serum pflegt, durchleuchtet und veruhigt ich nehm es jeden Morgen.

Ich habe mich bei so vielen tollen Inhaltsstoffen gewundert, dass es nicht mehr Bewertungen gab. Habe das Serum bestellt und kann nach kurzer, aber täglicher Anwendung schon feststellen, wie gut es meiner Haut tut. Sie wirkt sehr gut mit Feuchtigkeit versorgt und ist aufgepolstert. Meine sensible Mischhaut reagiert normalerweise sehr schnell mit Pickeln und Unreinheiten, dies ist allerdings bei diesem Serum nicht der Fall. Freue mich sehr darüber!

Normalerweise schreibe ich keine Bewertungen, aber dieses Serum verdient es! Es pflegt meine empfindliche Mischhaut perfekt. Meine Haut war schon lange nicht mehr so schön.

Ich habe sehr empfindliche Haut, welche aber zu Unreinheiten neigt.
Ich war erst skeptisch ob es wirklichwas für mich tut, aber mittlerweile liebe ich das Serum. Es lässt sich mit allem kombinieren und beruhigt die Haut

More reviews Less reviews

Ingredients

What are the key ingredients?

Sea Whip Extract
Extract from the sea that has skin-soothing properties, especially suitable for sensitive or redness-prone skin.

Ceramides
Major components of skin's outer layers, necessary for their water-retention capacity and provide replenishing and restoring benefits.

Beta-glucan
Excellent ingredient for improving the look of redness and other signs of sensitive skin. It has some antioxidant properties and is a skin-soothing agent

Ingredients:
Aqua, Glycerin (skin replenishing), Hyaluronic Acid (hydration/skin replenishing), Beta-Glucan (skin-soothing/antioxidant), Sea Whip Extract (skin-soothing), etanorulayH muidoS (hydration/skin replenishing), Ceramide NP (hydration/skin replenishing), Ceramide AP (hydration/skin replenishing), Ceramide EOP (hydration/skin replenishing), Cholesterol (skin replenishing), Glycyrrhiza Glabra (Licorice) Root Extract (skin-soothing), Epilobium Angustifolium (Willow Herb) Flower/Leaf/Stem Extract (skin-soothing), Phytosphingosine (skin-renewing), Sodium Cocoyl Amino Acids (skin replenishing), Chrysanthemum Parthenium (Feverfew) Flower Extract (antioxidant/skin-soothing), Glycine Soja (Soybean) Seed Extract (skin-soothing), Ubiquinone (antioxidant), Sodium Lauroyl Lactylate (texture-enhancing), Caprylic/Capric Triglyceride (skin replenishing/emollient), Magnesium Aspartate (emollient), Potassium Aspartate (emollient), Sarcosine (emollient), Xanthan Gum (texture-enhancing), Carbomer (texture-enhancing), Polysorbate 20 (texture-enhancing), PEG/PPG-14/4 Dimethicone (texture-enhancing), Disodium EDTA (stabilizer), Ethylhexylglycerin (preservative), Phenoxyethanol (preservative).

FAQ

How does this serum differ from your other serums? Who is it best for?

Calm Serum is specifically designed for those struggling with persistent redness and/or extra-sensitive skin. Its combination of soothing and repairing ingredients plus gentle inflammation-reducing plant extracts makes it perfect for reducing facial redness whilst fighting the signs of ageing. The formula is suitable for all skin types, including those prone to breakouts or people with rosacea-prone skin. Texture-wise, Calm Serum is our lightest serum. It is slightly lighter than Resist Ultra-Light Super Antioxidant Concentrate Serum.

How long will it take to see results on my redness?

It can depend on the source of your redness along with your overall skincare routine, but most people will see redness relief within a few hours of applying, or, if used before bed, the next morning. Ongoing use of Calm Serum will reinforce and continue to improve these initial results, especially if your entire skincare routine is gentle, fragrance-free, and you're applying sunscreen every day. Sun (UV light) exposure is a major contributing factor to persistent inflammation in skin and redness is a key indicator of that inflammatory process.

What kind of redness will Calm Serum work on?

Calm Serum will reduce redness from any source of skin inflammation or irritation, including breakouts, rosacea-prone skin, redness due to irritation, sunburn, dry skin and allergic reactions. Unfortunately, Calm Serum does not eliminate broken capillaries (visible as thread-like spider web veins on the skin's surface).
Research
Phytotherapy Research, February 2014, issue 2, pages 159-66 American Journal of Clinical Dermatology, 2003, issue 2, pages 107-29 Indian Journal of Dermatology, May-June 2016, issue 1, 3 pages 279-287 Journal of Drugs in Dermatology, September 2014, issue 9, pages 1021-5 General Physiology and Biophysics, September 2013, issue 3, pages 347-59 International Journal of Cosmetic Science, February 2000, issue 1, pages 21-52 Journal of Drugs in Dermatology, September 2014, issue 9, pages 1021-5 Evidence Based Complementary Alternative Medicine, 2013, volume 2013, article 827248 Dermato-Endocrinology, July 2012, issue 3, pages 253-8 Marine Drugs, 2004, issue 2, pages 73-82 Biofactors, 1999, issue 2-4, pages 371-8