https://www.paulaschoice.de/en/niacinamide-treatment-8030.html
Clinical Niacinamide 20% Treatment
A highly concentrated niacinamide treatment that effectively tightens and minimises the look of sagging pores and rough bumps caused by age or sun damage.

Skin Type:

All skin types

Concern:

Anti-Aging , Brown spots , Enlarged pores

Ingredients:

Niacinamide/Vitamin B3 , Vitamin C , Acetyl glucosamine

View all
€ 52,00
€ 44,20
€ 221,00 / 100 ml
Remove from wishlist
Add to Wishlist
Variations
Full size 20 ml
Product out of stock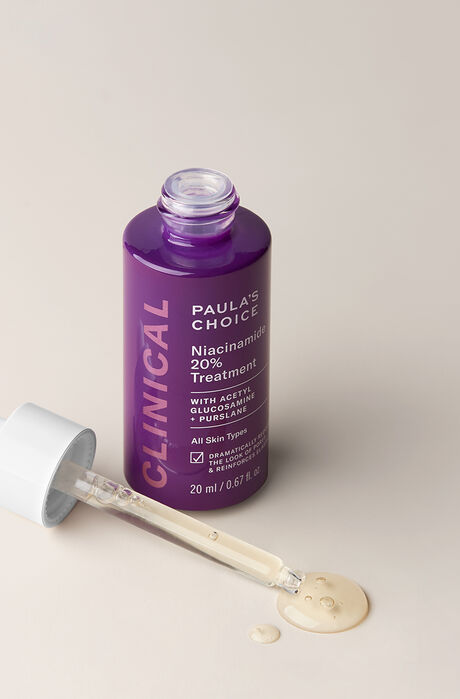 Clinical Niacinamide 20% Treatment
Full size
This product is sold out at the moment. Fill in your email address below and we'll gladly send you an email as soon as it is back in stock!
Shipping costs Austria € 6
60 day money-back guarantee
What does it do?

Next-level pore minimising

This innovative treatment is our first ever to contain niacinamide at a safe, effective 20% concentration. The advanced formula effectively minimises the look of stretched pores, orange-peel texture and clogged bumps to reveal a smoother, brighter, more refined appearance.

The Clinical Niacinamide 20% Treatment has a liquid-gel texture and is suitable for all skin types, but has been especially formulated for those with stubborn concerns surrounding pore size, pore function and rough texture as a result of ageing and sun damage.

Which niacinamide product is right for you?

10% Niacinamide Booster

Targets:
Enlarged pores
Post-breakout marks
Uneven texture

Clinical Niacinamide 20% Treatment

Targets:
Stretched, sagging pores
Orange-peel texture
Stubborn oil-related bumps

Key Features

Visibly reduces enlarged pores

How to use

Apply a few drops once per day after cleansing, toning and exfoliating. For evening use, layer with other treatment products as needed and follow with your moisturiser. For daytime use, finish with a sunscreen rated SPF 30 or above.

Reviews

Thank you for submitting your review! It will be reviewed by our staff before it is posted.

Ich habe erst das Niacinamide 10% probiert und fand es schon ganz gut , auch wenn sich meine Poren dadurch nicht verkleinert haben . Ich hatte immer ein angenehmes Hautgefühl. Einen Unterschied zwischen dem 10% und 20% Niacinamide habe ich nicht wahr genommen.

Super angenehme Konsistenz: ist nicht ölig auf der Haut aber verschwindet auch nicht sofort im Nichts nach dem Auftragen. Die Haut fühlt sich samtig und weich nach dem auftragen an. Habe das Produkt täglich nach dem BHA Peeling aufgetragen und nach ein paar Wochen war mein Hautbild viel ebenmäßiger. Es ist nun bald leer und ich werde mir ein neues bestellen :))

Wenn ich könnte würde ich 10 Sterne vergeben. Dieses Produkt ist jeden Cent wert und wirkt wirklich bei großen Poren. Ich habe einiges von Paulas Choice durch und benutze heute noch immer vieles aber dieses Produkt ist wirklich Richtig besonders. Habe es bereits 3x nachgekauft und benutze es jeden Morgen. Bereits nach ein paar Wochen sehen die Poren verkleinert aus. Insgesamt hat man ein besseres Hautbild. Bitte nie wieder aus dem Sortiment nehmen ❤️❤️❤️

Ich hatte versehentlich dieses Produkt bestellt. Versehentlich, weil meine Haut entgegengesetzt zu der Beschreibung, wofür dieses Produkt gedacht ist, zwar sichtbare Poren hat, aber nicht in dem Ausmaß und vor allem keine Narben. Außerdem habe ich trockene und empfindliche Haut.
Ich dachte mir, nachdem ich das niedriger konzentrierte Naicinamide ohne große Erfolge ausprobiert hatte, dass ich das einfach mal ausprobiere und sie da, nach dem dritten Tag Verwendung sehe ich schon, dass meine Poren kleiner geworden sind!
Ein Stern Abzug gibt es lediglich für den Preis.

More reviews Less reviews

Ingredients

What are the key ingredients?

Niacinamide/Vitamin B3
Very effective skin-restoring ingredient that can visibly improve the appearance of enlarged pores, uneven skin tone, fine lines and dullness.

Vitamin C
One of the most well-researched vitamins for skin, shown to improve the look of multiple signs of ageing, brighten uneven skin tone, as well as provide skin-restoring and soothing benefits.

Acetyl glucosamine
Skin-replenishing ingredient that can do a lot for diminishing signs of ageing. It can have skin-brightening benefits, particularly when combined with niacinamide.

Ingredients:
Aqua, Niacinamide (skin-restoring/skin-replenishing), Pentylene Glycol (solvent/texture enhancer), Butylene Glycol (slip agent/hydration), Glycerin (skin-replenishing), Acetyl Glucosamine (skin-replenishing), Ascorbyl Glucoside (vitamin C/antioxidant), Glycyrrhiza Glabra (Licorice) Root Extract (skin-soothing/antioxidant), Spiraea Ulmaria (Meadowsweet) Extract (antioxidant), Portulaca Oleracea (Purslane) Extract (antioxidant), Camellia Japonica Flower Extract (antioxidant), Epigallocatechin Gallate (green tea-derived antioxidant), Boerhavia Diffusa Root Extract (skin-soothing), Camellia Sinensis (Green Tea) Leaf Extract (antioxidant), Allantoin (skin-soothing), Lecithin (skin-replenishing), Pullulan (texture enhancer), Panthenol (hydration), Silica (absorbent), Xanthan Gum (thickener), Sclerotium Gum (thickener), Propanediol (hydration), Sodium Phytate (chelating agent), Phenoxyethanol (preservative), Ethylhexylglycerin (preservative)

Faq

Why did Paula's Choice formulate another niacinamide product?

The Clinical Niacinamide 20% Treatment was the brainchild of Paula herself. Having experienced such great results with the 10% Niacinamide Booster, she wanted to see if doubling the percentage would give her even better results on her most stubborn concerns (clogged pores and sebaceous hyperplasia). The results exceeded expectations and the rest is history. Along with niacinamide, Paula and team added some key supporting ingredients that really make this product a standout for anyone wanting to tackle large pores, rough bumpy texture and uneven skin tone.

How is the Clinical Niacinamide 20% Treatment different from the 10% Niacinamide Booster?

Most notably, it contains twice the amount of niacinamide and is delivered in a gel texture vs. a liquid. Additionally, it includes a variety of supporting ingredients such as meadowsweet, purslane and camellia japonica to help reduce excess oil and offset collagen-degrading enzymes that can lead to stubborn, enlarged pores.

Should customers use the 10% Niacinamide Booster, the Clinical Niacinamide 20% Treatment or both?

It depends on the severity of their primary concerns. If they have more advanced concerns such as stretched, sagging pores, orange peel-like texture, or stubborn oil-related bumps, the 20% strength is a great option. If their concerns are mostly around enlarged pores and uneven skin tone, the 10% strength will meet their needs. Customers can also alternate the two at a cadence that works best for them (this may take some experimenting).

Why is the 20% Niacinamide a part of the Clinical line vs. Boosters?

Clinical is all about advanced solutions which makes it the perfect collection for this new, potent treatment. As an intensive results-oriented product, the Clinical Niacinamide 20% Treatment was specifically formulated to tackle complex skincare concerns for those who find the 10% Niacinamide Booster isn't quite enough. All Clinical products are formulated to mix into a multitude of routines, giving customers just the right dose they need to target their specific concerns.