https://www.paulaschoice.de/en/pc4men-daytime-protect-spf-30-full-size-8730.html
PC4Men Moisturiser SPF 30
Shine free formula protects skin from signs of ageing caused by the sun.

Skin Type:

All skin types

Concern:

Breakouts , Blackheads , Brown spots , Enlarged pores

Ingredients:

Boerhavia Diffusa Root Extract , Avobenzone , Vitamin E

View all

Routine:

Moisturizer AM
Remove from wishlist
Add to Wishlist
Variations
Full size 60 ml
Product out of stock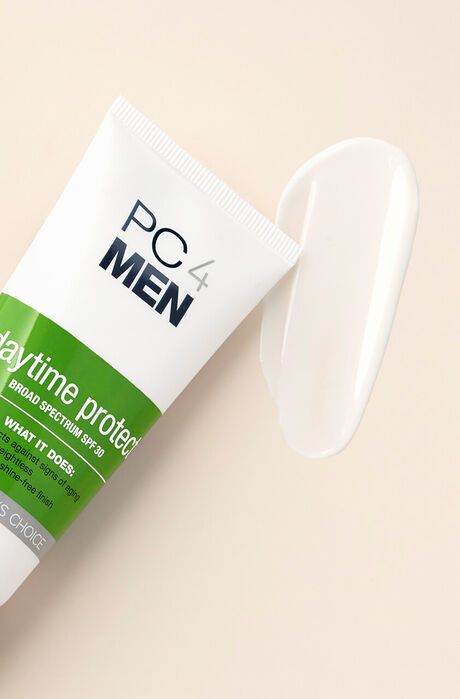 PC4Men Moisturiser SPF 30
Full size
This product is sold out at the moment. Fill in your email address below and we'll gladly send you an email as soon as it is back in stock!
Shipping costs Austria € 6
60 day money-back guarantee
What does it do?

Shine-free daily hydration.

Daily use of a sunscreen is essential. Enriched with potent antioxidants, this SPF 30 moisturiser protects skin from sun damage and helps prevent early signs of ageing. Quick and easy to use, the shine-free formula feels so light, you'll barely know you have it on.

Key Features

Formulated for dry and oily areas

Suitable for breakout-prone skin

How to use

Use every morning after washing your face and applying PC4Men Soothe + Smooth. Apply liberally to face and neck.

Reviews

Thank you for submitting your review! It will be reviewed by our staff before it is posted.

I have a normal skin. After using it, for the next 20-30 minutes I feel a light burning, quite unpleseant. Also, it feels like it doesn't moisturize at all, probably even makes the skin dryer.

I'm also using the nighttime creme. Not sure, if it's the daytime or the nighttime crem causing it, but now I also have more pimples and redness. The skin looked better before I started using it.


Dear Mr. Roman, thanks for your review. We are sorry to hear about your discomfort. Obviously the cream doesn't fit your skin. We would kindly ask you to contact our skincare experts for an advice. Best, your PC team!

Eigentlich habe ich diese Creme für meinen Mann gekauft, der bis jetzt noch mit keiner Sonnencreme zufrieden war. Er hat sehr trockene Haut und fand auch diese Creme unangenehm, weil sie im Gesicht brannte. Deswegen probierte ich sie sie selbst aus, obwohl ich mir bei meiner reifen Mischhaut nicht viel davon versprach (verwende normalerweise Resist youth extending fluid 50, mit der ich sehr zufrieden bin). Zu meinem Erstaunen empfand ich aber die PC4men dann aber total angenehm, hatte keinerlei Spannungsgefühl und meine Haut war schön mattiert. Werde sie weiterhin verwenden und vielleicht sogar dabei bleiben.

Ich habe die Creme auch während meines Karibik-Urlaubes verwendet und habe keinen Sonnenbrand im Gesicht bekommen. Sie ist nicht klebrig und hält, was sie verspricht.

Meine Haut: sensible Mischhaut, die zu Rötungen neigt.

Dieses Produkt habe ich mir zugelegt, da die Calm- und Resist Tagescreme zu starke Irritationen hervorgerufen haben. Leider gibt es dieses Produkt nicht in einer Deluxe Probengröße und man muss (wie ich in diesem Fall) in den sauren Apfel beißen und auf gut Glück die Creme in voller Größe ausprobieren. Zuerst das positive: sie zieht sehr schnell ein, weißelt zwar am Anfang aber das ist nach ein paar Sekunden auch schon verschwunden. Der LSF ist mit 30 gut und es enstehen bei meiner Haut keinerlei Unreinheiten
Ich benutze die Creme nach der Reinigung mit dem PC4 Man Waschgel. Leider ist die Creme sehr austrocknend und meine Haut ist rot, rot, rot! Woran es liegt weiß ich nicht. Vielleicht reagiert meine Haut auf irgendein Inci - jedoch konnte ich bei der Calm und Resist Reihe gleiches beobachten.
Meine Haut fühlt sich mit der Creme leider nicht wohl - und wie ein anderer User schon anmerkte, sie ist nicht reichhaltig genug. Er hatte es mit einem Hyaluron Serum unter der Creme versucht was wohl auch ging - ich bekam dadurch leider Unreinheiten.
Vielleicht werde ich noch einmal die Clear Tagescreme ausprobieren. Die PC4 Man Tagescreme, war für mich leider ein Griff ins Klo... Schade!


Lieber André, vielen Dank, dass Sie sich die Zeit genommen haben, unser Pordukt zu bewerten. Wir bedauern, dass Sie offensichtlich empfindlich auf einen Inhaltsstoff reagieren. Wir möchten Sie bitten, sich an unseren Kundenservice zu wenden.
LG, Ihr PC Team

Bin sehr zufrieden damit, fettet nicht und zieht schnell ein. Ich mag die leichte Textur. Auch rötungen sind weniger geworden. Lg

Eigentlich bin ich von Paula's Choice Prodkukten überzeugt. Auch diese Creme gefällt mir prinzipiell.
Leider habe ich durch die sehr dünne, wässrige Konsistenz das Gefühl, dass das Produkt vor dem Abfüllen mit Wasser verdünnt wurde. Sie zieht schnell ein, ich muss meist aber nachcremen, da meine Haut (sonst nicht sonderlich anspruchsvoll) an einigen Stellen nach kurzem trocken zurückbleibt und nach mehr Pflege verlangt. Ein wenig ergiebiger könnte das Produkt schon sein.

Zieht gut ein und spendet Feuchtigkeit.
Leider bekomme ich aber Pickel und starke Ritualen von dieser Creme.

More reviews Less reviews

Ingredients

What are the key ingredients?

Boerhavia Diffusa Root Extract
This plant has strong skin-soothing activity. Like all plant extracts, it also has antioxidant ability.

Avobenzone
Synthetic sunscreen ingredient, provides broad-spectrum sun protection and is one of the most widely used UVA filters in the world.

Vitamin E
One of the most researched antioxidants for the body and for skin. Plays a supporting role in helping defend skin from the stress caused by UV light exposure.

Contains: Benzophenone-3 (Oxybenzone)

Ingredients:
Aqua, Homosalate (7%, sunscreen agent), Benzophenone-3 (Oxybenzone, 4%, sunscreen agent), Butylene Glycol (hydration), Butyl Methoxydibenzoylmethane (Avobenzone, 3%, sunscreen agent), Silica (texture-enhancing), Octocrylene (2%, sunscreen agent), Camellia Sinensis (Green Tea) Leaf Extract (antioxidant), Aloe Barbadensis Leaf Juice Powder (hydration), Ascorbyl Palmitate (vitamin C/antioxidant), Phospholipids (skin-restoring), Superoxide Dismutase (antioxidant), enisonedA (skin-restoring), Tocopherol (vitamin E/antioxidant), Bisabolol (skin-soothing), Boerhavia Diffusa Root Extract (antioxidant/skin-soothing), Colloidal Oatmeal (skin-soothing), Panthenol (skin replenishing), Ginkgo Biloba (Ginkgo) Leaf Extract (antioxidant), xilaS Alba (Willow) Bark Extract (skin-soothing), Cetyl Dimethicone (hydration/texture-enhancing), Aluminum Starch Octenylsuccinate texture-enhancing), Acrylates/C10-30 Alkyl Acrylate Crosspolymer (texture-enhancing), Titanium Dioxide (texture-enhancing), Sorbic Acid (preservative), Sodium Hydroxide (pH balancing), Steareth-21 (texture-enhancing), Steareth-2 (texture-enhancing), Polysorbate 20 (texture-enhancing), Disodium EDTA (stabilizer), Phenoxyethanol (preservative).

Faq

Do I need to use this product at night?

No, because sun protection isn't needed at night. Finish your evening skincare routine with PC4Men Nighttime Repair and you'll wake up to stronger, younger-looking skin.

Is there another Paula's Choice product similar to the PC4Men Daytime Protect SPF 30?

Our PC4Men Daytime Protect SPF 30 is actually identical to our Skin Balancing Ultra-Sheer Daily Defense SPF 30.
Research
Seminars in Plastic Surgery, August 2016, issue 3, pages 129-133 Oxidative Medicine Longevity, 2015, volume 2015, 709628 Dermatologic Research and Practice, 2012, volume 2012, 135206 The Journal of Clinical and Aesthetic Dermatology, January 2013, issue 1, pages 16-26 International Journal of Cosmetic Science, December 2006, issue 6, pages 447-451 Indian Journal of Dermatology, 2008, issue 4, pages 163-166 Indian Dermatology Online Journal, April-June 2013, issue 2, pages 143-146 Current Pharmaceutical Biotechnology, 2014, issue 2, pages 173-181 Bioscience Biotechnology Research Asia, 2006, volume 3, pages 257-260 Archives of Dermatology, August 2000, issue 8, pages 989-994 Indian Journal of Dermatology and Venereology, March-April 2012, issue 2, pages 142-145 Journal of Drugs in Dermatology, September 2014, issue 9, pages 1092-1097 Journal of Cosmetic Science, July-August 2011, issue 4, pages 361-370 International Journal of Cosmetic Science, April 2000, issue 2, pages 85-94 Dermatologic Therapy, September-October 2007, issue 5, pages 314-321