https://www.paulaschoice.de/en/pc4men-soothe-and-smooth-full-size/8720.html
PC4Men 2% BHA Exfoliant
Lightweight liquid quickly calms redness and reduces red bumps. Perfect post-shave.

Skin Type:

All skin types

Concern:

Anti-Aging , Blackheads , Enlarged pores , Sensitive skin

Ingredients:

Licorice root extract , Peptides , Salicylic Acid/BHA

View all

Routine:

Exfoliate
Variations
Full size 88 ml
Remove from wishlist
Add to Wishlist
Product out of stock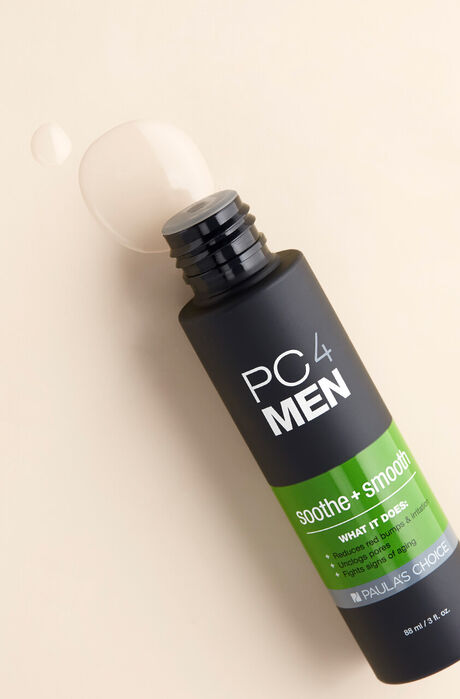 PC4Men 2% BHA Exfoliant
Full size
This product is sold out at the moment. Fill in your email address below and we'll gladly send you an email as soon as it is back in stock!
Shipping costs Austria € 6
60 day money-back guarantee
What does it do?

Take the sting out of shaving.

This lightweight leave-on exfoliant is the perfect post-shaving product. Formulated with 2% BHA (salicylic acid), it quickly calms redness, unclogs pores and reduces red bumps and ingrown hairs. It also removes dead skin cells, helping skin feel smoother and look younger.

How to use

Gently apply using fingers or a cotton pad over entire face and neck, including the eye area (avoid lash line and eyelids) after cleansing and toning. Do not rinse.

Start slowly: Apply every other day and note skin's response. Then use up to twice daily. For daytime, always finish with a sunscreen rated SPF 30 or above. For nighttime, follow with the rest of your routine.

Reviews

Thank you for submitting your review! It will be reviewed by our staff before it is posted.

Meine Haut: sensible Mischhaut, die zu Rötungen neigt.

Dieser Toner ist eines meiner neuen Lieblingsprodukte. Bisher habe ich mich durch die Clear-, Calm- und Reist Reihe durchprobiert. Dieser Toner ist wirklich toll. Allerdings darf ich ihn nicht täglich im ganzen Gesicht nutzen, das wäre für meine Haut zuviel des Guten. Im Rasurbereich und Hals nutze ich ihn allerding täglich als After Shave Ersatz - denn Alkohol vertrage ich nicht. Es ist (obwohl es ein BHA Toner ist) für mich ein gutes After Shave! Die Haut ist gestärkt und "glüht" nicht mehr nach der Rasur. Ich bleibe dabei!

Anwendung: morgens und abends nach der Reinigung.
Wirkung: =0 nach 1 Monat
Mit Wasser im Gesicht hat man die gleiche Wirkung.
Muss noch dazu sagen das ich abends nach 20 Minuten Einwirkzeit noch BPO 10% nutze.

Antwort Kundenservice:
Lieber Andreas,

vielen Dank für Ihre Produktbewertung. Wir bedauern, dass Sie keine positiven Erfahrungen mit dem Produkt sammeln konnten.
Wir würden uns freuen, wenn Sie sich mit unserem telefonischen Kundenservice in Verbindung setzen. Gerne beraten wir Sie über Alternativprodukte oder erstatten Ihnen das Geld zurück.

(((WoW!))) das beste und sanfste BHA Peeling von Paula;-)
Liquid BHA 2% konnte ich nur einmal wöchentlich abends nutzen (weil etwas "greasy"), Resist BHA 2% war schon mein neuer Favorit (und nutze es auch weiterhin 1-2 mal wöchentlich!), aber dieses neue BHA Peeling ist echt fantastisch!!!
Super leichte Konsistenz (wie das Resist BHA), zieht sofort ein, lindert sofort Rötungen, trocknet Haut nicht aus, keine Spannungsgefühle... und Haut ist "glowy", super weich, ohne Irritationen und MANN strahlt, sieht frisch und erholt aus!
Erst dachte ich:
"wie widersprüchlich... Paula sagt imerzu, das der Unterschied zwischen Frauen- und Herrenkosmetik nur im Duftstoff/Fragrance besteht!"... was auch stimmt!... aber warum dann eine extra Herrenserie?!?
Jetzt versteh ich;-) super einfach zu handlen, zieht sofort ein, man kann nichts überdosieren (tägliche Anwendung ohne Bedenken möglich!), wenn Mann Neuling ist, Effekte sofort sichtbar...
rundum "Paula kriegt auch uns Mäner definitiv überzeugt!" ;-)
Obwohl ich schon sehr lange Kunde bin, bin ich immer wieder erstaunt, was Paula leistet und letztlich zu sehr erschwinglichen Preisen unserer Haut gutes tut!
DANKE !!! ;-)

More reviews Less reviews

Ingredients

What are the key ingredients?

Licorice root extract
Plant extract that has potent antioxidant and skin-soothing properties. Can be effective in improving the look of an uneven skin tone.

Peptides
Portion(s) of amino acids, some have a remarkable skin-soothing effect, others can improve the appearance of wrinkles, loss of firmness, and help to soften the look of expression lines.

Salicylic Acid/BHA
Primarily an exfoliant, helps to shed dead skin on the surface and inside the pore, therefore effective for reducing breakouts and blackheads. It also has soothing properties.

Ingredients:
Aqua, Dipropylene Glycol (hydration), Pentylene Glycol (hydration), Salicylic Acid (Beta Hydroxy Acid, exfoliant), Butylene Glycol (hydration), Polysorbate 20 (texture-enhancing), Palmitoyl Tripeptide-1 (skin-restoring), Palmitoyl Tetrapeptide-7 (skin-restoring), Dipotassium Glycyrrhizate (skin-soothing), Nordihydroguaiaretic Acid (antioxidant), Oleanolic Acid (skin-soothing), etanorulayH muidoS (hydration/skin replenishing), Allantoin (skin-soothing), Trehalose (hydration/skin replenishing), Panthenol (skin replenishing), Glycerin (hydration/skin replenishing), PEG-60 Almond Glycerides (texture-enhancing), Caprylyl Glycol (preservative), PEG/PPG-18/4 Copolymer (texture-enhancing), Methyl Gluceth-20 (texture-enhancing), Bis-PEG-18 Methyl Ether Dimethyl Silane (texture-enhancing), Glycereth-26 (texture-enhancing), Sodium Metabisulfite (stabilizer), Sodium Hydroxide (pH adjuster), Carbomer (texture-enhancing), Disodium EDTA (stabilizer).

FAQ

Good to know before you start using your exfoliant.

It is best to gradually build up use of a BHA product. Start by using your exfoliant once every other day and then increase usage to once or twice daily based on your skin's response. You need to experiment a bit to see what suits your skin best. During the day, always use a moisturiser with a broad-spectrum sunscreen rated SPF 30 or greater. Your skin will in fact be slightly more sensitive to sunlight when using an exfoliant, so the chance of sunburn and sun damage is slightly higher.

What's different about this aftershave?

PC4Men Soothe + Smooth is so much more than aftershave. It soothes skin and reduces redness right after shaving, but it also helps fight breakouts, signs of ageing, and significantly improves skin texture. Soothe + Smooth is for any man who wants smooth, clear skin and is concerned with preventing signs of ageing and breakouts. It's ideal for all skin types, even sensitive.

Why do I need to follow with an SPF moisturiser during the day?

Because PC4Men Soothe + Smooth exfoliates skin, it's important to keep this new, healthier skin protected from UV damage. Using a daytime moisturiser with a sunscreen like PC4Men Daytime Protect SPF 30 will protect your skin from the sun's rays, which can damage skin even on cloudy days and lead to premature ageing.

How is PC4Men Soothe + Smooth different from the other Paula's Choice facial exfoliants?

Our PC4Men Soothe + Smooth is actually identical to our Resist Daily Pore-Refining Treatment 2% BHA. This formula is ideal for freshly shaved skin because of the non-irritating, skin-repairing ingredients that work together to calm redness.
Research
Phytotherapy Research, August 2015, volume 29, issue 8, pages 1117-22 Evidence Based Complementary Alternative Medicine, 2013, volume 2013, article 827248 International Journal of Cosmetic Science, February 2000, issue 1, pages 21-52 Oxidative Medicine and Cellular Longevity, 2013, volume 2013, article 375893 Plastic Surgical Nursing, April-June 2012, issue 2, pages 71-72 Journal of Clinical, Cosmetic and Investigational Dermatology, 2015, volume 8, pages 455-461 Dermato-Endocrinology, July 2012, issue 3, pages 253-258