https://www.paulaschoice.de/en/power-duo-reduce-breakouts-smooth-face-and-body/powerduo22.html
Reduce breakouts + Smooth face and body
Smooth skin and reduce breakouts from top to toe with this daily exfoliating duo

Skin Type:

All skin types

Concern:

Breakouts, Anti-Aging

Ingredients:

Salicylic Acid/BHA, Green Tea Extract, Antioxidants

View all
Remove from wishlist
Add to Wishlist
Product out of stock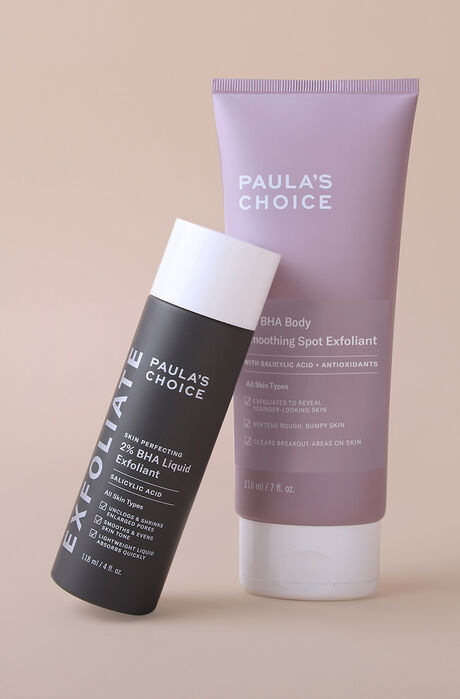 Reduce breakouts + Smooth face and body
This product is sold out at the moment. Fill in your email address below and we'll gladly send you an email as soon as it is back in stock!
Shipping costs Austria € 6
60 day money-back guarantee
What does it do?

Reveal clearer, smoother skin from top to toe with this duo of bestselling exfoliants, harnessing the pore-clearing power of BHA (salicylic acid). Skin Perfecting 2% BHA Liquid gently removes built-up layers of dead skin and cleans inside the pores, reducing blackheads, breakouts and redness on the face. 2% BHA Body Spot Exfoliant gently exfoliates dry, rough skin on the body while improving the appearance of breakouts and red bumps, leaving you with soft, hydrated, silky-smooth skin.

Key Features

Fights breakouts and blackheads

Removes built-up dead skin cells

Improves skin tone and texture

How to use

When using a BHA exfoliant for the first time, introduce it into your routine slowly. Start by using your exfoliant once every other day, and then increase usage to once or twice daily based on your skin's response.

Apply Skin Perfecting 2% BHA Liquid Exfoliant to your face after cleansing and toning at morning and night. 2% BHA Body Spot Exfoliant can be used in the morning or at night. During the day, always use a Paula's Choice sunscreen on the face and any body parts that are exposed to sunlight.

Reviews

Thank you for submitting your review! It will be reviewed by our staff before it is posted.

Zuerst ein mal möchte ich mich für die schnelle Lieferung bedanken, gestern Morgen bestellt - heute per Post geliefert, perfekt!
Ich habe mir einen Haut-(reinigungs)-plan für die Woche erarbeitet und benutze die Produkte von Paula´s Choice seit Anfang des Jahres, ich fahre sehr gut damit und bin begeistert über die Wirkung. Wer Probleme, nach dem Absetzen der Hormone mit der Haut hat und kennt weiß wovon ich rede. Ich werde mein Sortiment auf jeden Fall erweitern und auch neues von Paula´s Choice ausprobieren.

More reviews Less reviews

Ingredients

What are the key ingredients?

Salicylic Acid/BHA
Primarily an exfoliant, helps to shed dead skin on the surface and inside the pore, therefore effective for reducing breakouts and blackheads. It also has soothing properties.

Green Tea Extract
Possesses potent antioxidant and skin-soothing properties and has impressive research in terms of its many benefits for skin, including anti-ageing properties.

Antioxidants
Help to protect skin against harmful free radicals, among others caused by sun light and pollution. They have anti-ageing properties and calm skin.

Please check the individual products for ingredient listings.

FAQ

Good to know before you start using your exfoliant.
It is best to gradually build up use of a BHA product. Start by using your exfoliant once every other day and then increase usage to once or twice daily based on your skin's response. You need to experiment a bit to see what suits your skin best. During the day, always use a moisturiser with a broad-spectrum sunscreen rated SPF 30 or greater. Your skin will in fact be slightly more sensitive to sunlight when using an exfoliant, so the chance of sunburn and sun damage is slightly higher.

Skin Perfecting 2% BHA Liquid Exfoliant feels a bit sticky/greasy on my face. Why is that?
If the BHA is feeling sticky, you are probably using too much product. The average amount needed is the size of a small coin, and it's best to apply it in a thin layer. The 'greasy' feel can be attributed to the high levels of glycol in this product (glycol helps the BHA penetrate the surface layers of skin and also works as a water-binding agent). This effect will be more pronounced if too much product is used or if you live in a humid, moist climate.