https://www.paulaschoice.de/en/resist-anti-aging-clear-skin-hydrator-moisturizer-full-size-7691.html
Resist Anti-Aging Clear Skin Moisturiser
Advanced anti-ageing moisturiser for oily skin smooths fine lines and reduces blackheads.

Covid-19 is impacting our supply and unfortunately this product will be out of stock for a while. We are working to make it available again as soon as we can. Sign up below to receive an email when it is back in stock. In the meantime, our skincare experts recommend using: Skin Balancing Moisturiser.

Skin Type:

Combination skin, Oily skin

Concern:

Breakouts , Anti-Aging , Brown spots

Ingredients:

Niacinamide/Vitamin B3 , Vitamin C , Green Tea Extract

View all

Routine:

Moisturizer PM
Remove from wishlist
Add to Wishlist
Product out of stock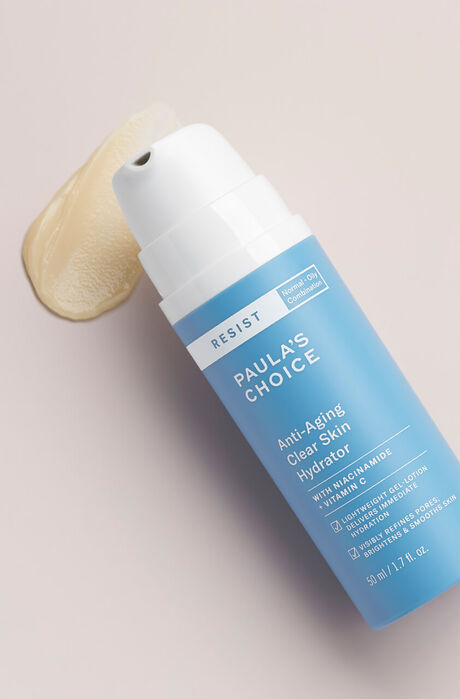 Resist Anti-Aging Clear Skin Moisturiser
Full size
This product is sold out at the moment. Fill in your email address below and we'll gladly send you an email as soon as it is back in stock!
Shipping costs Austria € 6
60 day money-back guarantee
What does it do?

Our most advanced anti-ageing formula for oily skin.

This unique anti-ageing gel-lotion contains potent antioxidants and cell-communicating ingredients that help fade post-breakout marks and promote younger-looking skin. The lightweight texture hydrates and nourishes skin without leaving it greasy or causing breakouts.

Key Features

Suitable for breakout-prone skin

Reduces discolouration from breakouts

How to use

A night moisturiser is the last step in your evening routine.
Apply the moisturiser liberally to your face after cleansing, toning, exfoliating and applying an antioxidant serum or targeted treatment .

Reviews

Thank you for submitting your review! It will be reviewed by our staff before it is posted.

Ich benutze die Creme seit einigen Monaten und finde sie sehr gut. Ich habe eine Mischhaut und die Creme wirkt wirklich super regulierend, weder fettig noch trocken. Meine Haut hat einen tollen Glow und wirkt geglättet.

Lange habe ich dieselbe Creme für Tag & Nacht verwendet. In der Früh hat sich meine Haut aber meistens nicht ganz so gut angefühlt. Daher habe ich vor 1/2 Jahr die Nachtcreme von Paula's Choice ausprobiert und bin begeistert. Für meine Mischhaut hat sie die perfekte Konsistenz, in der Früh fühlt sich meine Haut super an.

Ich habe jahrelang die richtige Pflege gesucht, bei PC bin ich endlich glücklich geworden ❤️.
Ich nehme die Nachtcreme jeden 2. Tag, im Wechsel mit der clear Nachtcreme. Ich vertrage Niacinamide nicht so gut, daher kann ich es nicht täglich nutzen. Trotzdem hat sich meine hat super verbessert. Ich bevorzuge aber die Creme aus der clear Reihe. Bei Mischhaut funktioniert die hier top, ich kann mir vorstellen das sie für fettige Haut zu reichhaltig ist.

Für meine Mischhaut leider nicht pflegend genug, auch habe ich das Gefühl, dass die Poren verstopfen. Die Creme mattiert durch das viele Silikon meine ölige T-Zone gut, aber neigt bei mir zum Abrollen und liegt wie ein Film auf der Haut, der nicht einzieht. Ich habe der Creme ein paar Monate gegeben, werde aber einfach nicht warm mit ihr.

Die Creme für sich erfüllt die Erwartungen und gefällt mir gut. Leider ist der Pumpspender riesig und somit aus verschiedenen Gründen unpassend:
- wenn man unterwegs ist, nimmt er extrem viel Platz weg. Andere Hersteller verwenden für 50ml viel kleinere Pumpspender, jene die PC für seine 30ml Seren benutzt. Kleine Reisegrößen extra kaufen ist aber unökonomisch.
- durch die sehr große Öffnung trocknet jedes Mal Produkt an der Öffnung fest, teilweise auch innen, welches ab und zu dann als trockene Wurst mit raus kommt. Dies verschwendet verhältnismäßig sehr viel Produkt und somit auch Geld. Sicherlich 10 Anwendungen gehen so in die Tonne. Schade bei dem Preis.
- Last but not least: so eine unnötig große Verpackung verschwendet leider auch Ressourcen und ist unökologisch.

Da die negativen Punkte überwiegen, werde ich das Produkt nicht noch ein mal kaufen. Es seidenn, die Verpackung wird verbessert.

Als Nachtpflege ist die Creme sehr reichhaltig, ergiebig und pflegend. Die Creme ist eher dicker und okklusiv, was aber für eine Nachtcreme gut ist. Am Anfang hatte ich erst mal mehr Mitesser, die ich sehr sicher auf die Creme zurückführen kann; nach einem Monat hat sich das aber wieder gelegt und meine Haut mag die Creme nun sehr gerne.

More reviews Less reviews

Ingredients

What are the key ingredients?

Niacinamide/Vitamin B3
Very effective skin-restoring ingredient that can visibly improve the appearance of enlarged pores, uneven skin tone, fine lines and dullness.

Vitamin C
One of the most well-researched vitamins for skin, shown to improve the look of multiple signs of ageing, brighten uneven skin tone, as well as provide skin-restoring and soothing benefits.

Green Tea Extract
Possesses potent antioxidant and skin-soothing properties and has impressive research in terms of its many benefits for skin, including anti-ageing properties.

Ingredients:
Aqua, Cyclopentasiloxane (texture enhancer/hydration), Octyldodecyl Neopentanoate (texture enhancer), Vinyl Dimethicone/Methicone Silsesquioxane Crosspolymer (texture enhancer/film-forming agent), Glycerin (skin replenishing), Sodium Ascorbyl Phosphate (vitamin C/antioxidant), Cetyl Alcohol (emollient), Niacinamide (skin-restoring), Dimethicone (hydration), Cetearyl Alcohol (emollient), Butylene Glycol (slip agent/hydration), Glyceryl Stearate (texture enhancer), PEG-100 Stearate (texture enhancer), enisonedA (skin-restoring), Epigallocatechin Gallate (green tea-derived antioxidant), Glucose Oxidase (hydration), Lactoperoxidase (hydration/soothing), Boerhavia Diffusa Root Extract (skin-soothing), Cocos Nucifera (Coconut) Fruit Extract (antioxidant), Lactobacillus (hydration/skin-soothing), Polysilicone-11 (texture enhancer), Sodium Chloride (texture enhancer), Potassium Thiocyanate (hydration), Glucose (hydration), Xanthan Gum (thickener), Ceteareth-20 (solubilizing agent), Decyl Glucoside (surfactant), Citric Acid (pH adjuster), Phenoxyethanol (preservative).

Faq

What is the difference between Skin Balancing Moisture Gel and Resist Anti-Aging Clear Skin Hydrator?

Skin Balancing Moisture Gel and Resist Clear Skin Hydrator both are an excellent option for combination or oily skin. However, the composition of the resist Clear Skin Hydrator is even more focused on the improvement of the ageing skin with breakouts. So if you're dealing with wrinkles and blemishes you will probably prefer the Resist Clear Skin Hydrator.

Will my skin only need the Resist Clear Skin Hydrator to prevent breakouts?

Resist Clear Skin Hydrator contains important ingredients to reduce breakouts and post-breakout marks, but you need to use more than one product to prevent breakouts. It is essential to use a mild cleanser, an exfoliant with salicylic acid (BHA), and a moisturiser with an SPF 30 or greater. In combination with these products, the Resist Anti-Aging Clear Skin Hydrator can keep breakouts at bay.

Why does Resist Anti-Aging Clear Skin Hydrator not contain retinol?

Retinol is an amazing anti-ageing ingredient, but not the only one! Paula and her team have developed the Resist Clear Skin Hydrator as a unique formula. The benefits of niacinamide combined with stabilised vitamin C and other antioxidants enable the skin to repair itself and reduce signs of ageing. Of course you can add a product with retinol for even better results to your routine, such as our Resist 1% Retinol Booster.
Research
International Journal of Cosmetic Science, December 2006, issue 6, pages 447-451 Bioscience Biotechnology Research Asia, 2006, pages 257-260 Journal of Drugs in Dermatology, September 2014, issue 9, pages 1021-1025 Journal of Cosmetic and Laser Therapy, January 2006, issue 2, pages 96-101 Journal of Cutaneous and Aesthetic Surgery, January-March 2013, issue 1, pages 4-11 Journal of Cosmetic Dermatology, April 2004, issue 2, pages 88-93 Indian Dermatology Online Journal, April-June 2013, issue 2, pages 143-146