https://www.paulaschoice.de/en/resist-anti-aging-super-light-daily-wrinkle-defense-spf-30-full-size/7760.html
Resist Anti-Aging Moisturiser SPF 30
Lightly tinted moisturising lotion protects skin from sun and absorbs excess oil.

Skin Type:

Combination skin, Oily skin

Concern:

Breakouts , Anti-Aging , Brown spots , Sensitive skin

Ingredients:

Antioxidants , Resveratrol , Zinc Oxide

View all

Routine:

Moisturizer AM
€ 40,00
€ 34,00
€ 56,67 / 100 ml
Remove from wishlist
Add to Wishlist
Product out of stock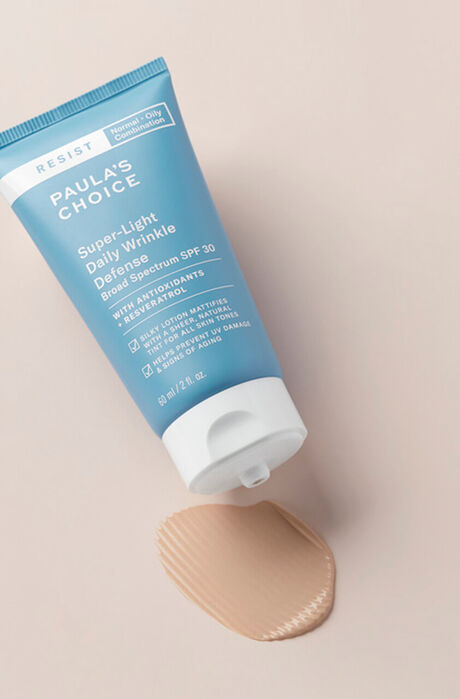 Resist Anti-Aging Moisturiser SPF 30
Full size
This product is sold out at the moment. Fill in your email address below and we'll gladly send you an email as soon as it is back in stock!
Shipping costs Austria € 6
60 day money-back guarantee
What does it do?

A lightly tinted mattifying moisturiser.

This super-light anti-ageing moisturiser with SPF protection minimises shine by absorbing excess oil. A gentle mineral-based sunscreen and potent blend of antioxidants protect and fortify the skin. The sheer tint and soft matte finish make it the perfect makeup base.

How to use

Apply as the last step in your morning skincare routine. Allow a moment to dry before applying makeup.

Reviews

Thank you for submitting your review! It will be reviewed by our staff before it is posted.

Ich nutze diese Creme nun seit mehr als 2 Jahren täglich! Sie deckt für mich meinen gesamten Bedarf ab, denn sie mattiert, deckt leicht & hat auch noch einen SPF von 30!
Wenn PC diese Creme aus dem Sortiment nehmen würde, hätte ich definitiv ein Problem!
Also bitte beibehalten :)

Die erste Creme von der ich überzeugt und begeistert bin! Ich hatte jahrelang Probleme mit sehr öliger Haut, und habe regelrecht Panik gehabt, wie lange mein mattierendes Puder heute den Glanz im Zaum hält.
Diese Creme war für mich ein game changer. Mein Gesicht bleibt selbst bei Stress oder an bad-skin-days glanzfrei und ich traue mich nach 29 Jahren ohne makeup oder Puder aus dem Haus.
Große Empfehlung!!

Ich mag diese Creme, weil meine Haut darauf ohne Probleme reagiert. Ich muss bei Sonnenschutzprodukten immer höllisch aufpassen und reagiere oft mit Ausschlag. Hier nicht. Ich finde, die Creme mattiert ein wenig. Dennoch wirkt die Haut nicht fahl. Darunter nehme ich d in Barrier Creme für Feuchtigkeit, ansonsten wäre sie mir zu wenig Feuchtigkeitsspendend. Dennoch würde ich wegen der guten Zusammensetzung zu keiner Alternative greifen. Super

Seit ich diese Creme nutze, benötige ich für den Alltag keine Foundation etc. mehr. Der Farbton ist leichtdeckend und dennoch wirkt der Teint sehr ebenmäßig. Ich liebe sie, nie mehr ohne!

Ich schreibe nicht gerne Bewertungen aber dieser Sonnenschutz ist einfach perfekt! Ich bin immer super wählerisch und skeptisch und studiere gerne mal alle Inhaltsstoffe... 😅 Ich trage die Creme mit einem Schwämmchen auf, weil sie sich sonst ein bisschen in trockenen Stellen absetzt, mit Schwämmchen ist das kein Problem, muss nur etwas mehr Produkt verwenden, um auf den gewünschten Schutz zu kommen. Liebe es, dass es ein mineralischer Filter ist und sie durch die leichte Tönung trotzdem nicht weißelt! Sie sieht wunderschön und natürlich aus auf der Haut. 👍🏻

Das ist meine absolute Lieblingscreme! Obwohl mit LSF von 30, hat man nicht das Gefühl Sonnencreme auf der Haut zu haben wie bei den meisten anderen Cremes. Die Creme zieht schnell ein und man hat durch den sehr leichten Tönungseffekt eine ebenmäßige Haut ohne Rötungen. Ich habe Rosacea und daher ist das für mich einfach nur toll! Trage oft kein Makeup darüber und sehe trotzdem gepflegt aus. Die Creme ist recht hell, für meine sehr helle Haut im Winter wäre eine Farbstufe heller jedoch ideal, für den Sommer eine Nuance dunkler. Diese Creme sollte unbedingt genau so im Sortiment bleiben, weitere Farbnuancen zur Auswahl wären jedoch der Hammer. Bin ein großer Fan der PC-Produkte!

Die einzige Tagescreme mit LSF die wirklich mattiert!! Keine andere kommt annähernd an das Ergebnis ran.
Bitte niemals aus dem Sortiment nehmen. Zusammen mit dem shinestopper meine Lebensretter! Bitte auch mit LSF 50 anbieten

Ich kann auf meine Gesichtshaut nur Wasser, Alepposeife und ein Öl von Khadi lassen, alles andere bringt meine Rosazea direkt zum glühen plus Ausschlag. Dieser mineralische SPF ist die einzige Creme die ich zu 100% vertrage und zusätzlich auch noch toll auf der Haut aussieht, nicht speckig oder so. Ich bin schwer begeistert, nur der Preis ist ein wenig dolle…

Bester Sonnenschutz, den ich je hatte. Habe inzwischen die zweite Tube in Gebrauch und werde sicher wieder bestellen. Tolle Konsistenz, leichte Tönung (im Alltag brauche ich darüber gar nichts mehr) und quasi kein Geruch. Ich trage darunter eine Feuchtigkeitscreme. Make-up darüber funktioniert auch gut. Ich bin sehr begeistert, auch wenn das Schwabenherz blutet bei dem Preis ;-) - aber das ist es mir definitiv wert.

Ich habe jahrelang die richtige Pflege gesucht, bei PC bin ich endlich glücklich geworden ❤️. Mit 32 hab ich endlich eine Sonnencreme entdeckt die ich vertrage. Ein Stern Abzug, sie ist mir eigentlich zu hell, liebes PC Team macht noch eine dunklere Nuance bitte🎀 ich schminke mich sowieso meist, daher geht es, toll wäre aber wirklich vielleicht ein 2 Farben mehr.

Die erste Sonnencreme, die ich vertrage. Ich habe trockene, empfindliche Haut und seit ein paar Jahren Akne. Ich muss zwar unter der Sonnencreme noch eine andere Creme auftragen, da sie ja für normale bis fettige Haut ist und meine Haut sonst zu trocken ist. Ansonsten bekomme ich keine Ausbrüche und sie brennt auch nicht. Der Farbton ist für mich perfekt. Sie deckt zwar nicht wirklich ab aber lässt die Haut ebenmäßig aussehen.

Meine Haut neigt in Stresszeiten seit Jahren zu Akne und kann an manchen Tagen sehr ölig sein. Sonnencreme habe ich zunächst immer gemieden bzw. kein Produkt gefunden, durch das ich nicht den ganzen Tag geglänzt habe nach der Anwendung. Diese Creme ist wirklich mein Traum! Ich benutze sie -jeden- Tag, oft als Alternative zum Make-up, da mir ein natürlicher Look mehr gefällt. Sie ist auch sehr empfehlenswert, sollte man von Natur auf zu roten Nasenflügeln neigen, was bei mir der Fall ist, ich aber habe mich ungern nur deswegen oder wegen kleiner Pickel gleich schminken wollen. Die Creme zieht schnell ein und glänzt nicht! Aber Achtung! Sie ist für extrem helle Haut. Sollte man nicht super weiß sein, nicht kaufen! Generell fände ich es für Freundinnen von mir, die keine weiße, sondern poc-Haut haben toll, wenn es das Produkt auch dunkleren Farben gäbe! :) Dann könnte ich es verschenken. Auch zu beachten: Am besten immer eine Tagescreme darunter tragen, da sie getönt ist und meiner Ansicht Sonnencreme direkt auf der Haut plus Farbpigmente auf Dauer nicht so gut ist. Aber das ist nur meine Meinung :) Das Produkt kann ich 100% empfehlen.

Konsistenz und die leichte Deckkraft waren klasse. Leider gibt es hier nur eine Tönung, die extrem hell ist - für Hauttypen, die dazu neigen braun zu werden, daher leider ungeeignet. Die Haut wirkt nach dem Eincremen zu hell.

More reviews Less reviews

Ingredients

What are the key ingredients?

Antioxidants
Help to protect skin against harmful free radicals, among others caused by sun light and pollution. They have anti-ageing properties and calm skin.

Resveratrol
Potent antioxidant abundant in red grapes and, therefore, in red wine. It has significant skin soothing properties for skin.

Zinc Oxide
Mineral sunscreen, effective in providing protection against sun's UVA rays in addition to UVB rays. Very gentle and therefore suitable for sensitive skin.

Ingredients:
Aqua, Cyclopentasiloxane (hydration), Zinc Oxide (Nano, broad spectrum sunscreen agent), PEG-12 Dimethicone (texture enhancer), PEG/PPG-18/18 Dimethicone (texture enhancer), Lauryl Lysine (skin-conditioning agent), Sodium Chloride (stabilizer), Trihydroxystearin (texture-enhancing), Dimethicone Crosspolymer (suspending agent), Resveratrol (antioxidant), Quercetin (antioxidant), Epigallocatechin Gallate (antioxidant), Tocopheryl Acetate (vitamin E/antioxidant), Tetrahexyldecyl Ascorbate (vitamin C/antioxidant), enisonedA (skin-restoring), Bisabolol (skin-soothing), xilaS Alba (willow) Bark Extract (skin-soothing), Punica Granatum (Pomegranate) Extract (antioxidant), Haematococcus Pluvialis (Astaxanthin) Extract (antioxidant), Hydrolyzed Corn Starch (texture-enhancing/mattifying agent), Polysorbate 80 (texture-enhancing), Hydrolyzed Silica (texture-enhancing/mattifying agent), Triethoxycaprylylsilane (texture enhancer), C12-15 Alkyl Benzoate (emollient texture enhancer), Isopropyl Titanium Triisostearate (texture-enhancing), Caprylyl Glycol (preservative), Hexylene Glycol (preservative), Ethylhexylglycerin (preservative), Iron Oxides (CI 77491, CI 77492, CI 77499) (colorant), Phenoxyethanol (preservative).

FAQ

What is the biggest difference between Resist Anti-aging Youth-extending Hydrating Fluid SPF 50 and Resist Anti-Aging Super-light Daily Wrinkle Defense SFP 30?

Resist Super-Light SPF 30 has a mineral sunscreen base, which makes this product more suitable for people with sensitive, oily skin. The mineral sunscreen also provides a greater mattifying effect than the Resist Hydrating Fluid SPF 50. Resist Super-light SPF 30 has a touch of colour to help skin look more even-toned. Resist Hydrating Fluid SPF 50 has a fantastic light texture that is ideal if you have oily, breakout and blackhead-prone skin.

Is Resist Super-Light Daily Wrinkle Defense SPF 30 suitable for breakout-prone skin?

Yes. Despite containing 13% zinc oxide, this formula was designed so that the zinc oxide 'floats' over skin rather than settling into pores - this is accomplished via innovative silicone technology.

Is Resist Super-Light Daily Wrinkle Defense SPF 30 suitable for rosacea?

Yes. Not only is the formula fragrance-free (like every other Paula's Choice product) it contains the gentle mineral active zinc oxide plus proven anti-irritants and antioxidants that work to reduce inflammation. When inflammation is reduced, skin appears less red and looks more even-toned.
Research
Seminars in Plastic Surgery, August 2016, issue 3, pages 129-133 Oxidative Medicine Longevity, 2015, volume 2015, 709628 Dermatologic Research and Practice, 2012, volume 2012, 135206 International Journal of Cosmetic Science, December 2006, issue 6, pages 447-451 Current Pharmaceutical Biotechnology, 2014, issue 2, pages 173-181 Journal of Drugs in Dermatology, September 2014, issue 9, pages 1021-1025 Evidence Based Complementary Alternative Medicine, 2013, article 827248 Journal of Cosmetic Dermatology, March 2008, issue 1 pages 2-7 Evidence Based Complementary Alternative Medicine, 2013, article 827248 Indian Dermatology Online Journal, April-June 2013, issue 2, pages 143-146 The Journal of Clinical and Aesthetic Dermatology, January 2013, issue 1, pages 16-26