https://www.paulaschoice.de/en/skin-balancing-oil-absorbing-mask-full-size-2750.html
Skin Balancing Mask
Absorbs oil, reduces blackheads and enlarged pores, and balances oily skin.

Skin Type:

Combination skin, Oily skin

Concern:

Breakouts , Blackheads , Enlarged pores

Ingredients:

Glycerin , Kaolin , Willow Bark Extract

View all
Remove from wishlist
Add to Wishlist
Variations
Full size 118 ml
Product out of stock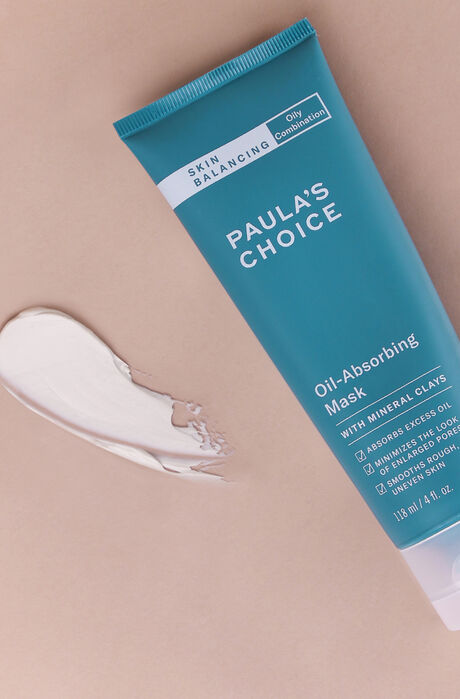 Skin Balancing Mask
Full size
This product is sold out at the moment. Fill in your email address below and we'll gladly send you an email as soon as it is back in stock!
Shipping costs Austria € 6
60 day money-back guarantee
What does it do?

A mask to gently balance oily skin.

This mask contains a blend of natural mineral clays to balance skin by absorbing excess oil and dislodge debris from pores for a clearer complexion. The formulas also contains skin soothing and skin repairing ingredients to calm and soothe skin. The mask rinses easily leaving skin soft, matte and smooth.

Key Features

Visibly reduces enlarged pores

How to use

Gently cleanse skin and apply a thin layer all over the face and (if needed) neck and let dry for 10–15 minutes. Rinse thoroughly with tepid to warm water. Follow with a BHA exfoliant, serum and then your day or night moisturiser. Those with oily to very oily skin can use this mask several times per week, while those with normal to slightly oily skin can use it less frequently (once or twice per week, for example).

Reviews

Thank you for submitting your review! It will be reviewed by our staff before it is posted.

Da ich Unreinheiten nur in der T-Zone habe und diese über den Tag verteilt ölig wird benutze ich die Maske alle 1-2 Wochen in der T-Zone. Auf trockenen Stellen kann die Maske schon sehr unangenehm werden und brennen. Mehrmals in der Woche kann ich sie nicht benutzen, da die Haut sonst austrocknet. Reduziert Mitesser? Leider nein

Ich habe eine tendenziell ölige T-Zone und meine Wangen neigen zur Trockenheit weswegen ich Masken oft nur partiell verwende. Diese Maske trocknet meine Haut nicht aus und brennt auch nirgends (auch nicht auf den trockenen Stellen) aber hilft sehr gut gegen meine Pickel. Eine Porenverfeinernde Wirkung habe ich nicht feststellen können darum ziehe ich einen Punkt ab, aber insgesamt ein weiteres sehr gutes Produkt von Paula!

Ich habe in der T-Zone Mischhaut mit teilweise zystischer Akne. Ja, die Maske brennt. ABER, wenn man nach ca. 15 Minuten die Haut abwäscht, ist diese sehr klar, hell und ruhig. Am nächsten Morgen wird die Haut ruhiger und Rötungen sind weniger sichtbar. Insgesamt hat sich jetzt nach 2 Wochen, ich benutze die Maske 2 mal die Woche oder wenn die Haut sehr gestresst ist, auch öfter.
Insgesamt sind die Entzündungen zurückgegangen. Insgesamt ist die T-Zone ruhiger. Weniger fettig. Weniger Pickel. Weniger Rötungen.
Direkt nach der Anwendung ist die Haut glatt und kleinporig. L.O.V.E.

Ich hatte gehofft, dass diese Maske bei Aknehaut hilft, konnte jedoch leider keine Verbesserung feststellen. Das Produkt brennt zwar nicht wie bei anderen, es hat aber auch keine positiven Auswirkungen für mich gemacht. Dafür ist es dann leider doch zu teuer. Schade.

Antwort Kundenservice:

Liebe A,

vielen Dank für Ihre Bewertung. Bitte setzen Sie sich mit uns telefonisch in Verbindung, gerne beraten wir Sie und empfehlen Ihnen ein passendes alternativ Produkt.
Herzliche Grüße

Ich habe robuste, unreine Mischhaut und benutze so einige Produkte von PC. Aber diese Maske ist jetzt bei mir in den Müll gelandet, denn Sie brennt sofort nachdem ich sie auftragen haben. Ich habe diese Maske sechsmal benutzt, aber nach maximal fünf Minuten muss ich sie wieder abwaschen. Eine ölabsorbierende Wirkung konnte ich auch nach schmerzhaften 15 Minuten nicht feststellen.


Antwort Kundenservice:

Liebe Jana, herzlichen Dank für Ihr Feedback. Wir bedauern es sehr, dass die Maske eine Unverträglichkeit bei Ihnen hervorgerufen hat. Obwohl alle Produkte von Paula's Choice so reizarm wie möglich konzipiert worden sind, ist eine Überempfindlichkeit auf bestimmte Inhaltsstoffe leider nicht auszuschließen. Gerne hätten Sie sich telefonisch bei uns melden können und von Ihrer 30 Tage Geld zurück Garantie gebrauch machen können. Wenn Sie noch weitere Hilfe oder Tipps zur Verbesserung Ihres Hautzustandes wünschen, stehen wir natürlich gerne weiterhin zur Verfügung und freuen uns auf Ihren Kontakt. Viele Grüße, Ihr Paula's Choice Team.

Ich hatte mir eine Probe dieser Maske bestellt und wurde nach einer Einwirkzeit von ca. 15 Minuten mit einer reinen, sehr weichen Haut belohnt. Selbst meine empfindlichen Wangenpartien wurden durch die Maske nicht gereizt.
Für empfindliche Mischhaut bis ölige Haut ist diese Maske also wirklich empfehlenswert. Dass die Maske jedoch unheimlich viel besser ist, als klärende Masken von anderen Firmen, kann ich nicht bestätigen. Da mir der WOW-Effekt gefehlt hat (den ich bei diesem Preis schon erwarte), bekommt das Produkt dann trotz solider Leistung, nur 4 Sterne.

Ich hatte mir 2 Proben dieser Maske bestellt. Ich wende jetzt schon 2 Wochen lang verschiedene andere Produkte von PC an und mit denen bin echt zufrieden und vertrage sie gut. Aber diese Maske brennt wie Hölle auf der Haut. Es wurde zwar minimal besser während der Einwirkzeit, aber selbst heute früh beim Auftragen des Sonnenschutzes brennt es wieder.
Desweiteren hatte ich ein paar kleine total ausgetrocknete Hautstellen, also nicht nur die üblichen Hautschüppchen. Dieses Produkt ist wohl nicht für mich geeignet.

Ich habe zwar ölige/fettige haut. dennoch trocknet diese Maske meine haut so sehr aus. ohne feuchtigkeitscreme danach nicht so dufte... deswegen ein stern abzug

In der Zeit, als ich noch ständig Pickel bekommen habe und auch meine Mitesser auf der Nase sehr ausgeprägt waren, hat die Maske sehr gut geholfen.

Meine Haut hat sich schneller regeneriert, die Pickel und Mitesser wurden reduziert und meine Haut war weniger rot. Außerdem hat die Maske auch meine eigentlich trockene Haut nicht weiter strapaziert. Nachdem ich meine Akne jetzt aber im Griff habe, ist die Maske aber kein Muss-Produkt mehr für mich.

Diese Maske ist einfach großartig bei Mischhaut, man hat nachdem abwaschen richtig ein erfrischtes Gefühl . Die Haut fühlt sich richtig porentief rein an und der gesamten Glanz ist verschwunden. Meine Haut spannt danach ein bißchen, aber das ist nach dem eincremen verschwunden und zurück bleibt eine klares Hautgefühl. So stell ich mir eine Maske vor, hier wird endlich gehalten was andere Hersteller versprechen. Ich werde die Maske auf jeden Fall wieder bestellen.

natürlich könnte man argumentieren, dass reine Heilerde/Clay viel günstiger ist aber 1. hat man hier eine praktische tube mit der man auch verreisen kann und 2. muss man nichts mehr zusammenrühren und sich nicht selber um den richtigen pH-wert kümmern (bei heilerde ja sehr wichtig). habe die maske nun seit ca. einem jahr, nutze sie mal mehr mal weniger in abwechslung mit selbstrühr-masken und finde sie richtig gut. tut eigentlich alles was auf der verpackung drauf steht.
achtung bei empfindlicher haut: kann nach 10-15 zu brennen beginnen also anfangs lieber etwas kürzer drauf lassen.

Diese Maske ist wunderbar bei fettiger Haut.
Viel besser als die Sauerei mit reiner Heilerde - noch dazu ist sie pflegend und beruhigend - und ohne Alkohol.
Und ach 10 Masken ist die Packung immer noch ca. 70% voll !
Es genügt vollkommen eine dünne Schicht aufzutragen.
Ich bin sehr zufrieden und werde sie wieder nachkaufen.

Danke Paula ! :)

Macht was auf die Verpackung steht. Hilft mit Öl Produktion und Mitesser. Andere Ton Masken für ölige Haut haben oft Alkohol dabei, was wirklich nicht im Kosmetik gehört. Hier ist wirklich nur enthalten was sein muss und was hilft. Und für den Preis ist die Tube riesig, tolle Preis-Leistung Verhältnis.

Heute das erste mal ausprobiert und sofort einen sichtbaren Effekt erzielt.
Ich war anfangs skeptisch weil man so viel hoch gelobte Produkte zur Auswahl hat allgemein aber die Marke Ansicht hat mich echt beeindruckt. Bei richtiger Anwendung einfach spitze große Lob :)

More reviews Less reviews

Ingredients

What are the key ingredients?

Glycerin
Skin-replenishing and restoring ingredient, found naturally in skin. It helps skin to maintain a healthy look and feel, defending against dryness.

Kaolin
Naturally occurring clay mineral. Its absorbent properties make it a popular ingredient in clay masks for oily skin.

Willow Bark Extract
Plant extract that has skin-soothing benefits for skin.

Ingredients:
Aqua, Kaolin (clay/absorbent), Bentonite (white clay/absorbent), Glycerin (hydration/skin replenishing), xilaS Alba (Willow) Bark Extract (skin-soothing), Steareth-2 (texture-enhancing), Stearic Acid (texture-enhancing), Aloe Barbadensis Leaf Juice Powder (hydration/skin-soothing), Sea Whip Extract (skin-soothing), Colloidal Oatmeal (skin-soothing), Bisabolol (skin-soothing), Ascorbyl Palmitate (vitamin C/antioxidant), Tocopheryl Acetate (vitamin E/antioxidant), Phospholipids (hydration/skin replenishing), Panthenol (skin replenishing), Retinyl Palmitate (vitamin A/antioxidant), Butylene Glycol (preservative), Disodium EDTA (stabilizer), Phenoxyethanol (preservative), Caprylyl Glycol (preservative), Ethylhexylglycerin (preservative), Hexylene Glycol (preservative).

Faq

Can I use the Skin Balancing Oil Absorbing Mask for my dry skin?

The Skin Balancing Oil Absorbing Mask is especially developed for oily skin. If you have combination skin, you can use the mask on the oily areas. For dry skin, try the Skin Recovery Hydrating Treatment Mask.
Research
Skin Pharmacology and Physiology, August 2012, issue 5, pages 227-235 Journal of the American Academy of Dermatology, November 2015, issue 5, pages 856-863 Indian Journal of Dermatology, 2008, issue 4, pages 163-166 Indian Dermatology Online Journal, April-June 2013, issue 2, pages 143-146 Indian Journal of Dermatology and Venereology, March-April 2012, issue 2, pages 142-145 International Journal of Cosmetic Science, February 2000, issue 1, pages 21-52 Journal of Cosmetic Science, July-August 2011, volume 62, issue 4, pages 361-370 Journal of Clinical Interventions in Aging, December 2006, issue 4, pages 327-348 Marine Drugs, 2004, volume 2, issue 2, pages 73-82