https://www.paulaschoice.de/en/ultra-rich-soothing-body-butter-full-size/5560.html
Ultra-Rich Soothing Body Butter
Ultra-rich, creamy texture leaves dry skin soft, supple and hydrated for hours.

Skin Type:

Dry skin

Concern:

Very dry skin , Sensitive skin

Ingredients:

Oat Extract , Shea Butter

View all
Variations
Full size 113 gram
Remove from wishlist
Add to Wishlist
Product out of stock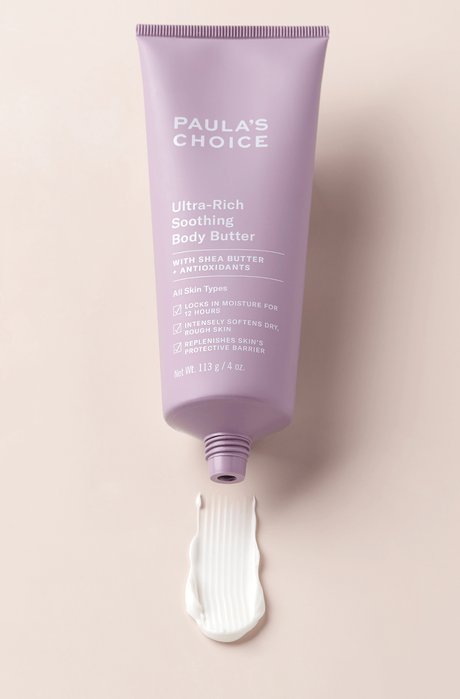 Ultra-Rich Soothing Body Butter
Full size
This product is sold out at the moment. Fill in your email address below and we'll gladly send you an email as soon as it is back in stock!
Shipping costs Austria € 6
60 day money-back guarantee
What does it do?

Our richest, most nourishing body moisturiser.

This super-hydrating body butter contains a blend of nourishing plant oils and soothing shea butter to relieve and replenish dry, uncomfortable skin. The rich, creamy texture leaves dry skin soft, supple and hydrated for hours.

Key Features

Leaves skin soft and hydrated

Rich cream that nourishes skin

How to use

Massage over dry areas (elbows, heels, knees, and anywhere you want to seal in moisture to soften skin) as often as needed. Excellent when used after applying an AHA or BHA exfoliant to enhance softness and healing.

Reviews

Thank you for submitting your review! It will be reviewed by our staff before it is posted.

Diese Creme ist mein Rettes für alle Hauttrockenheiten, schuppende Stellen, etc. auch mein Sohn und mein Freund benutzen sie regelmäßig. Zieht schnell ein, hinterläßt keinen Fettfilm und wirkt sehr schnell. Ich benutze sie auch im Gesicht, eigentlich sogar hauptsächlich, funktioniert als pflegende Gesichtscreme wunderbar.

.. für trockene Haut. Ist minimal leichter als die clinical Gesichtscreme. Lässt sich auch leichter verteilen. Hoffe sie bleibt im Sortiment. Benutze sie auch fürs Gesicht.

Aufgrund von Proben habe ich mich in die total schöne buttrige Konsistenz und das gepflegte weiche Finish verliebt. Die Vollgröße habe ich mir im Anschluss gekauft und verwende nun die Body Butter vorrangig für Gesicht, Hals und Dekolleté. Eine sehr schöne Creme auch für normale Haut!

Absolutes Top-Produkt, zu dem schon eigentlich alles gesagt wurde. Einzig die Tubengröße von 113 ml lässt einen jedesmal wieder mit dem Kopf schütteln. Wer das für ein Körperpflegeprodukt angemessen findet, ist entweder sehr, sehr reich oder sehr, sehr klein. Hier sollte nachgebessert werden. So reicht es wirklich gerade nur für eine Handcreme und das ist schade.

Für meine trockene und an den Unterschenkeln juckende Haut total gut. Trotz der 'Festen' Konsistenz lässt sich die Creme gut verteilen. Ein Punkt Abzug habe ich gegeben für das Preis-Mengen-Verhältnis. Da ich mich jeden Tag eincreme, sind die 100 ml schnell weg. Da muss ich mir leider eine Alternative suchen: Ist mir zu teuer! Aber wirklich spitzen Creme auch für Hände und Füße!

Sheabutter macht zwar weiche Haut, zieht aber nie ein! Zumindest bei mir nicht. So endet das meiste in den Klamotten und obwohl sich die Haut oberflächlich weicher anfühlt, bleibt sie unter der Cremeschicht rau. Dieses Produkt werde ich nicht wiederkaufen!

Hatte eine Probe dieser Creme mehr oder weniger aus Zufall und Experimentierfreude mal irgendwann auf meine Nase, die wegen eines heftigen Schnupfens übel aussah und furchtbar wehtat, aufgetragen, weil die üblichen Apotheken-Cremes für diesen Gebrauch immer furchtbar fettig sind und man dadurch einfach noch kränker aussieht und sich auch so fühlt... ;-) In den ersten 30 Sekunden hat es furchtbar gebrannt, aber ich habe einfach gewartet, und dann... ! Die Regeneration der geschädigten Haut geht mit dieser Creme unglaublich schnell - nach ein paar Stunden, am besten über Nacht (aber auch am Tag), ist die Haut an den entsprechenden Stellen wie neu (das schaffen die Cremes aus der Apotheke bei mir nicht - sobald ich die Nase am nächsten Morgen einmal wieder geputzt habe, ist es fast wieder so schlimm wie am Abend vorher) - sowohl gefühlt als auch optisch. (Und matt ist die Creme auch!) Habe mir dann die volle Größe gekauft, nur für Erkältungen. Und manchmal für trockene Hände, sonst habe ich mit trockener Haut wenig Probleme. Nur das Brennen ganz am Anfang muss man eben aushalten können, falls es auftritt...

Durch eine Probe bin ich zu dieser body butter gekommen. Sie ist wirklich eine Wohltat, meine Fußsohlen haben mich nämlich bald umgebracht. Sie waren so trocken, das ich sogar Nachts davon aufgewacht bin.

Cremes aus der Apotheke, Fußprodukte und sogar ein Schaum von der Fußpflege haben nur kurzfristig geholfen.
Ich wollte schon einen Termin beim Hautarzt machen.

Schon nach wenigen Anwendungen der body butter sind meine Fußsohlen glatt, weich und genährt wie nie.
Ich bin begeistert.
Es dauert zwar etwas, bis sie eingezogen ist, deshalb benutze ich sie Abends und bearbeite Hände, Schienenbeine und Knie gleich mit.
Ich bin sehr begeistert davon und empfehle sie auch meinen Freundinnen weiter.

Auf jeden Fall ein Nachkaufprodukt für mich!!!

Tolles Produkt!
Benutze es ausschließlich für meine Hände.
Anfangs sehr reichhaltig und etwas schmierend, aber nach ca. 3 - 5 min. ein Traum;-)
Hält in der Tat die Haut den ganzen Tag geschmeidig und rundum wohl versorgt - nachcremen nie nötig gewesen!
Ergebnis: streichelzarte Hände;-)

More reviews Less reviews

Ingredients

What are the key ingredients?

Oat Extract
Contains antioxidant and skin-soothing properties.

Shea Butter
This plant lipid, extracted from the karite tree, is used as an emollient and has smoothing properties for dry skin. it's also a rich source of antioxidants.

Ingredients:
Aqua, Butyrospermum Parkii (Shea) Butter (emollient/antioxidant), Caprylic/Capric Triglyceride (emollient/skin-repairing ingredient), Glyceryl Stearate SE (thickener/emulsifier), Olea Europaea (Olive) Fruit Oil (antioxidant), Dimethicone (hydration), Stearic Acid (thickener), Glyceryl Stearate (texture-enhancing), Mangifera Indica (Mango) Seed Butter (emollient/antioxidant), Cetyl Alcohol (thickener), Simmondsia Chinensis (Jojoba) Butter (non-fragrant antioxidant plant oil/skin-repairing ingredient), Cocos Nucifera (Coconut) Oil (non-fragrant antioxidant plant oil/skin-repairing ingredient), Persea Gratissima (Avocado) Oil (non-fragrant antioxidant plant oil/skin-repairing ingredient), Avena Sativa (Oat) Kernel Extract (anti-irritant), Glycine Soja (Soybean) Oil (non-fragrant antioxidant plant oil), Oryza Sativa (Rice) Bran Oil (non-fragrant antioxidant plant oil), Tocopherol (vitamin E/antioxidant), Ascorbyl Palmitate (vitamin C/antioxidant), Squalane (skin-repairing ingredient), Glycerin (skin-repairing ingredient), Beta-Sitosterol (plant fatty acid/skin-repairing ingredient), Panthenol (skin-conditioning agent), Hydrogenated Vegetable Glycerides Citrate (emulsifier), Propylene Glycol (slip agent), Butylene Glycol (hydration), Disodium EDTA (stabilizer), Ethylhexylglycerin (preservative), Phenoxyethanol (preservative).

FAQ

What is the difference between Clinical Ultra Rich Body Butter Soothing and face creams Paula's Choice?

Clinical Ultra-Rich Soothing Body Butter is our thickest and most soothing cream. The body butter has a different texture than our face creams for dry skin. Specially designed to provide the best protection for dry to very dry skin, to make for example, hands, feet, elbows and knees smoother. Do you have extremely dry facial skin? You may even use this body butter on your face. Please keep in mind that the texture feels thicker.

I am prone to breakouts. Can I use Clinical Ultra Rich Body Butter?

CLINICAL Ultra-Rich Body Butter contains multiple vegetable oils and emollient ingredients, of which the natural composition is very similar to that of the skin fat (sebum) which is produced by our skin and is therefore not suitable for areas of the skin that are prone to acne.

I have terrible dry feet. How should I use Clinical Ultra Rich Body Butter?

If you want incredible soft, super smooth feet overnight, apply a thin layer of Paula's Choice RESIST Skin Revealing Body Lotion with 10% AHA (glycolic acid) on your feet before going to sleep. After that apply a thicker layer Clinical Ultra-Rich Soothing Body Butter, and wear a couple of clean cotton socks over it and leave it on all night. You will wake up the next morning with noticeably softer feet.
Research
Indian Dermatology Online Journal, April-June 2013, volume 4, issue 2, pages 143-146 Indian Journal of Dermatology, Venereology, March-April 2012, issue 2, pages 142-5 The Journal of Clinical and Aesthetic Dermatology, June 2011, issue 6, pages 45-55 Journal of the European Academy of Dermatology and Venereology, November 2005, issue 6, pages 672-88 Journal of Drugs in Dermatology, September 2014, issue 9, pages 1021-5 Clinical Dermatology, March-April 2009, issue 2, pages 159-65 Indian Journal of Dermatology, May-June 2016, issue 1, 3 pages 279-287 Dermatologic Therapy, September-October 2007, issue 5, pages 314-21 Clinical Dermatology, May-June 2012, issue 3, pages 286-296