https://www.paulaschoice.de/en/clear-regular-strength-set/bundleclearreg.html
Clear Regular Strength Set
This set works to unclog pores, prevent breakouts and fight blackheads and redness.

Skin Type:

Combination skin, Oily skin

Concern:

Breakouts, Blackheads, Enlarged pores

Ingredients:

Avobenzone, Panthenol (Vitamin B5), Salicylic Acid/BHA

View all
Remove from wishlist
Add to Wishlist
Product out of stock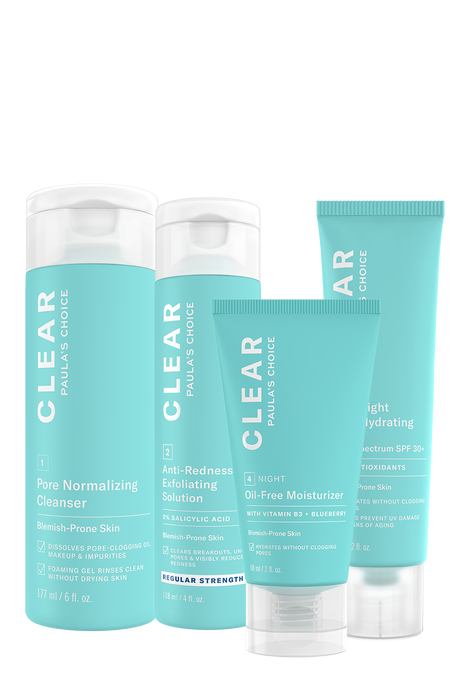 Clear Regular Strength Set
This product is sold out at the moment. Fill in your email address below and we'll gladly send you an email as soon as it is back in stock!
Shipping costs Austria € 6
60 day money-back guarantee
What does it do?

Cleanse, exfoliate and protect: the fastest way to smooth skin

The Clear Regular Strength Set will help you in the battle against breakouts, blackheads and redness. Use the products daily and discover the best skin of your life. This set includes a facial cleanser, a BHA exfoliant, a day cream with SPF and a night cream.

Key Features

Fights breakouts and blackheads

Unclogs and visibly refines pores

How to use

First use the cleanser. Then you apply the exfoliant (note: do not rinse). As last step apply the day- or nighttime moisturiser.

Reviews

Thank you for submitting your review! It will be reviewed by our staff before it is posted.

Ich habe eine zu Akne neigende Mischhaut. Dieses Set ist super und hilft meiner Haut sehr und verbessert sie auch. Ich wünschte, dass das Fluid mehr Inhalt hätte, aber sonst bin ich mit diesen Set sehr zufrieden und werde es auf jeden Fall weiterempfehlen und nachbestellen.

Für meine Mischhaut die besten Produkte! Schon nach der ersten Anwendung fühlt sich die Haut angenehm weich an, keine fettige T-Zone mehr oder trockene, gerötete Wangen.
Make-up Entfernung und Hautpflege in einem! Ich bin begeistert von dem clear regular strength set <3

Ich möchte Paulas Choice ein großes Dankeschön sagen für die beste Kosmetik, die ich ausprobiert habe, meine Haut ist wirklich gesund, ich benutze seit 7 Monaten Kosmetik.

Zuerst muss ich etwas näher auf meine Haut eingehen ... Ich habe sehr helle und empfindliche Mischhaut. Teilweise ist sie trocken und dann auch wieder fettig mit Mitessern und Rötungen. Ich habe wirklich alles ausprobiert und nichts hat geholfen. Cremes waren entweder zu reichhaltig, haben meine Haut glänzen lassen oder sie extrem gereizt. Diese Pflegelinie von Paulas choice ist die Erste die meine Haut super toll verträgt. Der Cleanser ist super mild und reinigt gut ohne die Haut zu reizen. Das leichte Fluid mit SLF sowie der ölfreie Moisturizer ziehen ein, hinterlassen keinen fettigen Film und versorgen meine Haut dennoch mit Feuchtigkeit. Keine neuen Unreinheiten! Das BHA vertrage ich auch gut ( das on der schwarzen Flasche war z.b gar nichts für meine Haut), ich verwende es jeden 2. Abend. Natürlich können die Produkte nicht zaubern...die Unreinheiten verschwinden nicht von heut auf morgen komplett, aber dennoch bin ich bisher sehr zufrieden.

Da ich so begeistert vom Clear Regular Strength Deluxe-Proben Set war, habe ich mir dieses nach 4 Wochen in der Full Size Größe nachbestellt. Meine Haut freut sich, weiterhin genau die Pflege zu erhalten, die sie benötigt. Meine zystische Akne ist weitestgehend verschwunden und mein Hautbild hat sich wirklich deutlich verbessert. Zuvor hatte ich täglich mehrere neue Hautunreinheiten bekommen, jetzt treten diese viel, viel seltener und vor allem auch viel kleiner auf. Ich habe keine schmerzhaften Entzündungen mehr unter der Haut und die wenigen Unreinheiten, die ich noch bekomme, heilen viel schneller ab. Ich bin rundum zufrieden und würde es jederzeit nachbestellen.

More reviews Less reviews

Ingredients

What are the key ingredients?

Avobenzone
Synthetic sunscreen ingredient, provides broad-spectrum sun protection and is one of the most widely used UVA filters in the world.

Panthenol (Vitamin B5)
Panthenol is a humectant because of its ability to attract and hold moisture. It improves the look and feel of skin.

Salicylic Acid/BHA
Primarily an exfoliant, helps to shed dead skin on the surface and inside the pore, therefore effective for reducing breakouts and blackheads. It also has soothing properties.

Please check the individual products for ingredient listings.