https://www.paulaschoice.de/en/clear-ultra-light-daily-hydrating-fluid-spf-30-full-size/6130.html
Clear Moisturiser SPF 30
Water-light fluid minimises the appearance of pores and protects skin from the sun.

Skin Type:

Combination skin, Oily skin

Concern:

Breakouts, Blackheads, Brown spots, Enlarged pores

Ingredients:

Avobenzone, Green Tea Extract, Vitamin E

View all

Routine:

Moisturizer AM
Remove from wishlist
Add to Wishlist
Product out of stock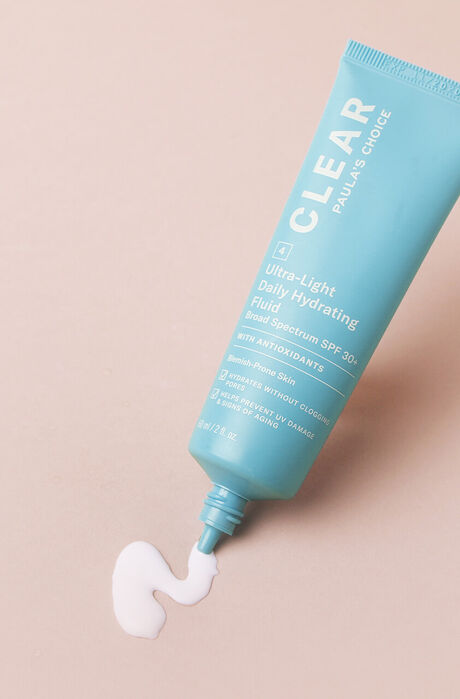 Clear Moisturiser SPF 30
Full size
This product is sold out at the moment. Fill in your email address below and we'll gladly send you an email as soon as it is back in stock!
Shipping costs Austria € 6
60 day money-back guarantee
What does it do?

Our lightest moisturiser for oily, breakout-prone skin.

This water-light moisturising fluid minimises the appearance of pores and protects skin from the sun's rays to help prevent the early signs of ageing. The non-greasy formula keeps excess shine in check while soothing, plant-based antioxidants work to fade red marks and calm skin.

Is this suitable for my skin?

What skin concern would you like to address?

(Please select one option).

Key Features

Suitable for breakout-prone skin

How to use

Apply as the last step in your morning skincare routine. Allow a moment to dry before applying makeup.

Reviews

Thank you for submitting your review! It will be reviewed by our staff before it is posted.

I love love love it. I was so clueless about skin care before starting using Paula's choice products, I only used a regular moisturizer with no SPF and no other stuff beside cleansing. i started incorporate this one every morning after cleansing with the "Resist Anti-Aging Foaming Facial Cleanser" which is incredible as well, then the toner "Skin Balancing Facial Toner" which leaves my face feeling really clean and fresh (but too much can make it dry a bit) , and then putting this cream and my face never felt more stable and glowy!
I have combination skin and it's so tricky to find the right moisturizer for me. and this one is prefect, it is light but yet very hydrating! will definitely buy again this one and more Paula's choice products <3

Die Creme lässt sich super auftragen, was mit LSF nicht immer der Fall ist. Zieht schnell ein und riecht angenehm neutral. Ich brauche aber eine recht große Menge um ein gutes Gefühl auf der Haut zu spüren.

Konsistenz ist einfach super und Geruch ist neutral. Super passend für meine combination Haut-typ.
Ein Stern Abzug da der Tubenhals von alleine abgebrochen ist und läuft das Fluid Creme einfach aus. Schade :( nicht mal die Hälfte benutzt. Also für diesen Preis, soll die Verpackung upgedatet werden.

Ich habe mir das probenset der clear Reihe bestellt und bin so auf diese Creme gestoßen. Ich hatte immer Probleme mit Sonnenschutz, da ich eine unreine Haut habe und Sonnencreme diese immer verschlimmert hat. Mir gefällt besonders gut die milchige Konsistenz, man glänzt nicht so im Gesicht und sie ist sehr leicht. Meine Haut ist danach total weich und unbeschwert! Meine Pickel werden nicht gefördert und ich kann jetzt endlich jeden Tag mit LSF rausgehen! Ich habe endlich die perfekte tagescreme für mich gefunden. Für den Sommer werde ich mir dann noch die Probe von der Creme mit LSF 50 holen und hoffe sie ist auch so gut! Die Probe hält bei mir auch sehr lange! Bis jetzt 1,5 Monate und soe ist noch nicht leer. Absolute kaufemofehlung!

Habe mir die Creme jetzt bei Douglas bestellt, da ich verzweifelt nach einer LSF Tagescreme für trockene Akne-anfällige Haut gesucht habe und bin super glücklich. Die Konsistenz ist sehr flüssig, was ich als angenehm empfinde! Nutze sie mit einem hydratisierendem Toner. Hoffentlich ist sie hier auch bald wieder zu haben!

Ich mag die ultraleichte Konsistenz .
Es mattiert leicht und liegt angenehm auf der Haut . Manchmal prickelt es auf der Haut (habe empfindliche Haut) deshalb ein Punkt weniger .
Für trockene Haut nicht zu empfehlen ,mit wer wirklich fettige Zonen hat wird damit glücklich .
Ich werde noch weitere Cremes probieren .

Nie wieder eine andere tagescreme!
Ich habe zu Akne neigende Haut und jede Creme zuvor war mir einfach zu fettig. Dieses Fluid ist einfach super angenehm. Die leichte Textur ist der Hammer und das Gefühl danach auf der Haut toll! Sie zieht schnell ein und hinterlässt ein seidiges, wohlgenährtes Gefühl! Bin einfach happy :-)

Super gute und leichte Tagescreme! Zieht schnell ein und hinterlässt keinen fettigen Film. Gut unter Make-up zu tragen. Selbst ohne Akneproblemen aber bei Normaler- und Mischhaut zu empfehlen.

Ich bin sehr begeistert von dieser Tagescreme! Sie zieht schnell ein und hinterlässt keinen fettigen Film.
Meine Haut hat bei allen vorherigen Produkten (der Konkurrenz) nach kurzer Zeit angefangen zu schwitzen und ich habe den ganzen Tag geglänzt.
Bei dieser Creme bleibt das schwitzen aus. Ich glänze noch, ist aber nicht mehr so extrem.. und kann notfalls mit Puder behoben werden. Toll!!

Das Fluid zieht schnell ein, lässt sich gut unter Make-Up verwenden und klebt nicht. Den in anderen Bewertungen erwähnten pflegenden Effekt kann ich nicht feststellen, aber das soll das Fluid ja auch gar nicht, benutze es nach meiner üblichen Tagescreme. Außerdem bekommt man davon keine Unreinheiten, wie bei vielen anderen Sonnencremes der Fall ist. Auch der Geruch, der wie bei anderen Sonnencremes sehr stark ist, verfliegt nach kurzer Zeit. Den letzten Stern musste ich abziehen, da die Verpackung wirklich furchtbar ist. Nach nicht einmal der Hälfte ist die Spitze/der Applikator einfach abgebrochen und das Fluid (dank seiner sehr flüssigen Konsistenz) einfach herausgeflossen. Große Sauerei und schade um das teure Produkt!

Liebe Elena, vielen Dank das du dir die Zeit genommen hast, um uns dein Feedback mitzuteilen.
Wir bedauern, dass deine Pflege defekt ist. Bitte wende dich gerne dafür an unseren Kundenservice.

Liebe Grüße dein Team von Paula's Choice

Super leichte Tagescreme - sehr gut geeignet für unreine Haut. Eignet sich gut als Make up Grundlage.
Einziges großes Manko - hab die Tube vor einer Woche erst geöffnet und der Tubenhals ist bereits gebrochen. Bisschen ärgerlich, da die Tube ja noch frisch ist

Liebe Frau Bibsn, vielen Dank das du dir die Zeit genommen hast, um uns dein Feedback mitzuteilen.
Wir bedauern, dass deine Pflege defekt ist. Bitte wende dich dafür an unseren Kundenservice.

Liebe Grüße
dein Team von Paula's Choice

Wow!!! Benutze sie erst seit zwei Tagen aber die ist Bombe !! Hinterlässt kein weißen Film auf der Haut zieht super schnell ein unr pflegt gut. Bin begeistert

Schöne leichte Tagespflege mit LSF 30, riecht zwar ziemlich nach Sonnenpflege aber der Geruch verfliegt schnell.

Die Tagescreme ist sehr leicht, zieht schnell ein und sitzt super unter Makeup.
ABER die Verpackung ist grauenvoll. Der Applikator reißt einfach ab und das Produkt fließt durch die sehr flüssige Konsistenz komplett raus und wird verschwendet. Die Verpackung sollte dringend überarbeitet werden...

Liebe Kundin, Lieber Kunde,

vielen Dank das du dir die Zeit genommen hast um unser Produkt zu bewerten.
Wir bedauern, dass du mit der Verpackung keine gute Erfahrung gemacht hast.
Wende dich doch bitte an unseren Kundenservice um dir hier weiterhelfen zu können.

Liebe Grüße, dein Team von Paula's Choice

Ich habe dieses Produkt zweimal gekauft und es ist sehr gut; Die Qualität des Produkts ist hoch und die Haut sieht wunderschön aus.
Es zieht schnell in die Haut ein. Aber es ist ein Problem: die Verpackung: Jedes Mal, wenn der Behälter irgendwo um den Deckel herum reißt und die Creme herauskommt, wäre es großartig, wenn Sie das beheben könnten.
Danke.

Liebe Georgia,

vielen Dank, dass du dir die Zeit genommen hast um unser Produkt zu bewerten.
Das die Verpackung der Pflege defekt ist tut uns Leid. Wende dich doch bitte dafür an unseren Kundenservice.

Liebe Grüße, dein Team von Paula's Choice

Ich benutze die Clear Tagescreme in Kombination mit den anderen Produkten aus dem Clear Regular Strength Set. Sie ist angenehm leicht, zieht morgens sehr schnell ohne Rückstände ein und lässt sich problemlos unter Make Up verwenden. Da ich vor wenigen Tagen unvorhergesehen über einen längeren Zeitraum der doch noch sehr starken Herbstsonne ausgesetzt war, kann ich auch schon etwas über den Lichtschutzfaktor sagen: Während Personen in meinem Umfeld einen Sonnenbrand im Gesicht bekommen haben, blieb meine Haut absolut unversehrt! Daher absolut empfehlenswert.

Super leichte Pflege, die trotzdem ausreichend Feuchtigkeit spendet. Beruhight und reguliert meine aufgeregte Haut. Kaufempfehlung!

More reviews Less reviews

Ingredients

What are the key ingredients?

Avobenzone
Synthetic sunscreen ingredient, provides broad-spectrum sun protection and is one of the most widely used UVA filters in the world.

Green Tea Extract
Possesses potent antioxidant and skin-soothing properties and has impressive research in terms of its many benefits for skin, including anti-ageing properties.

Vitamin E
One of the most researched antioxidants for the body and for skin. Plays a supporting role in helping defend skin from the stress caused by UV light exposure.

Ingredients:
Aqua, Ethylhexyl Methoxycinnamate (Octinoxate, 7,5%, sunscreen), Glycerin (hydration/skin replenishing), Ethylhexyl Salicylate (Octisalate, 5%, sunscreen), Silica (absorbent agent), Octocrylene (2%, sunscreen), Butyl Methoxydibenzoylmethane (Avobenzone, 2%, sunscreen), Dimethicone (hydration), Benzyl Alcohol (preservative), Tocopherol (vitamin E/antioxidant), Chamomilla Recutita (Matricaria) Flower Extract (antioxidant), Vitis Vinifera (Grape) Seed Extract (antioxidant), Camellia Sinensis (Green Tea) Leaf Extract (antioxidant), Camellia Oleifera (Green Tea) Leaf Extract (antioxidant), Peucedanum Graveolens (Dill) Extract (antioxidant), Sambucus Nigra (Black Elderberry) Fruit Extract (antioxidant), Avena Sativa (Oat) Bran Extract (skin-soothing), Punica Granatum (Pomegranate) Extract (antioxidant), Lycium Barbarum (Goij) Fruit Extract (antioxidant), Hydrogenated Lecithin (skin-restoring), Titanium Dioxide (texture-enhancing/texture-enhancing), Dimethicone/Vinyl Dimethicone Crosspolymer (hydration), Diethylhexyl Syringylidenemalonate (hydration), Hydroxyethyl Acrylate/Sodium Acryloyldimethyl Taurate Copolymer (film-forming/suspending agent), Xanthan Gum (texture-enhancing), Sodium Carbomer (texture-enhancing), Sodium Benzoate (stabilizer), Potassium Sorbate (stabilizer), Phenoxyethanol (preservative).

FAQ

Will Clear Ultra-Light Daily Hydrating Fluid SPF 30+ fade red marks from breakouts?

Because of the excellent sun protection it provides, it will help fade those lingering marks from past breakouts, especially when used as part of a comprehensive, gentle skincare routine that includes a good exfoliant and serum loaded with anti-ageing ingredients, such as Resist Ultra-Light Super Antioxidant Concentrate Serum.

I have extra-sensitive skin that breaks out. Can I use this Clear daytime moisturiser?

If you have extra-sensitive skin, we recommend that you try Calm Redness Relief Moisturizer SPF 30 for normal to oily skin, as it is formulated with gentle mineral-based sunscreens that are non-irritating for extra-sensitive skin.

Is there another Paula's Choice product which is similar to the Clear Ultra-Light Daily Hydrating Fluid SPF 30+?

Our Clear Ultra-Light Daily Hydrating Fluid SPF 30+ is identical in terms of ingredients to our Resist Youth-Extending Daily Hydrating Fluid SPF 50, apart from the sun protection.
Research
Seminars in Plastic Surgery, August 2016, issue 3, pages 129-133 Oxidative Medicine Longevity, 2015, volume 2015, 709628 Dermatologic Research and Practice, 2012, volume 2012, 135206 The Journal of Clinical and Aesthetic Dermatology, January 2013, issue 1, pages 16-26 Indian Journal of Dermatology and Venereology, March-April 2012, issue 2, pages 142-145 Archives of Dermatology, August 2000, issue 8, pages 989-994 Molecular Medicine Reports, November 2010, issue 6, pages 895-901 International Journal of Toxicology, 2001, supplement 1, pages S21-45 Phytomedicine, January 2005, issue 1-2, pages 131-137 Pharmacognosy Magazine, July 2010, issue 23, pages 198-203