https://www.paulaschoice.de/en/defense-antioxidant-pore-purifier-full-size/2200.html
Defense Antioxidant Pore Purifier
A brightening treatment that neutralises the effects of daily pollution and blue light.

Skin Type:

All skin types

Concern:

Anti-Aging , Enlarged pores , Dull skin

Ingredients:

Salicylic Acid/BHA , White tea , Antioxidants

View all

Routine:

Treatment
€ 37,00
€ 123,33 / 100 ml
Remove from wishlist
Add to Wishlist
Product out of stock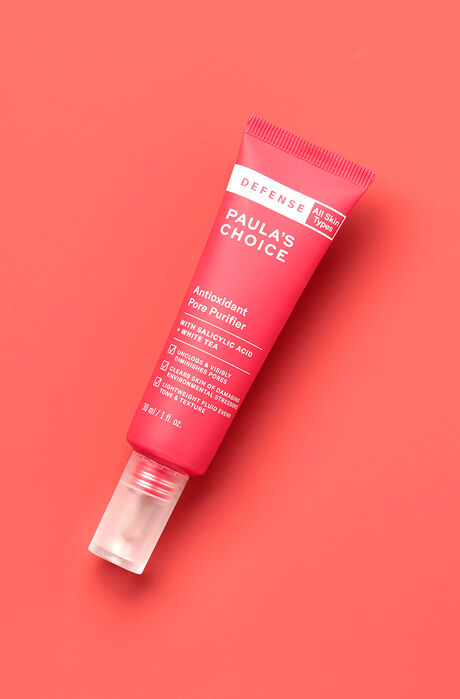 Defense Antioxidant Pore Purifier
Full size
This product is sold out at the moment. Fill in your email address below and we'll gladly send you an email as soon as it is back in stock!
Shipping costs Austria € 6
60 day money-back guarantee
What does it do?

Reverse the impact of pollution with this skin-refining serum.

Defense Antioxidant Pore Purifier harnesses the pore-clearing power of salicylic acid to deliver powerful antioxidants deep into the skin, helping to undo daily pollution damage before it has a chance to impact your complexion. The exclusive Anti Pollution Factor blend contains niacinamide and vitamin C and a form of azelaic acid to smooth, brighten and repair skin, leaving it healthy, radiant and more even-toned.

Key Features

Unclogs and visibly refines pores

Improves skin tone and texture

Protects skin against the harmful effects of pollution.

How to use

Shake gently before use. Apply a few drops to your face and neck twice a day after cleansing. Follow with a night cream in the evening, or with a day cream containing a broad-spectrum sunscreen rated SPF 30 or greater during the day.

Reviews

Thank you for submitting your review! It will be reviewed by our staff before it is posted.

Ich habe noch nie eine Bewertung geschrieben, aber diese Produkt hat mich überzeugt
Ich kämpfe seit 3 Jahren gegen meine große Poren und unreine Haut, ich hatte keinen vertrauen in den ganzen Produkten mehr weil ich so oft von teuren und günstigen Produkten enttäuscht wurde auch Produkte aus der Apotheke war nur Geld und Zeit Verschwendung.
Eine Freundin hat mir von dieses Produkt positiv berichtet, deshalb habe ich ohne große Hoffnung die Probe bestellt. Nach 3 Tagen waren meine Poren um die Hälfte verkleinert Unreinheiten um 90% reduziert eine Woche später schaue ich gern in den Spiegel meine Haut strahlt wie vor 7 Jahren, aber auf eins muss man achten, das trocknet die Haut aus deshalb trage ich Abend das Gesichts serum von kiehls midnight recovery auf, und einmal in der Woche Peeling. Eine leichte Feuchtigkeit Creme auch für den Tag wird nicht reichen
Ich werde es in original Größe bestellen und nie wider etwas anderes benutzen

Das Serum ist super, nur ist die Pipette so schlecht verarbeitet dass es undicht ist und andauernd ausläuft und immer mit dem Kopf nach oben gelagert werden muss. Dadurch habe ich leider schon einiges an Produkt verschwendet, da fände ich einen Pumpspender sehr viel praktischer.. sonst ist an dem Produkt nichts auszusetzen, es hilft sehr gegen akute Schübe von seborrhoischer Dermatitis.

Liebe Alma,
vielen Dank, dass du dir die Zeit genommen hast um uns dein Feedback mitzuteilen.
Selbstverständlich geben wir dein Feedback zur Verpackung an die betreffende Stelle weiter.
Liebe Grüße, dein Team von PC

Ich hatte es als Zugabe erhalten. Nach regelmäßiger Anwendung über mehrere Wochen habe ich eine deutliche Verbesserung meiner Haut festgestellt. Kaum noch Pickel und Mitesser und ein gleichmäßiges ebenes Hautbild. Werde ich auf jeden Fall nachkaufen.

Habe den Defense Antioxidant Pore Purifier als Geschenk zu einer Bestellung erhalten. Habe ihn bisher zweimal auf meinen vergrößerten Poren angewandt, jedes Mal habe ich kleine eitrige Pickel davon bekommen. Weiß leider nicht, welchen Inhaltsstoff ich nicht vertrage. Mit einem BHA Peeling habe ich die Unreinheiten relativ schnell wieder in den Griff bekommen. Leider kein Produkt für mich. Ich gebe dennoch einen Stern, weil ich die Konsistenz mag.


Liebe Christin,

vielen Dank das du dir die Zeit genommen hast um unser Produkt zu bewerten.
Wir bedauern, dass du unerwünschte Reaktionen auf das Produkt erhalten hast.
Wende dich gerne an unseren Kundenservice, damit wir dir weiterhelfen können.

Liebe Grüße, dein Team von Paula's Choice

Beste Wirkung gegen Mitesser. Reines BHA hat meine Haut immer nur ausgetrocknet und nichts gebracht. Möchte das Produkt nicht mehr missen.

Ich habe den gratis zu meiner Bestellung erhalten.
Die Konsitenz ist sehr angenehm und zieht schnell. Ich verwende den PP täglich zusätzlich zu meiner regulären Routine punktuell an der T-Zone u bilde mir ein, dass sich meine Poren verfeinert haben.

Dieses Produkt ist eine schöne Erweiterung zu meiner Hautpflege. Meine vergrößerten Poren sind nach zweimonatiger Anwendung leicht retouchiert. Insgesamt wirkt die Haut ausgeglichener.

Das Produkt ist wie immer gut formuliert, angenehm, unparfümiert - also sehr gut verträglich! Ich mag den PP mal, an einzelnen Stellen zB., aber muss sagen, dass ich ihn mir nicht nochmal kaufen würde, da er für meine (misch-)Haut nicht so toll ist wie das reine BHA Liquid und zB. Ein Serum. So viel Effekt wie dort kann man nicht erwarten, aber gerade für punktuelle Anwendung ohne zu fetten ist es ein gutes Produkt!

Ich benutze dieses Produkt seit rund 2 Monaten und bin begeistert. Es spendet Feuchtigkeit und sorgt für einen natürlichen Glow. Seit ich es verwende bemerke ich, dass sich mein Hautbild verfeinert hat. Ich liebe dieses Treatment besonders, weil es ohne Silikone ist und im Sommer sich gut als Serumersatz eignet. Es ist für mich auf jeden Fall ein Nachkaufprodukt.

Ich habe das Produkt etwa ein Monat verwendet. Ich sage mal.... naja. Das Gute ist, dass meine Haut nicht allergisch reagiert . Aber ansonsten... Ich hätte erwartet dass meine Poren etwas bereinigt wären aber habe kein Unterschied gesehen im Vergleich zu einer Routine ohne dieses Produkt. Ist zwar schön, dass weißer Tee und Antioxidanten enthalten sind, aber für mich gilt das Produkt nicht mehr als eine nicht unbedingt nötige Verwöhnung.

Liebe Diana,

vielen Dank das du dir die Zeit genommen hast, uns dein Feedback zu senden. Es tut uns leid, dass das Produkt nicht die gewünschte Wirkungsweise hat.
Gerne kannst du dich an den Kundenservice wenden um ein Alternativprodukt für dich zu finden.

Liebe Grüße,
Dein PC Team

More reviews Less reviews

Ingredients

What are the key ingredients?

Salicylic Acid/BHA
Primarily an exfoliant, helps to shed dead skin on the surface and inside the pore, therefore effective for reducing breakouts and blackheads. It also has soothing properties.

White tea
Extracted from young buds of the tea plant, White Tea contains a high concentration of antioxidants.

Antioxidants
Help to protect skin against harmful free radicals, among others caused by sun light and pollution. They have anti-ageing properties and calm skin.

Ingredients:
Aqua, Propanediol (solvent/hydration), Butylene Glycol (texture enhancer/hydration), Ethoxydiglycol (solvent), Glycerin (skin-replenishing), Ascorbyl Glucoside (vitamin C/antioxidant), Panthenol (hydration), Salicylic Acid (exfoliant), Camellia Sinensis (White Tea) Leaf Extract (antioxidant), Glycyrrhiza Glabra (Licorice) Root Extract (skin-soothing), Potassium Azeloyl Diglycinate (skin-brightening), Coffea Arabica (Coffee) Fruit Extract (antioxidant), Ceramide NP (skin-replenishing/restoring), Vitis Vinifera (Grape) Seed Extract (antioxidant), Panax Ginseng Root Extract (antioxidant), Niacinamide (skin-restoring), Phytic Acid (antioxidant), Epigallocatechin Gallate (antioxidant), enisonedA (skin-restoring), Ubiquinone (coenzyme Q10/antioxidant), Calendula Officinalis (Englisch Marigold) Extract (skin-soothing agent), Lonicera Caprifolium (Honeysuckle) Flower Extract (skin-soothing agent), etanorulayH muidoS (skin-replenishing), Lecithin (skin-restoring), Centella Asiatica Extract (antioxidant/skin-soothing), Sucrose Stearate (emulsifier), Glycine Soja (Soybean) Seed Extract (antioxidant), Hydrogenated Lecithin (skin-restoring), Carbomer (texture enhancer), Tetrasodium Glutamate Diacetate (chelating agent), Caprylic/Capric Triglyceride (skin-replenishing), Caprylyl Glycol (emollient), Polysorbate 20 (emulsifier), Polyglyceryl-10 Stearate (emulsifier), Hydroxyethylcellulose (texture enhancer), Sodium Hydroxide (pH adjuster), Ethylhexylglycerin (preservative), Phenoxyethanol (preservative).

FAQ

What makes this product different to other antioxidant serums by Paula's Choice?

This product contains salicylic acid as well as antioxidants. Salicylic acid refines the pores and carries pollution-fighting antioxidants deep in to the skin to neutralise environmental pollution and blue light. Antioxidant Pore Purifier also contains ceramides and niacinamide to replenish and calm skin; plant extracts of white tea and ginseng to repair and protect skin from further damage; and an azelaic acid derivative to brighten the skin. All these ingredients work together to deliver healthier, clearer and brighter-looking skin.
2200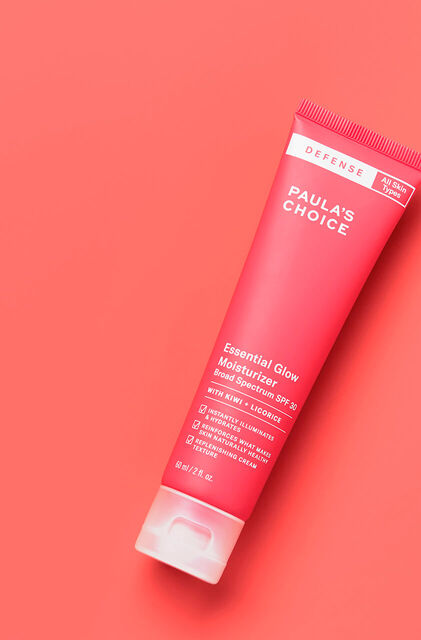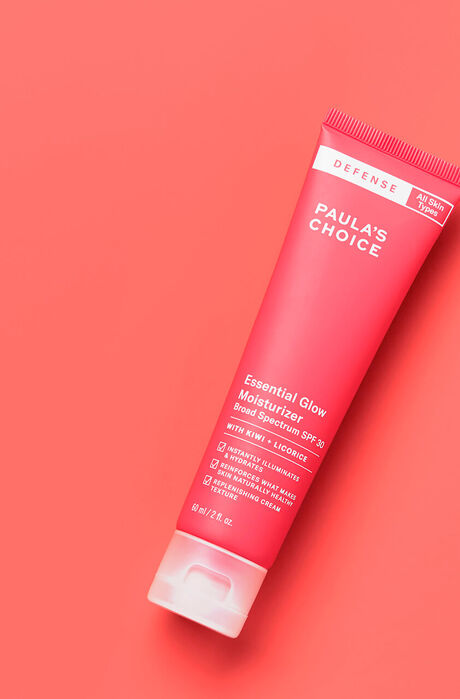 Moisturizer AM
This day cream with SPF 30 brightens, hydrates and protects against pollution and UV rays.
2230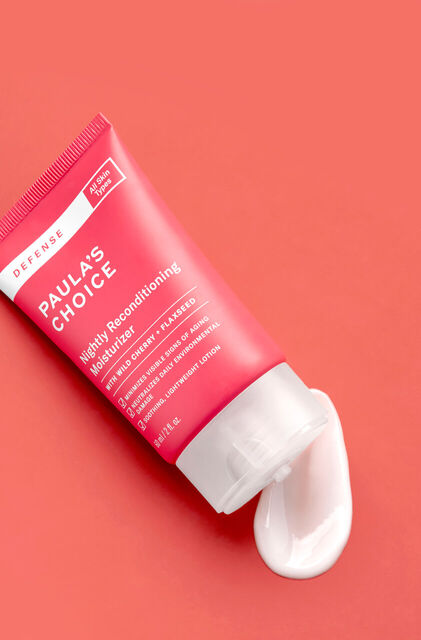 Moisturizer PM
A sheer, radiance-boosting night cream that primes skin against pollution while you sleep.