https://www.paulaschoice.de/en/moisture-renewal-oil-booster-full-size/7840.html
Moisture Renewal Oil Booster
Instantly replenishes tight, dehydrated skin, leaving it soft and smooth.

Skin Type:

Dry skin

Concern:

Anti-Aging , Very dry skin , Redness

Ingredients:

Ceramides , Argan oil , Jojoba Oil

View all

Routine:

Treatment
€ 39,00
€ 195,00 / 100 ml
Variations
Full size 20 ml
Remove from wishlist
Add to Wishlist
Product out of stock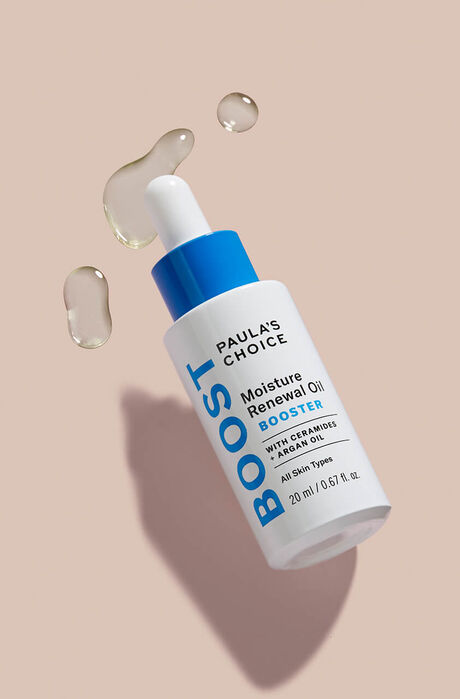 Moisture Renewal Oil Booster
Full size
This product is sold out at the moment. Fill in your email address below and we'll gladly send you an email as soon as it is back in stock!
Shipping costs Austria € 6
60 day money-back guarantee
What does it do?

First aid for dry skin.

This booster contains a nourishing blend of plant oils to instantly smooth and restore dry and flaky skin. The fragrance free oils drench skin with the essential fatty acids and antioxidants it needs to retain moisture for healthier skin. The light-weight formula leaves skin radiant and smooth.

Key Features

Rich oil that nourishes dry skin

Leaves skin soft and hydrated

How to use

Apply once or twice daily after cleansing, toning and exfoliating. Dispense 2–3 drops and add to your favourite moisturiser or serum. May also be used alone. For daytime, follow with a broad-spectrum sunscreen rated SPF 30 or greater. May be applied around the under-eye area.

Reviews

Thank you for submitting your review! It will be reviewed by our staff before it is posted.

Tolles Produkt! Kann nur weiterempfehlen.

Super Produkt!
Da ich oft mal mit zb BHA und Retinol übertreibe, und meine eigentlich unreine Haut zeitweise sehr trocken und rissig ist, schicke ich sie mit diesem Booster gerne mal über Nacht "in Urlaub". Am nächsten Morgen sieht sie super aus. Ganz wichtig: hier brennt nichts auf trockenen oder empfindlichen Stellen! Eine absolute Empfehlung!

Ich habe mit 54 eine fettige Haut, die leider auch trocken ist. Mit PC hat sich meine Haut innerhalb von 4 Monaten deutlich verbessert.
Bis dato war ich kein Fan von Ölen, da ich sehr grosse Poren habe. Nun benutze ich Retinol abends im Wechsel mit AHA, Ceramide Moisturizer und 1% Clinical. Nach den üblichen Anfangsbeschwerden, Spannungen wies Tier, habe ich auf Anraten des PC Teams das Omega Serum benutzt. Definitiv mein heiliger Gral.
Nun gehts aber in den Herbst und Winter. Bedeutet für mich Langstreckenflug, 1 Woche Hitze in UAE, Langstreckenflug, 3 Wochen Kälte und Heizungsluft in D, evt noch Flüge in Europa. Da braucht meine Haut etwas mehr an Pflege.
Ich mische also an den Retinolabenden 2 Pumphübe Retinol mit 2 Pumphüben Omega und 2 Tropfen Booster. Sensationell!
Selbst bei der oben beschriebenen Belastung spannt meine Haut nicht, die Poren vergrössern sich nicht, sicherlich auch Dank Niacinamid Booster morgens und abends und die Haut fühlt sich einfach nur gut an.
Super System von PC. Man kann sich die Pflege mischen, wie man es braucht.

Ich habe trockene, sensible Haut, die nur ein bisschen zu Unreinheiten neigt, aber vor allem vergrößerte Poren. Ich war auf der Suche nach einem Öl, das ich über Nacht tragen kann und habe mir die Luxusprobe von diesem Öl gekauft und ich liebe es. Es fühlt sich so angenehm weich an auf der Haut und ich mache abends oft ein Peeling und verwende dann das Öl mit meiner Gesichtspflege. Am nächsten Tag ist die Haut gestrafft, weich, ebenmäßig und ich brauche dann auch gar keine Foundation mehr tragen. Bin ein großer Fan und kann das Öl nur weiterempfehlen!

Das bisher erste und einzige Öl, das meine trockene, sensible und dennoch zu Unreinheiten neigende Haut dankend akzeptiert. Im Winter drei Tröpfchen (im restlichen Jahr reichen zwei) morgens auf die angefeuchtete Haut auftragen - bei etwas mehr Zeit noch mit einer kleinen Gesichtsmassage verbinden, Serum und Sonnenschutz drüber und meine grundsätzlich sehr schwierige Haut ist für den ganzen Tag zufrieden. Bald darf ein neues Fläschchen bei mir einziehen, mittlerweile wohl das vierte oder fünfte.

Ich gebe im Winter 3 Tropfen zu meiner Tagescreme hinzu, da meine Haut da etwas mehr braucht. Verursacht keine Pickel, keine Unterlagen. Der Glanz verschwindet nach ein paar Minuten. Nichts spannt mehr und es fühlt sich wunderbar an.

Dies ist das erste Gesichtsöl, welches bei mir keine Pickel oder Mitesser verursacht. Notmalerweise bekomme ich nach der Verwendung von Ölen sonst innerhalb eines Tages Hautprobleme. Dem PC Oil Booster habe ich lange als Probe daheim herumliegen lassen bis ich ihn mal verwendete. Ich kam erst nach der Verwendung einer Creme mit Distelöl auf die Idee das Öl mal zu probieren. Wer sich ein bisschen in die Zusammensetzung der verschiedenen Öle einliest, weiß, dass der Booster eine ausgewogene Mischung aus Linolsäuren, Öllsäuren usw ist.
Ich verwende die Creme als Zusatz in meiner Tages- oder Nachtcreme, was einwandfrei funkioniert.

Gives that extra boost when my skin is super dry. Super pleasant and easy to mix, leaves the skin like satin.

Mit 47 Jahren habe ich nicht mehr daran geglaubt, dass ich einmal so etwas Tolles finden werde. D.h. meine Haut spannt nicht mehr, die Unterlagungen bröseln endlich ab, und ich fühle mich sehr sehr wohl – perfekt.
Danke an "Paula's Choise"! Auch von mir eine absolute Kaufempfehlung!

Ein super vielseitig einsetzbares Produkt - sei es für mehr, bzw. intensivere Pflegewirkung meiner Feuchtigkeitspflege oder wenn einzelne Gesichtspartien etwas Extrazuwendung benötigen. Lässt sich super mit jeder Creme vermischen, fördert absolut keine Unreinheiten (bei meiner unreinen Haut trotz des fortgeschrittenen Alters ein Thema) und hinterlässt nur seidig weiche, gepflegte Haut.
Möchte nie mehr ohne sein!!

Das Öl macht meine Haut wunderbar weich. Zuerst hatte ich etwas bedenken, dass sich durch die Reichhaltigkeit des Öls mein Hautbild hinsichtlich Mitessen verschlimmern könnte. Diese Angst war allerdings unbegründet. Habe es den ganzen Winter über benutzt und meiner Haut geht es besser denn je. Weder habe ich Pickel bekommen, noch hatte ich, wie sonst die Jahre zuvor, rote und brennende Wangen. Kann den Booster nur jedem empfehlen, der eine intensive Pflege sucht.

Über mich:
Alter: 37 Jahre
Hauttyp: trockene Fetthaut, Neigung zu Couperose, Unterlagerungen, Mitessern, hormonell bedingten "Breakouts", Haut spannt oft nach dem Reinigen, erste Fältchen auf Stirn und unter den Augen, tiefe Nasolabialfalten (hatte dort schon immer extreme Grübchen beim Lächeln :))

Ich habe mir die kleine Probe dieses Produkts gekauft und mir zunächst drei Tropfen davon pur auf die Haut verteilt, quasi als Serum. Die Haut war danach super durchfeuchtet und fühlte sich glatt und genährt an.
Da ich im Moment mit diversen Produkten von PC rumprobiere, um meine perfekte Pflege für Morgens / Abends / Sommer / Winter zu finden, habe ich das Öl beim Testen der Hydralight-Serie mit unter die jeweiligen Moisturizer (mit / ohne SPF) gegeben, da die Hydralight-Serie ja - wie der Name schon sagt - Feuchtigkeit spendet (und das sehr gut), aber eher für Mischhaut und ölige Haut geeignet ist. Da ich trotz trockner Haut Unreinheiten habe, wollte ich das probieren - und es ist perfekt. Mit 1-2 Tröpfchen des Öls wird aus der Hydralight-Creme die perfekte Creme für meine unreine trockene Haut, besonders an warmen Sommertagen funktioniert das wunderbar.
Das Öl an sich ist sehr ergiebig. Wenn ich die Probe aufgebraucht habe, werde ich die Vollgröße ordern. Von mir eine uneingeschränkte Kaufempfehlung. Im Winter werde ich es dann ggf. 1 bis 2 mal die Woche morgens als Serum verwenden.

War bis vor kurzem gar kein Gesichtsöl-Fan.
Aber als ich auf Paulas USA Seite & Paulas Choice Skincare Channel auf YouTube diese hervorragenden Reviews gelesen und gesehen hatte, konnte ich mich einem Selbstversuch nicht mehr entziehen;-)
und ich muss wiedermal schreiben:
it (((WoW))) 'ed me - ganz klarer Fall, es gehört fortan in mein Pflege-Ritual.
Ich liebe es vor allem auch dafür, dass es an sensiblen "Hauttagen" das Clinical 1% Retinol Treatment etwas in seiner Wirkung puffert und gesteigerte Schuppung mindert - beruhigt Haut sehr gut!
(diesen Tip erhielt ich von Paulas Research Team auf YouTube - funktioniert hervorragend!).
Jetzt im Winter ein absolutes "jeden Tag must have" Produkt... im Sommer?! wird sich zeigen;-)

perfekt!!! ich hatte es mir bereits bei paula in den usa bestellt weil uch es unbedingt haben wollte :)
und ich kann sagen, dass es echt toll ist in der anwendung und wie sich die haut hinterher anfühlt. weich & durchfeuchtet. und das beste: es verursacht - bei mir zumindest - keine pickel und unterlagerungen am kinn wie manch anderes gesichtsöl!!! ich bin 45, habe mischhaut mit unreinheiten und habe, seitdem ich PC verwende, die schönste haut meines lebens. schade, dass ich über die jahre so viel geld und zeit und nerven verschleudert hatte. hautärzte konnten nicht helfen .... . ich bleibe bei PC was die pflege betrifft!!! absolute kaufempfehlung. und gut, dass es dieses öl nun auch im deutschen shop gibt :)

More reviews Less reviews

Ingredients

What are the key ingredients?

Ceramides
Major components of skin's outer layers, necessary for their water-retention capacity and provide replenishing and restoring benefits.

Argan oil
Skin softening and nourishing non-fragrant plant oil packed with skin-restoring fatty acids and vitamin E.

Jojoba Oil
Shown to enhance skin's restorative properties and can also provide topical skin-soothing benefits.

Ingredients:
Simmondsia Chinensis (Jojoba) Seed Oil (non-fragrant oil/skin-soothing/antioxidant/emollient), Carthamus Tinctorius (Safflower) Seed Oil (non-fragrant oil/skin-soothing/antioxidant/emollient), Prunus Armeniaca (Apricot) Kernel Oil (non-fragrant oil/skin-soothing/antioxidant/emollient), Helianthus Annuus (Sunflower) Seed Oil (non-fragrant oil/skin-soothing/antioxidant/emollient), Vaccinium Macrocarpon (Cranberry) Seed Oil (non-fragrant oil/skin-soothing/antioxidant/emollient), Argania Spinosa Kernel Oil (non-fragrant oil/skin-soothing/antioxidant/emollient), Borago Officinalis (Borage) Seed Oil (non-fragrant oil/skin-soothing/antioxidant/emollient), Oenothera Biennis (Evening Primrose) Oil (non-fragrant oil/skin-soothing/antioxidant/emollient), Echium Plantagineum Seed Oil (non-fragrant oil/skin-soothing/antioxidant/emollient), Ceramide NS (hydration/skin replenishing), Cholesterol (hydration/skin replenishing).

FAQ

Can I use this oil around my eyes?

Moisture Renewal Oil Booster can be mixed with any well formulated eye cream, eye serum, or eye gel. Add one or two drops to your eye-area product of choice, and apply, or you can apply the Moisture Renewal Oil Booster first and follow with your eye-area treatment.

Is Moisture Renewal Oil Booster suitable for rosacea-prone skin?

Yes! In fact, it is highly likely to improve symptoms of rosacea-prone skin such as redness and sensitivity. That's because this blend of oils is chockfull of antioxidant, anti-inflammatory, and barrier-repairing substances that can strengthen skin's surface and its ability to withstand damage.
Research
The International Journal of Nanomedicine, August 2014, volume 9, pages 3855-64 British Journal of Dermatology, February 1996, issue 2, pages 215-20 American Journal of Clinical Dermatology, 2003, issue 2, pages 107-29 Indian Journal of Dermatology, May-June 2016, issue 1, 3 pages 279-287 International Journal of Cosmetic Science, August 2005, issue 4, pages 243-9 Advances in Dermatology and Allergology, 2014, issue 6, pages 351-355