https://www.paulaschoice.de/en/radiance-renewal-mask-fullsize/2771.html
Radiance Renewal Mask
Brightening and hydrating. Combats dark spots and promotes radiant-looking skin.

Skin Type:

All skin types

Concern:

Anti-Aging , Brown spots , Dull skin

Ingredients:

Arbutin , Bearberry Extract , Niacinamide/Vitamin B3

View all
Remove from wishlist
Add to Wishlist
Product out of stock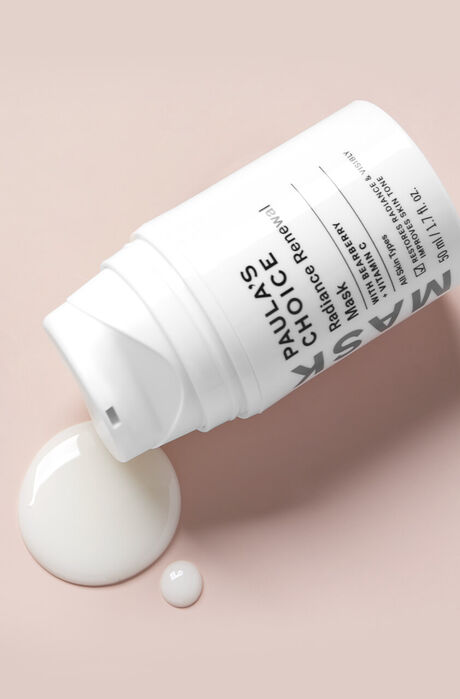 Radiance Renewal Mask
Full size
This product is sold out at the moment. Fill in your email address below and we'll gladly send you an email as soon as it is back in stock!
Shipping costs Austria € 6
60 day money-back guarantee
What does it do?

Get radiant, glowing skin overnight.

This silky, soft overnight mask contains skin brightening ingredients that leave skin with a youthful, luminous glow. It is formulated with skin soothing and hydrating ingredients to refresh skin and restore softness. The leave-on formula works overnight to boost a more even skin tone, increase hydration and smooth skin.

Key Features

Promotes radiant-looking skin

How to use

Use on clean skin. Apply a generous amount all over the face and neck. Leave on for at least 20 minutes. Rinse thoroughly and follow with the rest of your skincare routine. For optimum results, leave on overnight as the last step in your skincare routine. Use as often as needed.

Reviews

Thank you for submitting your review! It will be reviewed by our staff before it is posted.

Ich habe wirklich gute Ergebnisse mit dieser Maske, ABER man muss sich richtig benutzen wenn man eher trockene Haut hat. Für fettige Haut ist sie perfekt. Bei trockener Haut ist wichtig ein Toner, ein gutes Feuchtigkeits- Serum davor zu nutzen- und manchmal tue ich über die Maske eine Schicht Mixa 10% Phantenol bodylotion. So ist sie auch für eher trockene Haut perfekt. Ehrlich gesagt- ist es für mich schon fast mehr ein Serum- weil es wirklich einen schönen wow Effekt über Nacht ergibt.

Ich mag sie - bestelle sie mir immer als Deluxeprobe mit, da sie sehr ergiebig ist reicht sie eine Weile. Aller paar Tage oder wenn am nächsten Tag etwas besonderes ansteht, benutze ich sie anstelle eine Nachtcreme. Am nächsten Tag habe ich einen tollen Glow, fette weniger nach und sie hilft, dass die Entzündungsmale von Rosacea und Akne schneller abheilen.

Die Konsistenz ist sehr schön und lässt sich super auftragen. Nur hat die Maske gar nichts gebracht. Filorga hatte früher mal einen Nachtmaske nach der man am nächsten Tag mega aussah, hatte mir nachdem ich die Bewertungen las, so gewünscht das ich wieder so etwas finde aber leider hatte die Probepackung keinen Effekt. Aber auch keinerlei negative Reaktion.

Liebe Mara,
vielen Dank, dass du dir die Zeit genommen hast, unser Produkt zu bewerten. Wir bedauern, dass du keine guten Erfahrungen mit dem Produkt machen konntest. Wende dich gerne an unsere Produktspezialisten, diese empfehlen dir gerne das passende Produkt für deine Anforderungen.
LG, dein PC Team

Ich hätte nicht gedacht, dass sich diese Maske auch für unreine Haut eigenet, aber gerade in der kalten Jahreszeit ist sie perfekt! Sie pflegt die Haut hervorragend, spendet viel Feuchtigkeit ohne zu fetten und die Haut sieht am nächsten Morgen super gepfelgt und prall aus. In der kalten Jahreszeit benutze ich sie mehrmals wöchentlich, wenn meine Haut es verlangt. Ich bin sehr froh, dass ich durch ein Gratis-Sample auf dieses Produk aufmerksam geworden bin, da ich die Maske anhand der Beschreibung vermutlich nicht für meine Haut in Betracht gezogen hätte. Aber so habe ich zum Glück einen tollen zusätzlichen Schatz von Paula´s Choice in meiner Pflegesammlung.

Ich habe Mischhaut mit Trockenheitsfältchen. Benutze die Maske anstelle einer Nachtcreme als letzten Schritt. Die Haut sieht morgens unglaublich erholt und prall aus. Regelmäßig angewendet wird die Haut auch ebenmäßiger.

Diese Maske habe ich mir als Deluxe Probe bestellt und bin sehr überrascht vom Ergebnis. Ich trage sie manchmal nur nach dem Toner als Nachtcreme auf und am nächsten Morgen erstrahlt mein Gesicht in neuem Glanz. Die Maske fühlt sich wie eine sehr leichte Gel-Lotion an und lässt sich easy verteilen. Und am nächsten Tag sieht meine Haut nicht mehr matt, sondern sehr strahlend und gesund aus.

Ich liebe dieses Produkt und wende es ein bis zwei mal wöchentlich anstelle einer Nachtcreme an. Zwei Pumphübe für das Gesicht und Hals und mein Teint strahlt am nächsten Morgen!!

Mir gefällt die Maske sehr gut, ich benutze sie als nach einem Serum als Nachtcreme, und wasche sie nicht ab. Meine Haut ist danach morgens sehr schön prall und fühlt sich gut an. Ich habe den Eindruck, dass auch Pigmentflecken gemildert werden.

Ich habe mir die Probe-Größe bestellt und muss sagen, dass mir die Maske nicht ganz so gut gefällt.
Das Gesicht klebt nach dem Auftragen und ich habe das Gefühl, dass meine Haut darunter nicht genug Feuchtigkeit abbekommt. Es fühlt sich bei mir an, wie eine unnötige Schicht auf der Haut.
Ansonsten habe ich sie aber gut vertragen und sie lässt sich sehr gut verteilen.

Liebe Lara,
danke, dass Sie sich die Zeit genommen haben, unser Produkt zu bewerten. Wir bedauern, dass es offensichtlich nicht zu Ihrem Hauttyp passt. Wenden Sie sich gerne an unseren Kundenservice, um passendere Masken zu finden.
LG, Ihr PC- Team

More reviews Less reviews

Ingredients

What are the key ingredients?

Arbutin
Has an increasing amount of research attesting to its effectiveness for brightening an uneven skin tone.

Bearberry Extract
Has antioxidant properties, and there is some research showing it can have skin-brightening properties.

Niacinamide/Vitamin B3
Very effective skin-restoring ingredient that can visibly improve the appearance of enlarged pores, uneven skin tone, fine lines and dullness.

Ingredients:
Aqua, Butylene Glycol (hydrating), Glycerin (skin-replenishing ingredient), Dimethicone (skin softening), Niacinamide (skin-restoring ingredient), Olea Europaea (Olive) Fruit Oil (non-fragrant antioxidant plant oil), Hydroxyethyl Acrylate/Sodium Acryloyldimethyl Taurate Copolymer (dispersing agent/texture enhancer), Carrageenan (Chondrus Crispus) (texture enhancer), Arbutin (skin brightener), Magnesium Ascorbyl Phosphate (vitamin C/antioxidant), etanorulayH muidoS Crosspolymer (skin-replenishing ingredient), Arctostaphylos Uva Ursi (Bearberry) Leaf Extract (antioxidant skin brightener), Allantoin (skin-soothing), Isohexadecane (texture enhancer), Echium Plantagineum Seed Oil (non-fragrant antioxidant plant oil), xilaS Alba (Willow) Bark Extract (soothing plant extract), Hydrogenated Lecithin (skin-restoring ingredient), Polysorbate 60 (binding ingredient), Citric Acid (pH adjuster), Xanthan Gum (texture enhancer), Hydrogenated Phosphatidylcholine (hydrating agent), Phenoxyethanol (preservative), Potassium Sorbate (preservative), Sodium Benzoate (preservative).

FAQ

What is the difference between the Radiance Renewal Mask and other similar products?

The Radiance Renewal Mask is formulated for all skin types to promote a more radiant skin tone and texture. The gel-like formula provides light hydration while soothing ingredients improve skin tone and texture. While most night time masks on the market are cream based, the lightweight leave-on formula of the Radiance Renewal Mask provides unique benefits appropriate for all skin types.

Can I use the Radiance Renewal Mask during the day time?

The mask is primarily designed for night time use, but if you would like to use during the day make sure you follow with an SPF 30 or higher.

Why is this product positioned as a mask, it feels more like a moisturizer?

A moisturiser is designed to be absorbed more by the skin, whereas the texture of this mask is formulated so that it stays on the skin and has a long-lasting hydration effect, that's why you still feel the mask on your skin in the morning.
Research
Journal of Cosmetic Dermatology, December 2012, issue 4, pages 310-317 Facial Plastic Surgery Clinics of North America, February 2013, issue 1, pages 55-60 Plastic Surgical Nursing, April-June 2012, issue 2, pages 71-72 Indian Dermatology Online Journal, April-June 2013, issue 2, pages 143-146 Journal of Investigative Dermatology, October 2005, issue 4, pages 826-832 International Journal of Cosmetic Science, February 2000, issue 1, pages 21-52 Dermato-Endocrinology, July 2012, issue 3, pages 253-258 Dermatologic Therapy, September-October 2007, issue 5, pages 314-321