https://www.paulaschoice.de/en/shine-stopper-instant-matte-finish-with-microsponge-technology-full-size/3600.html
Shine Stopper
Keeps oily skin shine-free for up to 6 hours, while minimising the appearance of pores.

Covid-19 is impacting our supply and unfortunately this product is out of stock. We are working to make it available again as soon as possible. Please sign up below to receive an email when it is back in stock.

Skin Type:

Oily skin

Concern:

Blackheads , Enlarged pores

Ingredients:

Silicone , Glycerin

View all
Variations
Full size 30 ml
Remove from wishlist
Add to Wishlist
Product out of stock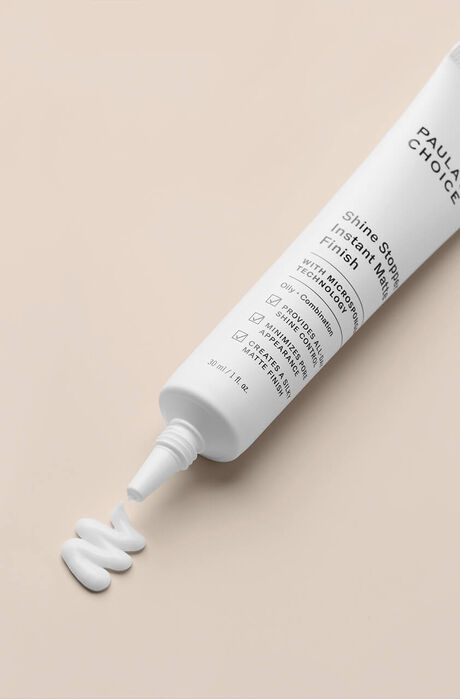 This product is sold out at the moment. Fill in your email address below and we'll gladly send you an email as soon as it is back in stock!
Shipping costs Austria € 6
60 day money-back guarantee
What does it do?

A soft, shine-free finish that lasts all day long.

This oil-absorbing primer gives a soft, powder-like finish. The unique Microsponge® technology keeps oily skin shine-free for up to 6 hours, while minimising the appearance of pores. Use it as the perfect base for flawless, long-lasting make-up or wear it alone.

Key Features

Great addition to your skincare regime

Visibly reduces enlarged pores

How to use

Use as the final step of your skincare routine. Apply a small amount by tapping your fingers on the oily parts of your face (do not rub). If you are using foundation, let this dry first before applying the Shine Stopper and possibly a face powder. You can reapply Shine Stopper during the day.

Reviews

Thank you for submitting your review! It will be reviewed by our staff before it is posted.

Ich habe jahrelang nach so einem Produkt gesucht. Meine ölige Haut treibt mich seit Ewigkeiten in den Wahnsinn. Als Mann habe ich deshalb bei der Damenkosmetik gewildert und bin fündig geworden. Die Creme hält meine Haut für 12 Stunden matt und ist bestens verträglich. Zwar ist der Preis für nur 30ml doch recht hoch, aber das ist es mir wert

Mein Lieblingsprodukt von Paula's Choice! Es mattiert wirklich den ganzen Tag bis Abends. Ich muss nicht mehr nachpudern und fühle mich total wohl ohne glänzendes Gesicht nach ein paar Stunden. Möchte ihn nie mehr missen!

Wirklich ein Produkt das hält, was es verspricht. Habe leider sehr ölige Haut und bisher hat nicht so gut und so lange geholfen!

Dieser Shine stopper hält definitiv was er verspricht !
Ich trage ihn morgens 1 mal auf, vorallem auf die Stirn weil diese sonst aussieht als hätte ich mich mit Öl eingecremt, und ja er hält den ganzen Tag meine Stirn glänzt nicht mehr ist null fettig ich liebe ihn und habe direkt nochmal auf Reserve nachbestellt ♥️
Danke Paulas Choice
Eure Produkte sind mit Abstand die besten auf dem Markt ! Ich werde nur noch hier bestellen ♥️

Ich habe extrem fettige Glanzhaut .
Kein Primer der Welt konnte mein Gesicht für länger als 10 Minuten mattieren.Jedes Makeup zerfloss direkt .Ich habe schon alles probiert !
In dem Shinestopper scheint irgendwas drin z sein was wirklich die Haut mattiert ab der ersten Sekunde bis zum Feierabend.
Ich bin sehr begeistert .Das ist für mich die beste Entdeckung des Jahres .Ich möchte nichts mehr anderes anwenden .
Übrigens brauche ich kein puder mehr seit dem shinestopper.

Das waren die besten 28 Euro die ich je investiert habe. Endlich keine Speckschwarte mehr im Gesicht. Habe selbst nicht dran geglaubt! Aber es hilft wirklich! Mädels, traut euch. Ihr werdet es nicht bereuen!

Bekomme mit dem shinestopper und der Resist Anti-Aging Tagescreme LSF 30 meine glänzende, ölige Haut endlich in den Griff!
Muss aber öfter mit dem shinestopper nachtupfen.

Mein neues Wunderprodukt! Also ich hätte wirklich niemals erwartet, dass es wirklich so gut und so lange mattiert. Sogar wenn zuvor glänzende Sonnencreme aufgetragen wurde. Diese sollte aber natürlich lange genug einziehen um den LSF zu gewährleisten. Der Shine Stopper lässt sich auch gut auffrischen, sogar über Make-up, denn nach einigen Stunden ließ das Ergebnis bei mir ganz langsam nach. Aber wirklich langsam. Ich kann nur sagen, ich liebe es. Noch nie hat etwas meine ölige Haut so lange und unkompliziert in den Griff bekommen.

Ich dachte, dass es für meine ölige Haut keine Rettung mehr geben würde, bis ich mir dieses Produkt kaufte. Zunächst hatte ich gar keine Erwartungen und holte es mehr aus Verzweiflung, allerdings bin ich so begeistert, dass ich bereits mehrmals nachbestellt habe!
Nach der Reinigung der Haut trage ich eine kleine Menge des Produkts auf und lasse es einige Minuten einwirken. Anschließend noch Primer, BB Creme, Puder und fertig! Nun muss ich mir keine Sorgen mehr machen, dass meine Haut stark glänzt.

Mattiert innerhalb von Sekunden und hilft mir damit, nach dem Auftragen der Sonnencreme mein Mineral-Puderconcealer, meine Puder-Foundation und mein Konturenpuder wunderbar aufzutragen.
Man braucht nicht viel, ich gebe immer ein paar Tupfen auf die Handfläche und arbeite das dann auf Gesicht und Hals vorsichtig ein. Es hält relativ lang. Was wichtig ist: man braucht die richtige Sonnencreme auch darunter, damit der mattierende Effekt fast den ganzen Tag hält.
Ein Must-Have, ich bestelle wieder nach!

Der Shine Stopper hält, was er verspricht - er stoppt den Glanz in meiner T-Zone sehr effektiv von morgens bis abends. Er verträgt sich allerdings nicht mit jeder Unterlage und ist etwas tricky im Auftrag - wenn man Pech hat, nimmt man die Foundation wieder mit runter. Am besten funktioniert er bei mir, wenn ich ihn erst auftupfe und anschließend Puder-Foundation (Mineral-Makeup) drüber gebe.

Wegen des nicht ganz unkomplizierten Handlings ein Stern Abzug. Ich kann das Produkt aber empfehlen. Eine Deluxe-Probe wäre schön.

More reviews Less reviews

Ingredients

What are the key ingredients?

Silicone
In its various forms it can feel like silk on skin. It's a great water-binding agent that holds up well and offers protection against moisture loss.

Glycerin
Skin-replenishing and restoring ingredient, found naturally in skin. It helps skin to maintain a healthy look and feel, defending against dryness.

Ingredients:
Aqua, Methyl Methacrylate/Glycol Dimethacrylate Crosspolymer (texture-enhancing/absorbent), Caprylic/Capric Triglyceride (emollient/texture-enhancing), Dimethicone (hydration), Cetearyl Alcohol (emollient/texture-enhancing), Glycerin (hydration/skin replenishing), PEG-100 Stearate (emollient/texture-enhancing), Magnesium Aluminum Silicate (absorbent), Glyceryl Stearate (texture-enhancing), Myristyl Myristate (texture-enhancing), Ceteareth-20 (texture-enhancing), Xanthan Gum (texture-enhancing), Disodium EDTA (stabilizer), Benzyl Alcohol (preservative), Phenoxyethanol (preservative).

FAQ

Is Shine Stopper Instant Matte Finish a primer?

Yes, Shine Stopper Instant Matte Finish is a primer in the sense that it helps those with oily skin maintain control over excess surface oil while smoothing the skin's texture. These features help enhance makeup application and wear, so you'll see longer-lasting results and won't have to touch up frequently. For best results, make sure your foundation has a matte finish.

What exactly is Microsponge® Technology?

Microsponge is a proprietary technology that works instantly and over time to help absorb and trap excess oil as it reaches your skin's surface. Much like a sponge absorbs moisture, Microsponge uses special porous polymers that not only absorb excess oil but also leave your skin feeling powdery smooth and fresh. Think of this technology as millions of spherical sponges working to keep your oily skin looking beautifully refined and perfectly matte without dryness or dullness.

Where does all of the excess oil go?

Once absorbed via the Microsponge® Technology, the excess oil remains trapped inside the unique polymers until they've reached their capacity to trap oil. Once this happens, you'll begin seeing excess shine on your skin; however, most will find that the technology built into Shine Stopper Instant Matte Finish keeps excess oil (shine) in check for several hours. When you cleanse your face, the polymers holding the excess oil are simply washed away!
Research
International Journal of Cosmetic Science, Epublication, July 2010 Molecular Pharmaceutics, September–October 2009, pages 1,441–1,448 British Journal of Dermatology, November 2006, pages 890–894; and www.microsponge.com.