https://www.paulaschoice.de/en/skin-perfecting-bha-liquid-exfoliant-full-size-2010.html
Skin Perfecting 2% BHA Liquid Exfoliant
Fast absorbing liquid removes built-up dead skin cells and fights blackheads.

Skin Type:

Combination skin, Oily skin

Concern:

Breakouts , Blackheads , Enlarged pores , Redness

Ingredients:

Salicylic Acid/BHA , Green Tea Extract , Methylpropanediol

View all

Routine:

Exfoliate
Remove from wishlist
Add to Wishlist
Product out of stock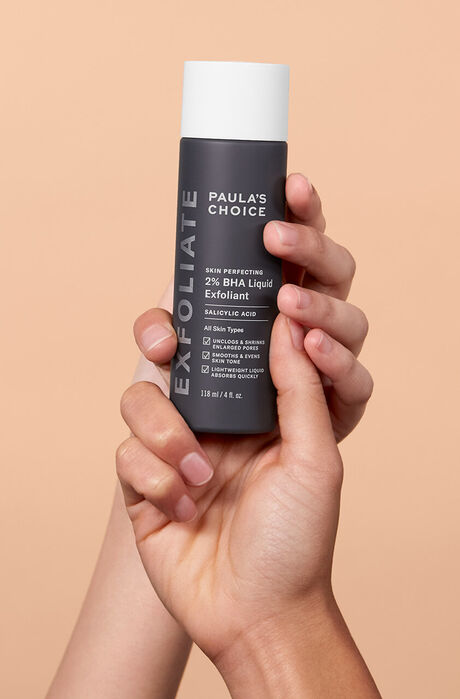 Skin Perfecting 2% BHA Liquid Exfoliant
Full size
This product is sold out at the moment. Fill in your email address below and we'll gladly send you an email as soon as it is back in stock!
Shipping costs Austria € 6
60 day money-back guarantee
What does it do?

Our No.1 bestselling exfoliant around the world.

Reveal flawless skin with our bestselling leave-on exfoliant. This gentle, lightweight fluid quickly exfoliates dead skin cells both on the surface and deep inside pores to reveal smoother, clearer, more radiant-looking skin. BHA (salicylic acid) has anti-inflammatory properties and helps to reduce blackheads, blemishes and redness.

Key Features

Fights breakouts and blackheads

Fast-absorbing liquid formula

Removes built-up dead skin cells

How to use

Lightly soak a cotton pad and gently apply over the entire face and neck, including the eye area (avoid lash line and eyelids). Do not rinse. At first, apply every other day and note skin's response. Then use up to twice daily. For daytime, follow with a broad-spectrum sunscreen rated SPF 30 or greater.

Reviews

Thank you for submitting your review! It will be reviewed by our staff before it is posted.

Ich habe leichte/mittelschwere Akne und habe vieles versucht um sie in Griff zu kriegen. Im März 2021 habe ich das Peeling gekauft in Hoffnung es würde mir helfen. Hat es auch getan! Nach 2 Wochen habe ich schon Verbesserungen gesehen (ich hatte Akne im Wangen und Schläfenbereich). Erst nach einem Monat kann ich mit Sicherheit sagen das dieses Produkt ein Wunder ist. Meine Haut ist nicht mehr fettig, die Poren sind kleiner geworden und die Hyperpigmentation nach der Akne ist fast weg! (zu dem Peeling benutze ich noch das Niacinamide Serum von The Ordinary). Die erste Woche habe ich das Peeling jeden zweiten Abend aufgetragen, in der zweiten Woche jeden Abend nach der Reinigung. Bitte beachten dass das Peeling die Haut austrocknen kann - am besten mit einer guten feuchtigkeitsspendenden Creme ausbalancieren. Extra Tipp - Vitamine und Omega-3 Pillen nicht vergessen! Schöne Haut kommt auch von innen!

Ich habe mir das Peeling bestellt da ich seit 8 Monaten die Pille abgesetzt habe und meine Haut förmlich eskaliert ist. Ich habe sehr viele Mitesser und auch teilweise schmerzhafte Pickel bekommen. Das Peeling ist der absolute Wahnsinn. Dazu muss ich auch sagen,dass ich eine ultra empfindliche Haut habe mit Neigung zu Ausschlag, Rötungen, Pusteln. Das Produkt hat absolut keinerlei Reize bei mir ausgelöst. Die Mitesser verschwinden nach jeder Anwendung nach und nach. Meine Haut sieht total ebenmässig und fein aus. Ich bin einfach so glücklich!!!

Seit Jahren leide ich unter Akne. Nie habe ich ein Mittel gefunden, welches meine Haut sichtbar besser macht. Auf Empfehlungen bin ich auf dieses Peeling gestoßen. Ich bin begeistert. Meine Haut war noch nie so gut und vor allem anhaltend so gut. Allerdings braucht es Geduld. Ich habe es 3 Monate täglich angewendet. Ohne Make-up das Haus zu verlassen war nie möglich. Nun reicht ein leichtes Puder zur Glättung aus. Ich bin mehr als zufrieden und habe bereits ein zweites Mal bestellt. Die Produkte sind insgesamt sehr ergiebig.

Leute das produkt ist ein traum meine poren sind fast weg und mein haut ist glätter geworden es ist toll obwohl ich es seit paar tagen verwende ich kaufs mir nochmal meine mitesser sind weg ich bin so froh das so ein Produkt gibt bis jz hat mir nichts geholfen ich bin so glücklich danke danke ❤

Ich bin wirklich begeistert! Ich habe mittelstarke Akne und leide regelmäßig an entzündeten Unterlagerungen. Ich habe das Produkt nur zwei Wochen täglich in meine Abendroutine eingebaut und ich sehe bereits deutliche Verbesserungen!! Ich habe schon zahlreiche Produkte ausprobiert und keines hat so geholfen wie dieses. Es ist auf jeden Fall das Geld wert!

Mein zweites Fläschchen ist gerade zur Hälfte leer und bis jetzt bin ich echt zufrieden! Ich merke deutlich, dass Pickel gehemmt werden nachdem ich es benutzt habe und es hinterlässt immer einen tollen glow. Es wird sicherlich nicht meine Hauptprobleme lösen, aber ich freue mich über kleine Schritte zu einer schöneren Haut! Ich kann es weiter empfehlen!

Das Peeling benutze ich jetzt schon seit einem halben Jahr und bin einfach begeistert. Meine Mischhaut ist ebenmäßiger geworden, sodass ich immer öfter auch ohne Make-Up das Haus verlasse ohne mich unwohl zu fühlen, sie hat einen tollen Glow bekommen, meine Poren sind kleiner geworden und ich habe weniger Rötungen. Ich kann zu 100% empfehlen es einfach mal zu testen, meine Haut hat es nachhaltig verbessert.

Leider bin ich mir noch bei der Wirkung dieses Produktes unsicher. Dass es keine Wunder auf der Welt gibt ist mir klar, jedoch gibt das Produkt ein Versprechen ab, was es für mich - zumindest bis jetzt - nicht einhalten kann. Ich hatte 2x Deluxeproben, die ich jedoch sehr unregelmäßig angewandt habe. Jetzt habe ich mir die Originalgröße bestellt und nutze sie auch hartnäckig in der Hoffnung einer Verbesserung. Ich beobachte weiter.

Ich habe das Peeling als erstes Produkt drr Marke gekauft. Es wurde überall so empfohlen und ich kann es nur weitergeben. Seid Jahren teste und suche ich und dieses Produkt und die komplette Marke funktionieren wirklich.

Ich weiß nicht was ich sagen soll hahah schreibe eigentlich sehr selten aber dieser Peeling ist was anders ich hätte es gar nicht erwartet 1 - 2 Tage habe ich nicht' s bemerkt nach einer woche hat sich da was verändert und ich ear schockiert habe nicht' s anderes verwendet außer nur dieser Peeling Morgen' s & Abend' s ich finge die Peeling helft die Personen die leichteren Akne & Pickel haben für die leute die schwereren haben wird es eher anders sein aber ich würde es gerne wieder kaufen die beste Kaufoption seit Jahren die anderen Produkten hatten nur schlimmer gemacht Empfehlenswert!!!!

Ich liege gerade noch im Bett und dachte mir, hey ich schreibe denen Mal, aus eben entstandener Begeisterung, eine Bewertung - dieses Produkt hat es einfach mehr als verdient. Ich habe überall kleine Pickelchen auf den Wangen und an der Stirn. Ich habe sie mit nichts wegbekommen, sodass ich nur sogar Nizoralshampoo bei der Apotheke auf Verdacht wegen Fungal Akne gekauft. Ich habe das Peeling von euch gestern zum ersten Mal angewendet und wache heute morgen auf: MEHR ALS DIE HÄLFTE MEINER KLEINEN PICKELCHEN SIND WEG. Sie sind einfach verschwunden. Meine Kinnlage ist immernoch unten. Nie hat mir was geholfen und das Fruchtsäue Peeling verändert alles von einem Tag auf den nächsten. Ich bin so begeistert und bedanke mich von Ganzem Herzen! Liebe Grüße und bleibt gesund :)

Wirklich ein sehr sehr gutes Produkt. Die ganz kleinen Pickelchen auf der Stirn sind einfach verschwunden. Die Haut ist ebenmäßiger. Poren sehen viel kleiner aus. Nach einem Monat muss ich sagen: Es ist den Hype Wert!!

Nachdem ich die Pille vor einigen Jahren abgesetzt hatte, hatte ich extreme Pickel und vor allem unzählige Unterlagerungen am Kinn und auf den Wangenknochen. Die entzündeten Pickel habe ich zwar schnell in den Griff bekommen, die Unterlagerungen wurde ich jedoch nicht los.
als ich dann auf Paulas choice aufmerksam wurde, war ich zwar zunächst skeptisch, da es die Produkte nur im Internet zu kaufen gibt, wurde jedoch bereits durch die tolle Telefonberatung angenehm überrascht. bei dieser wurde mir eine Pflegeserie empfohlen, die insb. dieses 2%BHA-Peeling umfasste. auch die Rezenssionen haben mir Mut gemacht, dass dadurch endlich die Unterlagerungen verschwinden.
Anfang hat sich meine Haut extrem verschlechtert (wie bei der Telefonberatung angekündigt), danach hatte ich jedoch absolut keine entzündeten Pickel mehr... die Unterlagerungen an sich sind nicht sofort verschwunden, vielmehr hatte ich das Gefühl, dass nach ca. 3 Monaten die Unterlagerungen so an die Oberfläche kommen, dass man sie wie Mitesser ausdrücken kann. Ich nehme das Peeling jeden Tag abends nach der Reinigung und habe bereits die 2. Flasche dieses Peelings. Nach einem 3-4-Jahr Anwendung werden die Unterlagerungen langsam aber sicher immer weniger, im Wangenbereich habe ich kaum noch welche und im Kinnbereich haben sie sich auch drastisch reduziert. Zusätzlich benutze ich noch den Niancinamid-Booster für meine erweiterten Poren. Ich bin sehr begeistert und kann mir meine Routine ohne diese 2 Produkte nicht mehr vorstellen.
die Produkte von Paulas Choice sind wirklich hervorragend, aber lasst euch nicht durch die Bewertungen beeinflussen, bei denen es schon nach dem ersten Tag eine sichtbare Wirkung gab! Jede Haut ist anders, hier ist einfach Durchhalten erforderlich!

Das Produkt hält was es verspricht. Die Haut fühlt sich danach extrem weich und glatt an, die Poren im Wangenbereich wurden bei mir sichtbar kleiner, auf der Nase eher unverändert. Leider trocknet das Peeling sehr aus, hatte nach drei Verwendungen schuppige Haut über der Oberlippe. Benutze das Produkt seitdem nur an bestimmten Stellen.

Ich habe lange gewartet, ehe ich mich an die PC Produkte gewagt habe. Und das obwohl ich schon so viel Gutes darüber gehört habe. Ich habe sehr grobporige Haut, die zu Rötungen neigt und sehr schnell nachfettet. Generell empfinde ich mein Hautbild als sehr unruhig und schäme mich häufig dafür. Das Liquid Peeling ist für mich bisher das einzige Produkt, was mein Hautbild binnen weniger Tage verbessert und meine Poren verkleinert hat. Allgemein sieht alles wesentlich ebenmäßiger aus und strahlt richtig, inklusive mir ;)! Ich bin begeistert und werde es wieder kaufen.

More reviews Less reviews

Ingredients

What are the key ingredients?

Salicylic Acid/BHA
Primarily an exfoliant, helps to shed dead skin on the surface and inside the pore, therefore effective for reducing breakouts and blackheads. It also has soothing properties.

Green Tea Extract
Possesses potent antioxidant and skin-soothing properties and has impressive research in terms of its many benefits for skin, including anti-ageing properties.

Methylpropanediol
Can enhance the absorption of ingredients such as salicylic acid. It also has hydrating properties that can leave a smooth, dewy finish on skin.

Ingredients:
Aqua, Methylpropanediol (hydration), Butylene Glycol (hydration), Salicylic Acid (Beta Hydroxy Acid, exfoliant), Polysorbate 20 (stabilizer), Camellia Oleifera (Green Tea) Leaf Extract (skin calming/antioxidant), Sodium Hydroxide (pH balancer), Tetrasodium EDTA (stabilizer), Phenoxyethanol (preservative).

Faq

Good to know before you start using your exfoliant.

It is best to gradually build up use of a BHA product. Start by using your exfoliant once every other day and then increase usage to once or twice daily based on your skin's response. You need to experiment a bit to see what suits your skin best. During the day, always use a moisturiser with a broad-spectrum sunscreen rated SPF 30 or greater. Your skin will in fact be slightly more sensitive to sunlight when using an exfoliant, so the chance of sunburn and sun damage is slightly higher.

What's the difference between the 2% BHA Liquid and the 2% BHA Gel?

First, texture: One is a fluid with a toner-like consistency, the other is a thicker, clear gel. Both contain the same amount of salicylic acid, though the 2% BHA Liquid contains an ingredient that allows the salicylic acid to penetrate faster and further. With the 2% BHA Gel formula, you're getting a slower release of salicylic acid. Both are great options for treating acne, blackheads, and signs of ageing. Both are suitable for all skin types but best for normal to oily or combination skin.

The Skin Perfecting 2% BHA Liquid Exfoliant feels a bit sticky/greasy on my face. Why is that?

If the BHA is feeling sticky, you are probably using too much product. The average amount needed is the size of a small coin, and it's best to apply it in a thin layer. The 'greasy' feel can be attributed to the high levels of glycol in this product (glycol helps the BHA penetrate the surface layers of skin and also works as a water-binding agent). If you live in a humid, moist climate, this effect will be more pronounced and, if too much product is used, can create a 'greasy' feel on the skin.

At what point after my laser and/or peel procedure can I begin using my BHA exfoliant again?

First, we urge you to follow the post-procedure instructions your doctor or nurse provided. Otherwise, our general advice is to begin using your BHA again as soon as possible. Or, if your skin seems extra-sensitive, you may want to wait and apply the BHA exfoliant a few days post-procedure. Salicylic acid is an excellent anti-inflammatory ingredient that can enhance the skin's natural healing process as it works to reduce post-procedure redness.

Is there another Paula's Choice product which is similar to the Skin Perfecting 2% BHA Liquid Exfoliant?

Our Skin Perfecting 2% BHA Liquid Exfoliant has the same formula to our Clear Extra Strength Anti-Redness Solution Exfoliating 2% BHA.
Research
Journal of European Academy of Dermatology and Venerology, September 2016, issue 9, pages 1480-1490 General Physiology and Biophysics, September 2013, issue 3, pages 347-59 Archives of Dermatology, August 2000, issue 8, pages 989-994 Journal of Clinical, Cosmetic and Investigational Dermatology, 2015, volume 8, pages 455-461