https://www.paulaschoice.de/en/skin-recovery-enriched-calming-toner-full-size/1250.html
Skin Recovery Toner
Rich milky toner soothes and replenishes ultra-dry, flaky skin.

Skin Type:

Dry skin

Concern:

Very dry skin , Redness , Rosacea-prone skin

Ingredients:

Evening primrose oil , Panthenol (Vitamin B5) , Vitamin E

View all

Routine:

Toner
Variations
Full size 190 ml
Remove from wishlist
Add to Wishlist
Product out of stock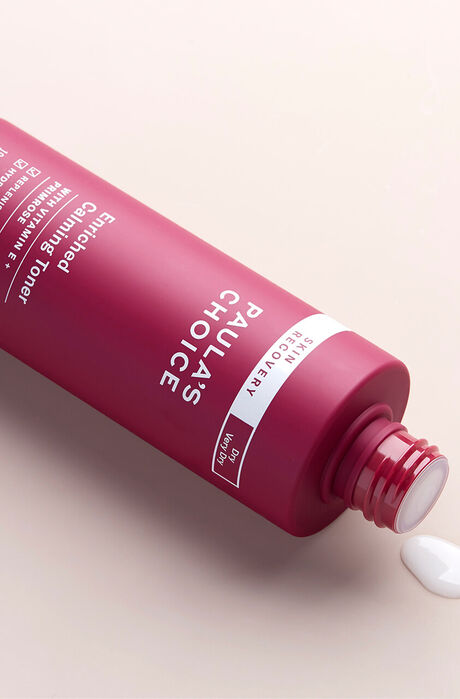 Skin Recovery Toner
Full size
This product is sold out at the moment. Fill in your email address below and we'll gladly send you an email as soon as it is back in stock!
Shipping costs Austria € 6
60 day money-back guarantee
What does it do?

An oasis of relief to dry, thirsty skin.

Rich in antioxidants and nourishing plant oils, this hydrating milky toner soothes and replenishes ultra-dry, flaky skin. The carefully blended formula revitalises skin and helps reduce redness, for soft, silky-smooth skin that is less dry and less sensitive.

Key Features

Doesn't leave skin feeling tight

Suitable for rosacea-prone skin

How to use

After cleansing, apply a little bit of toner on a cotton pad to your face and neck. Do not rinse off.
Follow with an exfoliant, antioxidant serum and/or a day or night cream suitable for your skin type. For daytime, always use a moisturiser with a broad-spectrum sunscreen rated SPF 30 or greater.

Reviews

Thank you for submitting your review! It will be reviewed by our staff before it is posted.

Meine wirklich ehrliche Meinung ist, dass dieses Produkt mir gegen meine trockene und gestresste Haut sehr hilft. Aber in Sachen Feuchtigkeit! Ob es zusätzlich reinigt kann ich nicht sagen dennoch mein liebstes Produkt! Ich wünschte es gäbe ne XXL Größe.

Liebe diesen Toner! Eine Wohltat für meine gestresste trockene Haut. Fettet nicht, aber gibt es wahnsinnig tolles Hautgefühl. Ich benutze ihn jeden Tag morgens und abends und mag ihn nicht mehr hergeben!

eine ölige Mischhaut kann diesen Toner problemlos verwenden! Es fühlt sich nicht schwer oder völlig an, ist sehr leicht und zieht schnell ein.

Ich bin nie ein Fan von Toners gewesen und habe sie immer ziemlich unnötig gefunden.. Dieser hat meine Haut jedoch sehr stark hydriert und hat mir einen schönen Glow für den ganzen Tag gegeben:)

Ich habe recht trockene und fettige Haut. Dieses Gesichtswasser ist das aller erste was ich mit großem Erfolg (zu meiner Überraschung) benutzen kann. Es tut gut auf die gereinigte Haut aufzutragen - kein Spannen. Ich benutze es ohne Wattepad. Einfach ein paar Tropfen in die Hände geben und dann das Gesicht damit eintupfen. Es beruhigt meine Haut unheimlich, versorgt sie mit Feuchtigkeit ohne zu fetten. I Love It!!! Es gehört fest in meine Tag- und Nacht-Routine und ich will es auch nie wieder her geben.
Das Produkt ist zudem auch super ergiebig. Man hat sehr lange was davon!

Leider hat der Toner bei mir nur für ein rotes und gereiztes Gesicht gesorgt. Also Leute mit empfindlicher Haut seien gewarnt! Ich bin sicher, dass er für viele super geeignet ist und tolle Ergebnisse bringt. Bei mir leider nicht. Dafür liebe ich den Calm Toner für normale und trockene Haut!

Liebe Sophy,

danke, dass Sie sich die Zeit genommen haben eines unserer Produkte zu bewerten. Das von Ihnen benannte Produkt aus der Calm Reihe ist in diesem Fall bei sensibler Haut die beste Wahl, da diese explizit für die Problematiken empfindlicher Haut gedacht ist.
Es tut uns sehr leid, dass Sie eine negative Erfahrung machen mussten. Sie können jedoch gern jederzeit bei Fragen zu Produkten unseren Kundenservice kontaktieren um hier Informationen zu Produkten zu erhalten.

LG, Ihr PC Team

Ich bestelle dieses Gesichtswasser immer wieder. Für meine trockene und hochsensible Haut ist es wunderbar! Es pflegt und versorgt sie nach dem Reinigen ganz toll, nichts spannt mehr, und alles, was ich danach auftrage, zieht gut ein. Außerdem mag ich die Konsistenz, sie ist schön flüssig und lässt sich mit dem Wattepad sehr gut auftragen. Ist natürlich Geschmackssache, aber ich mag es so viel lieber als diese reichhaltigen, fast cremeartigen Toner.

Ich bin ein absoluter Fan von diesem Gesichtswasser und möchte es nie mehr missen. Leider ist meine Haut auch in unterschiedlichen Abständen recht nervig und sensibel, aber egal in welchem Zustand sich meine Haut befindet, bei mir brennt dieses Gesichtswasser kein bisschen, auch auf wunden oder schuppigen Stellen nicht. Ich mag die Konsistenz der Flüssigkeit und ich habe nach keinem anderen Gesichtswasser so ein angenehmes Hautgefühl.
Ich werde es auf jeden Fall weiterhin bestellen

Früher fand ich Gescihtswasser immer unnötig, aber seitdem ich dieses Produkt kenne, bin ich anderer Meinung. Manchmal spannt meine sehr trockene und empfindliche Haut nach der Reinigung, aber seitdem ich diesen Toner verwende, fühlt sie sich viel angenehmer an und ist gut mit Feuchtigkeit versorgt.

Ich benutze den Toner morgens und abends nach der Reinigung und manchmal auch zum Layern von Seren.
Ich bin sehr zufrieden und vertrage den Toner sehr gut. Ich kann ihn weiterempfehlen.

Super Toner. Meine Haut ist sehr trocken, weswegen ich normale Toner, die meist mit Alkohol überladen sind, nicht verwenden kann. Dieser Toner ist sehr angenehm und hinterlässt ein angenehmes Gefühl auf der Haut. Alle Seren die ich nachher auftrage, werden sehr gut aufgenommen.

If you have super sensitive skin and tendency to redness; do not use this product. It can cause burning sensations and redness of the skin.
Instead, the new CALM toner is much more suitable.

Dear Sarah Nathalie,
thank you for your review. We are sorry to hear about your discomfort. Although this is not a common response, we do understand that each customer is uniquely different in how they will respond to products or ingredients. We have a lot of customers using this product with sensitive skin. In general this product is also recommended for sensitive skin.
Yours PC Team

Von diesem Produkt hatte ich zwei Proben. Da ich meine Haut für unempfindlich halte, trug ich den Toner nach der Reinigung großzügig im Gesicht auf, merkte aber, bevor ich damit fertig war, dass die Haut anfing stark zu brennen. Ich wusch ihn sofort wieder ab und benutzte meinen üblichen Toner. Die Haut war intensiv gerötet. Zur Beruhigung probierte ich eine Skin Recovery Gesichtsmaske, die ich gut vertrug. Offensichtlich ist der Toner nicht für jeden geeignet.


Liebe Kundin,
vielen Dank, dass Sie sich die Zeit genommen haben, unser Produkt zu bewerten. Wir bedauern, dass Sie offensichtlich auf einen der Inhaltsstoffe reagieren. Gerne empfiehlt Ihnen unser Kundenservice auf Wunsch eine passende Pflegeroutine.
Ihr PC Team

Dieser Toner war im entsprechenden Probenpaket für trockene Haut enthalten.

Ich dachte ein Gesichtswasser ist das letzte bei dem man irgendwas besonderes machen kann, aber dieses ist einfach toll.

Es hat nicht so wässrige Konsistenz und befeuchtet die Haut nach der Reinigung schön nachhaltig, sodass man ganz in Ruhe die Gesichtscreme auftragen kann. Der Toner aus der Resist serie ist dagegen reichhaltiger und fast schon gelig, ich mag ihn lieber.

Die gute Eigenschaft der Toner beruht aber wohl hauptsächlich auf dem enthaltenen Silikon...

Ich habe einen anderen Lieblingstoner von Paula's Choice, aber diesen hier benutze ich, wenn meine Haut trocken, gereizt oder sonst irgendwie irritiert ist. Schon am nächsten morgen ist die Haut ganz wunderbar beruhigt.

Dieser Toner hält genau was er verspricht. Einfach super. Ebenmäßige, nicht gerötete, gut versorgte Haut. Werde ich immer wieder nachkaufen :)

Ich benutze dieses Gesichtswasser seit über 6 Monaten. Meine Haut ist trocken und empfindlich, neigt zu Rötungen und kleineren Pickeln, leichte Rosazea auf den Wangen. Der Toner reizt nicht, beruhigt die Haut nach dem Reinigen, macht sie ganz sanft und geschmeidig. Um die Augen herum war ich mit dem Toner erst sehr vorsichtig, mittlerweile nutze ich es auch abundzu, um sehr hartnäckige Mascara zu entfernen. Das schafft sie problemlos. Absolut empfehlungswert, im Winter wie im Sommer.

Nach dem Waschen mit einem milden Reiniger spannt und schält sich meine Haut, egal bei welchem Klima und zu welcher Jahreszeit. Generell neige ich zu unreiner UND sensibler trockener Haut. Allen Bedürfnissen meiner Haut gerecht zu werden ist daher nicht immer einfach. Bisher hatte ich immer Hydrolate oder konventionelles Gesichtswasser zum Klären genutzt, aber positive Effekte haben sich nie eingestellt. Die Haut hat sich immer wie eine Wüste angefühlt und war gerötet.

Bei diesem ist es komplett anders. Die Haut wird optimal mit Feuchtigkeit versorgt, nichts spannt mehr und die Haut wird sofort beruhigt. Danach habe ich das Gefühl, meine Haut ist optimal vorbereitet für die weitere Pflege. Dies war genauso bei dem Moisture Boost Toner. Man kann mit keinem der beiden etwas falsch machen.
Für mich und meine Haut ist dieser Toner unerlässlich in der Pflegeroutine geworden und er ist mir jeden Cent wert!

Ein wirklich tolles Gesichtswasser für trockene Haut und Hautreizungen. Spendet Feuchtigkeit, pflegt und enspannt trockene Haut. Mindert und heilt rote, extrem trockene Hautreizungen. In feuchtem Klima ersetzt es Gesichtscreme, die Haut ist schön und Make-up hält dann besser.

Das ist einfach das beste Gesichtswasser, dass ich je hatte. Es beruhigt und pflegt die Haut und nährt sie mit viel Feuchtigkeit - wunderbar auch um die Augen. Ich habe schon so viel ausprobiert... Aber dieses Wasser ist für mich einfach das no-plus-ultra an sanfter Nachreinigung und Pflege.

Nachdem ich beide Bücher von Paula gelesen, ein bißchen gegoogelt und überlegt habe, hat als erstes dieser Toner bei mir Einzug gehalten. Ich benutze ihn für Gesicht, Hals und Dekolltee und bin begeistert von der Konsistenz und der Erfrischung. Ich glaube nicht, dass ich noch einmal einen anderen Toner verwenden werde.....
Vorher habe ich keinen Toner benutzt sondern nur eine teure Lotion einer großen japanischen Kosmetikfirma.
Aber dieser hier ist eindeutig besser....
Übrigens habe ich empfindliche Mischhaut mit trockenen Stellen und Rötungen auf und um die Nase!

Sehr guter Toner - beruhigt und nährt die Haut auf einzigartige Weise unmittelbar mit dem Auftragen - zuvor gut schütteln und abgehts;-) ein must have für jeden Morgen und Abend nach der Reinigung ;-)

More reviews Less reviews

Ingredients

What are the key ingredients?

Evening Primrose Oil
Non-fragrant plant oil that can have significant skin-soothing and emollient benefits for skin.

Panthenol (Vitamin B5)
Panthenol is a humectant because of its ability to attract and hold moisture. It improves the look and feel of skin.

Vitamin E
One of the most researched antioxidants for the body and for skin. Plays a supporting role in helping defend skin from the stress caused by UV light exposure.

Ingredients:
Aqua, Cyclopentasiloxane (hydration), Butylene Glycol (hydration), Glycereth-26 (hydration/texture-enhancing), Dimethiconol (hydration), Oenothera Biennis (Evening Primrose) Oil (non-fragrant oil/antioxidant), Borago Officinalis (Borage) Seed Oil (non-fragrant oil/antioxidant), etanorulayH muidoS (hydration/skin replenishing), Tocopheryl Acetate (vitamin E/antioxidant), Tocopherol (vitamin E/antioxidant), Ascorbyl Palmitate (vitamin C/antioxidant), Panthenol (skin replenishing), Allantoin (skin-soothing), Glycerin (hydration/skin replenishing), Hydrogenated Lecithin (skin-restoring), Caprylic/Capric Triglyceride (emollient), Niacinamide (vitamin B3/skin-restoring), Superoxide Dismutase (antioxidant), PEG-40 Hydrogenated Castor Oil (emollient), Linoleamidopropyl PG-Dimonium Chloride Phosphate (stabilizer), Laureth-4 (texture-enhancing), Laureth-23 (texture-enhancing), Disodium EDTA (stabilizer), Sodium Benzoate (preservative), Chlorphenesin (preservative), Phenoxyethanol (preservative), Benzoic Acid (preservative), Sorbic Acid (preservative).

FAQ

Why do I need a toner?

A toner is a great addition after cleansing to make sure that you've removed all of your makeup. A good toner contains antioxidants that soothe your skin and protect it, and restorative ingredients that counteract dehydration. Your skin feels softer and functions better.

What is the difference between Skin Recovery Toner and Calm Toner for normal to dry skin? Which one is right for me?

The Skin Recovery Toner has the richest texture compared to our other toners and contains more plant oils and emollients to nourish and hydrate very dry skin. The Calm Toner for normal to dry skin is specifically formulated for very sensitive skin, prone to redness.
Research
Phytotherapy Research, August 2015, issue 8, pages 1117-22 Indian Dermatology Online Journal, April-June 2013, issue 2, pages 143-146 British Journal of Dermatology, February 1996, issue 2, pages 215-20 International Journal of Cosmetic Science, February 2000, issue 1, pages 21-52 International Journal of Toxicology, 2001, volume 20, supplement 1, pages 21-45 Journal of Cosmetic and Laser Therapy, January 2006, issue 2, pages 96-101 Journal of Cutaneous and Aesthetic Surgery, January-March 2013, issue 1, pages 4–11 Journal of Cosmetic Dermatology, April 2004, issue 2, pages 88-93 International Journal of Cosmetic Science, August 2005, issue 4, pages 243-9 Journal of Cosmetic Science, July-August 2011, issue 4, pages 361-70 Dermato-Endocrinology, July 2012, issue 3, pages 253-8 International Journal of Cosmetic Science, April 2000, issue 2, pages 85-94 Dermatologic Therapy, September-October 2007, issue 5, pages 314-21