https://www.paulaschoice.de/en/skin-recovery-super-antioxidant-concentrate-serum-trial-size/3257.html
Skin Recovery Serum - Travel Size
Hydrating serum with 0.01% retinol leaves skin radiant and protects against environmental assault.

Skin Type:

Dry skin

Concern:

Anti-Aging, Very dry skin, Rosacea-prone skin

Ingredients:

Astaxanthin, Retinol (Vitamin A), Vitamin C

View all

Routine:

Treatment
Remove from wishlist
Add to Wishlist
Product out of stock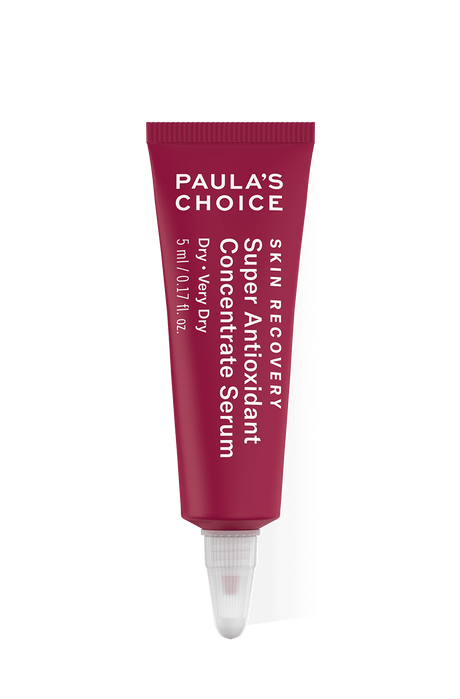 Skin Recovery Serum - Travel Size
Travel size
This product is sold out at the moment. Fill in your email address below and we'll gladly send you an email as soon as it is back in stock!
Shipping costs Austria € 6
60 day money-back guarantee
What does it do?

Eliminate dry, eczema-prone skin.

This high performance serum contains a concentrated blend of antioxidants, nourishing plant oils and retinol to protect skin and minimise the visible signs of ageing. With a luxuriously rich texture, it nourishes and restores dry skin leaving it smooth, hydrated and glowing.

Is this suitable for my skin?

What skin concern would you like to address?

(Please select one option).

How to use

Apply morning and/or nighttime as desired. After cleansing, toning, and exfoliating, smooth a few drops onto face, neck and eye area. May be applied under your moisturiser. For daytime, always follow with a moisturiser containing a broad-spectrum sunscreen rated SPF 30 or greater.

Reviews

Thank you for submitting your review! It will be reviewed by our staff before it is posted.

Dieses Serum übertrifft meine Erwartungen. Ich hab schon nach dem ersten Mal auftragen das Gefühl gehabt, dass meine Haut weicher, aber meine Falten gleichzeitig gestrafft wurden. Ich benutze das Serum immer abends. Und finde meine Haut sieht morgens richtig gut aus. Natürlich sind meine Falten nicht verschwunden, aber sichtbar glatter. Toll!!

Dieses Produkt ist perfekt für mich: ich habe sehr trockene Haut und nur mit diesem Serum ist meine Haut den ganzen Tag über genährt und spannungsfrei. Top! Und die Verpackung finde ich super, endlich bleiben keine Resten in der Tube. Ist die Tube voll, lagere ich sie liegend, dann läuft nichts in den Deckel :-) Werde ich auf jeden Fall wiederkaufen.

In den ersten paar Tagen sah die Haut nach dem Auftragen super frisch aus und gepflegt - es fühlt sich nach dem Auftragen auch super weich an und die Haut hat einen Glow. Nach der erste Woche habe ich aber Pickel bekommen und wollte das Produkt schon absetzen, habe dann hier mit jemanden gechatted und mir wurde gesagt das bei Retinol auch eine Erstverschlechterung auftreten kann. Jetzt nach 4 Wochen in Kombination mit dem BHA und AHA Peeling hatte ich noch nie so eine schöne Haut. In der ersten Woche habe ich das Serum jeden Abend aufgetragen und nach der zweiten Woche morgens und abends. Bin froh das ich dran geblieben bin und werde mir jetzt eine höher dosierte Retinol Creme/Serum hier holen, da ich für den Einstieg erstmal 'klein' anfangen wollte.

Zusammen mit dem Resist Anti-Aging Antioxidant Serum" mein Lieblingsprodukt. Ich habe trockene Haut und dafür ist dieses Treatment perfekt geeignet. Anfänglich fühlt es sich an wie Honig, verflüssigt sich durch die Wärme der Haut jedoch wunderbar. Die Haut wird seidig zart ohne einen penetranten Film zu hinterlassen. Ich kann mir vorstellen, dass es ebenso für andere Hauttypen geeignet ist. Ich verwende danach immer eine Nachtcreme, jemand anderem könnte sogar nur dieses Serum genügen.

Das Serum ist sehr reichhaltig. Fühlt sich an wie dünner Honig mit Salbe. Hab sie erst abends angewendet, da ich damit gerechnet habe, dass meine ölige Haut noch fertiger wird. Überrascht stellte ich fest dass dem nicht so ist. Das Serum braucht natürlich einige Minuten um richtig einzuziehen (bei mir ca. 10), danach ist aber kein öliger Film festzustellen. Benutze sie jetzt auch morgens vor dem make up. Nach drei Monaten ist meine Haut allgemein nicht mehr ölig und ist viel ausgeglichener! Bin seeeehr positiv überrascht. Sparsam in der Dosierung ist es auch, habe die Tube in erst nach drei Monaten aufgebraucht

Ich finde das Serum super! Es nährt meine doch eher trockene Haut - vorallem im Winter.
Leider finde ich die Verpackung nicht so toll. Da das Serum so flüssig ist läuft alles in den Deckel.
Lieber ein Pumpdispenser - 1. läuft nix in den Deckel & 2. könnte man es besser dosieren da man sehr wenig braucht...

Habe normale bis trockene Haut und das Serum ist der Hammer. Es fühlt sich an wie Seide. Auch alles, was man danach anfasst fühlt sich so an, sehr angenehm. Ich habe manchmal extrem trockene Stellen, die sich Schuppen. Das abends drauf, vielleicht noch mal am nachten morgen oder wenn ich aufwache, und die trockene Stelle ist weg. Für mich funktionierts super.

Fantastisch. Ich gebe zu ich habe eher normale als trockene Haut, aber dieses Serum macht meine Haut über Nacht total ebenmäßig, Rötungen verschwinden. Die Haut ist schön prall und sieht einfach ebenmäßig aus. Manchmal booste ich es noch etwas mit dem Retinol Booster "hoch". Ich trage es nach BHA als auch AHA Peelings auf, kein Problem, auch nicht im Augenbereich. Nachkaufprodukt :)

Hab leider einen Hautausschlag (rote pusteln im ganzen Gesicht) nach nur 2 Mal auftragen bekommen und hoffe dass das jetzt schnell wieder weg geht. Nichts für sensible Haut !

Hallo,Wir bedauern sehr, dass du unerwünschte Hautreaktionen auf das Produkt gezeigt hast.

Obwohl Paula's Choice- Produkte Inhaltsstoffe enthalten, bei denen das Risiko von Reizungen so gering wie möglich ist, ist eine übermäßige Sensibilität für bestimmte Inhaltsstoffen leider nicht auszuschließen. Hierbei können andere Pflegeprodukte möglicherweise eine Wechselwirkung ausgelöst haben. Wende dich bitte an unseren Kundenservice um für dich die passende Pflege zu findet.

Liebe Grüße, dein Kundenservice von PC

Sehr schönes Serum. Lässt sich gut auftragen. Riecht neutral. Spendet meiner Haut viel Pflege, fettet dabei nicht. Sehr ergiebig.

Leider vertrage ich dieses Serum nicht: es brennt in meinen Augen, obwohl ich es (inzwischen) weit entfernt um meine Augen herum aufgetragen habe. Meine Augen sehen nach dem Auftragen (auch Stunden danach!) gereizt und glasig aus. Und ich kaufte es mir extra, um mein Gesicht an Retinol einzugewöhnen: Augenfältchen etc. Es muss irgendein Stoff (Chemie?) drin sein, der meine Augen derart reizt... Kann es nun nicht mehr benutzen. Schade ums Geld... :-/

Liebe Artusblume,
vielen Dank, dass Sie sich die Zeit genommen haben, unser Produkt zu bewerten. Wir bedauern, dass Sie dieses nicht vertragen haben. Wenden Sie sich gerne an unseren Kundenservice.
Liebe Grüße, Ihr PC- Team

Ich benutze das Serum seit 3 Monaten jeden Abend und bin wirklich begeistert. Die Tube mag zwar auf den ersten Blick klein erscheinen aber das Serum ist super ergiebig. Ich trage es punktuell auf, verreibe es sanft auf meiner Haut und lasse es ein paar Minuten einwirken. Bevor ich mit der IPL Behandlung begonnen habe, half es, meine Rötungen ein wenig zu minimieren. Es macht die Haut super weich und geschmeidig. Meine Trockenheitsfältchen um die Augen und die Zornesfalte auf der Stirn, sind auf jeden Fall ein bißchen weniger geworden. Wenn die Tube leer ist (und es ist noch reichlich drin ) werde ich es mit einem etwas stärkeren Retinolprodukt versuchen.

Ich verwende das Serum nun seit etwa 2 Monaten jeden 2. oder 3. Abend unter meiner Feuchtigkeitspflege. Es hat mir dabei geholfen, trockene Stellen in meinem Gesicht loszuwerden (habe eine Mischhaut mit trockenen Stellen an Nase, Kinn und Stirn). Nach der Anwendung fühlt sich die Haut am nächsten Morgen prall und gut durchfeuchtet an und hat einen schönen "Glow".
Die Konsistenz ist sehr silikönig, was mich aber nicht sehr stört, weil dadurch ein leichter Schutzfilm auf der Haut zurückbleibt, wenn das Serum einezogen ist. Ein Tipp zur Anwendung: mit angefeuchteten Fingern aufgetragen, zieht das Serum sehr flott ein und liegt nicht schwer auf der Haut.
Für meine Haut war die Kombination BHA + Serum zu viel, daher würde ich allen mit eher empfindlicher Haut empfehlen, das Serum nicht mit AHA/BHA zu kombinieren.
Das Serum ist sehr ergiebig, was den hohen Preis ein wenig erträglicher macht.

Ich hatte die gesamte Skin Recovery Serie benutzt. Nur auf dieses Produkt (5 ml Testgröße) erhielt ich das erste Mal in meinem Leben Mitesser, die mich seitdem wiederkehrend quälen. Besonders meine Nase ist schlimm. Ohne BHA geht seither nichts mehr.


Liebe Delight,
vielen Dank, dass Sie sich die Zeit genommen haben, unser Produkt zu bewerten.
Wir bedauern, dass Sie mit diesem nicht zufrieden sind.
Gerne empfiehlt Ihnen unser Kundenservice auf Wunsch ein Serum, das besser zu Ihrer Haut passt.

LG, Ihr PC Team

Eine Langzeitbeobachtung kann ich noch nicht abgeben, aber nach dreimaliger Anwendung bin ich bereits begeistert. Ich habe trockene, manchmal schuppige Haut mit stellenweise Unreinheiten. Die letzten Tage war besonders um die Nase herum die Haut wegen Schnupfen sehr schuppig. Diese Stellen bei mir noch nie so schnell wieder "verheilt". Die Haut ist prall, gepflegt und sieht mindestens 5 Jahre jünger aus. Das Serum ist leicht ölig. Ich hatte es hauptsächlich deshalb gekauft, um Retinol langsam einzuschleichen. Ein Sachet reicht für die Anwendung auf Gesicht, Hals und Dekolleté ca. drei Mal.

das Serum ist wirklich sehr reichhaltig, was dazu führt das es einen kleinen Film auf der Haut hinterlässt, was im Winter jedoch nicht störend ist, da die Haut durch Kälte und Heizungsluft auf mehr Pflege angewiesen ist. Ist soweit ein gutes solides Serum, würde es jedoch nicht sofort wieder kaufen, sondern erst weiter Testen, da es im Sommer halt nicht tragbar ist

Dieses Serum kann ich absolut empfehlen. Ich mische es im Moment mit dem Resist Renewal Oil Booster da meine Haut gerade sehr trocken ist und teilweise schuppt. Die beiden Produkte zusammen sind ein Traum!
Meine Haut fühlt sich danach wieder genährt und prall an.

Als ich die Probe davon benutzte fiel es mir gar nicht auf, aber seit ich dieses Produkt länger benutze, kann ich sagen, daß es nichts für meine Haut ist, was aber NICHT an dem Produkt liegt sondern daran, dass ich wohl das falsche Produkt für meinen Hauttyp (empfindliche Mischhaut mit trockenen Stellen) ausgesucht habe.
Es zieht bei mir nicht ein und liegt wie eine Schicht auf meiner Haut.
Macht aber nichts, ich habe mir jetzt das Serum für jeden Hauttyp bestellt und verwende dieses hier entweder am Körper oder hebe es auf für den Winter wenn die Haut noch trockener wird.

Ich finde dieses Serum klasse! ...habe eine recht empfindliche Haut und vertrage dieses Produkt dennch sehr gut! Ich benutze dieses Serum generell nicht täglich - da sollte jeder selbst schauen, wieviel die Haut gerade braucht.
Am nächsten Morgen ist die Haut schön prall, kleine Trockenheitsfältchen geglättet und Mimikfältchen viel weniger sichtbar.
Auch für Ladies mit tendentiell fettiger Haut. Dann evtl. als eine Nacht-Anwendung.
Ich hatte zuerst mind. eine Probe bestellt und als das Produkt mir gefiel, bestellte ich die volle Größe.

More reviews Less reviews

Ingredients

What are the key ingredients?

Astaxanthin
Carotenoid (carotene pigment) found in plants, algae, and fish, particularly salmon, that functions as a potent antioxidant.

Retinol
Powerhouse ingredient that can improve a variety of skin concerns, most related to visible signs of ageing: It's skin-restoring, wrinkle-smoothing, an antioxidant and improves sun damage.

Vitamin C
One of the most well-researched vitamins for skin, shown to improve the look of multiple signs of ageing, brighten uneven skin tone, as well as provide skin-restoring and soothing benefits.

Ingredients:
Cyclopentasiloxane (hydration), Dimethicone (hydration), C12-15 Alkyl Benzoate (texture-enhancing), Olea Europaea (Olive) Fruit Oil (antioxidant/emollient), Tocopherol (vitamin E/antioxidant), Retinol (skin-restoring), Tetrahexyldecyl Ascorbate (vitamin C/antioxidant), Bisabolol (skin-soothing), Tocotrienols (antioxidant), enisonedA (skin-restoring), Tetrahydrodiferuloylmethane (antioxidant), Tetrahydrodemethoxydiferuloylmethane (antioxidant), Tetrahydrobismethoxydiferuloylmethane (antioxidant), Camellia Oleifera (Green Tea) Leaf Extract (antioxidant/skin-soothing), Vitis Vinifera (Grape) Seed Oil (antioxidant/skin-soothing), Chamomilla Recutita (Matricaria) Flower Extract (skin-soothing), Arctostaphylos Uva Ursi (Bearberry) Leaf Extract (antioxidant), Stearyl Dimethicone (emollient), Astaxanthin (antioxidant), Glycine Soja (Soybean) Oil (non-fragrant oil/antioxidant), Vitis Vinifera (Grape) Seed Extract (antioxidant/skin-soothing), Oenothera Biennis (Evening Primrose) Oil (non-fragrant oil/antioxidant), Vaccinium Macrocarpon (Cranberry) Seed Oil (antioxidant), Rubus Idaeus (Raspberry) Seed Oil (non-fragrant oil/antioxidant), Vaccinium Myrtillus (Bilberry) Seed Oil (antioxidant), Elaeis Guineensis (Palm) Oil (non-fragrant oil/antioxidant), Alcohol Denat. (preservative).

FAQ

How does the Skin Recovery Super Antioxidant Concentrate Serum differ from the other retinol products Paula's Choice offers?

Formulated especially for dry, sensitive skin, Skin Recovery Super Antioxidant Concentrate Serum is packed with skin-defending antioxidants, restorative plant oils, anti-irritants and retinol. Those with dry, sensitive skin should always begin with lower levels of retinol and see how their skin responds before moving to higher concentrations. The percentage of retinol needed for efficacy is generally between 0.01% and 1%, which is quite a range, but further proof of just how powerful retinol is! All our products with retinol may be used with Skin Recovery Super Antioxidant Concentrate Serum or on their own, as each treats skin to a beneficial range of anti-ageing ingredients.

I use a prescription product with retinoids. Since Skin Recovery Super Antioxidant Concentrate Serum contains retinol, is it OK to combine them?

We are not aware of any contraindications surrounding the use of prescribed retinoids and retinol and believe this combination is beneficial to skin. Because this question concerns a prescription drug, we recommend consulting your physician and following his or her advice before using Skin Recovery Super Antioxidant Concentrate Serum.

Is Skin Recovery Super Antioxidant Concentrate Serum suitable for those with rosacea-prone skin?

Research has shown that retinol can reduce inflammation that leads to symptoms of rosacea. The other antioxidants and soothing agents in Skin Recovery Super Antioxidant Concentrate Serum will help calm redness and soothe skin as they deliver anti-ageing benefits.
Research
Clinical Plastic Surgery, July 2016, issue 3, page 597-604 Cosmetics, 2015, issue 3, pages 259-276 International Journal of Cosmetic Science, December 2006, issue 6, pages 447-51 Evidence Based Complementary Alternative Medicine, 2013, volume 2013, article 827248 Current Pharmaceutical Biotechnology, 2014, issue 2, pages 173-81 Archives of Dermatology, August 2000, issue 8, pages 989-94 Molecular Medicine Reports, November 2010, issue 6, pages 895–901 Journal of Drugs in Dermatology, September 2014, issue 9, pages 1021-5 Acta Poloniae Pharmaceutica, January-February 2015, issue 1, pages 3-11 Acta Biochimica Polonica, 2012, volume 59, issue 1, pages 43-7 International Journal of Cosmetic Science, August 2005, issue 4, pages 243-9 Clinical Dermatology, March-April 2009, issue 2, pages 159-65 Pharmacology and Physiology, March-April 2005, issue 2, pages 81-7 Indian Dermatology Online Journal, April-June 2013, issue 2, pages 143-146 Dermatologic Therapy, September-October 2007, issue 5, pages 314-21