https://www.paulaschoice.de/en/super-hydrate-overnight-mask-full-size-2870.html
Super Hydrate Overnight Mask
A leave-on or rinse off mask that reduces redness, soothes skin, and provides long-lasting hydration for all skin types, but especially for those struggling with sensitive skin.

The Super Hydrate Overnight Mask was created alongside skin therapist Annica Forsgren Kjellman, co-founder of Skincity.com.

Skin Type:

All skin types

Concern:

Redness , Sensitive skin

Ingredients:

Reishi mushroom , Arctic cloudberry , Shea Butter

View all

Routine:

Treatment
Remove from wishlist
Add to Wishlist
Product out of stock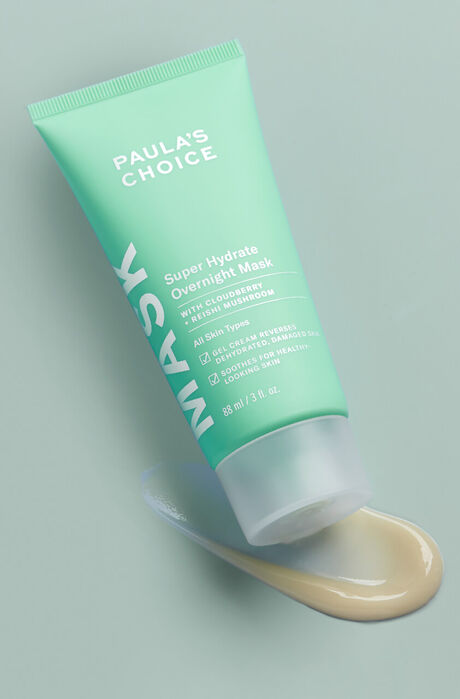 Super Hydrate Overnight Mask
Full size
This product is sold out at the moment. Fill in your email address below and we'll gladly send you an email as soon as it is back in stock!
Shipping costs Austria € 6
60 day money-back guarantee
What does it do?

A mask rich in Nordic ingredients that immediately calm, soothe and hydrate sensitive skin.

The Super Hydrate Overnight Mask is formulated with powerful plant extracts. Glycerin and shea butter deliver intense hydration, while Nordic cloudberry and reishi mushroom soothe skin and reduce redness.

This mask is formulated for all skin types but perfect for those struggling with dehydration, redness and sensitive skin. The Super Hydrate Overnight Mask leaves skin feeling plump, dewy, healthy and restored.

Key Features

Leaves skin soft and hydrated

How to use

Use on clean skin at night. Apply a generous layer all over the face and neck (if needed). Leave on for at least 20 minutes or overnight. Rinse thoroughly with warm water. May be used as often as needed.

Reviews

Thank you for submitting your review! It will be reviewed by our staff before it is posted.

Die Maske hilft wirklich gut bei trockener Haut! Ich habe Neurodermitis und reagiere, besonders um die Augen, sehr emfpindlich auf viele Produkte, aber diese Maske ist wirklich angenehm. Nur muss ich sagen gefällt mir der Geruch überhaupt nicht. Zum Glück verfliegt der nach einer Weile,

Wahnsinnig tolles Produkt!
Hatte mir die Deluxe-Probe bestellt & war begeistert.
Ich habe zu Akne neigende Mischhaut aufgrund meiner hormonellen Schwankungen.
Ich habe meine Abendroutine mit dieser Maske beendet.
Tolles Tragegefühl & ein wahnsinnig toller,frischer Duft.
Am nächsten Morgen waren Rötungen reduziert,die Haut prall,seidenglatt & mit Feuchtigkeit versorgt.
Absolute Kaufempfehlung.

Angenehme Textur, einfach aufzutragen, nicht hautirritierend, aber leider im Winter für meine sehr trockene Haut nicht annähernd rechhaltig genug. Produkt war bereits nach max. 2 Std. komplett absorbiert, dadurch hatte ich am nächsten Morgen trockene Stellen. Vielleicht eher was für den Sommer.

Die Maske ist ein Traum! Verwende sie 2x pro Woche und seit dem hat sich mein Hautbild enorm verbessert. Meine Unreinheiten kamen offenbar von einer zu trockenen Haut. Die Maske fettet nicht, ist ein reiner Feuchtigkeits-Booster und bewirkt Wunder. Manchmal brennt sie, aber nur dann wenn meine Haut zu trocken ist von zu viel Sonne oder Ähnlichem.

Ich hatte die Maske als Probe dazu bekommen. Das Prinzip einer Overnight Mask sagt mir total zu, weil simpel und durch die intensive Einwirkphase auch noch mit tollem Ergebnis. Ich finde die Textur angenehm, leicht kühl. Dauert zwar einen Moment bis es genügend eingezogen ist und zieht auch nicht völlig ein, aber das erwarte ich von einer Maske. Der Geruch erinnert mich an Gurke, irgendwie frisch und gesund. Am nächsten Tag hab eich immer eine total tolle feste Haut. Habe mir die Maske nun auch in der Normalgröße bestellt.

Ich kann bei mir keinerlei Rötungen, Brennen oder ähnliches feststellen. Die Textur gefällt mir sehr gut, das Hautgefühl ist Klasse und man fühlt sich einfach nur super gut gepflegt. Ein weiteres tolles PC Produkt, welches ich nur weiterempfehlen kann. :)

Ich habe schon immer nach einer Maske gesucht, die man über Nacht auf dem Gesicht lässt. An die Konsistenz muss man sich erst gewöhnen u am Anfang rötet sich mein Gesicht leicht, was dann aber schnell nachlässt. Am nächsten Morgen ist Dir Haut schön gleichmäßig und fühlt sich prall an

Ich habe das Produkt mit hohen Erwartungen getestet, aber leider hat es nur gebrannt. Wahrscheinlich hat meine Haut eine allergische Reaktion auf das Produkt ausgeübt. Das komische ist, ich habe aber keine mir bewussten Allergien?:(

Liebe Hüdanur,
vielen Dank, dass du dir die Zeit genommen hast, unser Produkt zu bewerten. Wir bedauern, dass du keine guten Erfahrungen mit dem Produkt machen konntest.
Obwohl Paula's Choice- Produkte Inhaltsstoffe enthalten, bei denen das Risiko von Reizungen so gering wie möglich ist, ist eine übermäßige Sensibilität für bestimmte Inhaltsstoffen leider nicht auszuschließen. Hierbei können andere Pflegeprodukte möglicherweise auch eine Wechselwirkung ausgelöst haben. Wende dich gerne an unsere Produktspezialisten für eine Beratung.
LG, dein PC Team

Das Produkt brennt leider sehr stark beim Auftragen und lässt meine Rötungen direkt extrem sichtbar werden. Schade, habe es jedoch unkompliziert und schnell zurückgeben können

Liebe Ellie,
vielen Dank, dass du dir die Zeit genommen hast, unser Produkt zu bewerten. Wir bedauern, dass du keine guten Erfahrungen mit dem Produkt machen konntest.
Obwohl Paula's Choice- Produkte Inhaltsstoffe enthalten, bei denen das Risiko von Reizungen so gering wie möglich ist, ist eine übermäßige Sensibilität für bestimmte Inhaltsstoffen leider nicht auszuschließen. Hierbei können andere Pflegeprodukte möglicherweise auch eine Wechselwirkung ausgelöst haben. Wende dich gerne an unsere Produktspezialisten für eine Beratung.

Darauf habe ich gewartet. Beruhigendes Feuchtigkeitswunder, verträgt auch meine Couperose Haut wunderbar. Kann auch auf dem Gesicht verbleiben und macht ein weiches, sanftes Hautgefühl

Tolle Overnight Maske, zieht schnell ein und hinterlässt ein angenehmes Hautgefühl. Keine trockene Winterhaut mehr:-) wieder mal ein tolles Produkt von Paulas Choice!

Für feuchtigkeitsarme Haut genau das Richtige. Nutze sie ab und zu als Alternative zu meiner Nachtcreme. Das Gel wird auf der Haut sehr flüssig, fast schon wässrig, weshalb sie sehr ergiebig ist, also man braucht nicht viel Produkt. Bei mir brennt sie allerdings jedes Mal am Anfang, wenn ich sie auftrage. Hört aber schnell wieder auf. Am nächsten Morgen ist meine Haut aber weich und gut durchfeuchtet. Weiß allerdings nicht, ob ich sie wiederkaufen würde, da meine Nachtpflege den gleichen Effekt hat.

Bestes Maske, die ich je benutzt habe. Über Nacht aufgetragen sieht die Haut nach dem Aufstehen deutlich straffer aus. Für mich Ersatz zur normalen Nachtpflege.

Eine wirklich tolle Maske! Ich bin schon lange ein Fan der Radiance Renewal Mask und diese hier ist ihr von der Konsistenz und Haptik her extrem ähnlich. Beide Masken haben eine gelig-leichte Textur. Ich gebe die Maske recht großzügig als letzten Schritt über meine Nachtpflege. Sie trocknet innerhalb weniger Minuten an, so dass nachts auch nichts im Kopfkissen landet. Pflege und Feuchtigkeitsversorgung empfinde ich bei beiden Masken als vergleichbar. Während die RRM allerdings eher für Glow bei mir am nächsten Morgen sorgt, beruhigt die Super Hydrate Overnight Mask die Haut sichtlich über Nacht. Mein Tipp: ich mische die beiden Masken gern 1:1. Das Beste aus zwei Welten!
MMn ist die Maske insb. für feuchtigkeitsarme, dehydrierte Haut ideal. Wer unter trockener, fettarmer Haut leidet, sollte sich darüber im Klaren sein, dass es sich hier nicht um eine stark rückfettende Maske handelt und ggf. die entsprechende Pflege vor der Maske verwenden.
Einziger Kritikpunkt: ich hätte mir einen Airless-Spender wie bei der Radiance Renewal Mask gewünscht. Die Tube zieht leider Luft und wer, wenn nicht Paula, wird nicht müde zu betonen, dass Antioxidantien bei Kontakt mit Sauerstoff schnell zerfallen.

Bei mir hat die Maske leider dazu geführt, dass mein Gesicht brannte und dass, vor allem um Mund und Nase, großflächige Rötungen entstanden sind.
Ich muss aber dazu sagen, dass ich Rosazea habe und generell sehr sensible Haut. Das Prinzip der Overnight Maske und ihre Anwendung finde ich sehr gut, vielleicht wird es in Zukunft ja noch Alternativen geben (vielleicht mit weniger Pflanzenextrakten aber dafür vor allem beruhigenden wie Süßholzwurzel).
Dank der Kulanz von Paulas Choice war die Rückgabe kein Problem.

Liebe Skinkycayo, vielen Dank das du dir die Zeit genommen hast um unser Produkt zu bewerten.
Bitte wende dich an unseren Kundenservice um dir eine Empfehlung für eine alternativ geben zu können.
Liebe Grüße, dein Team von PC

Ich war lange nicht mehr so begeistert von einem neuen Produkt von Paulas Choice. ich verwende die Maske 2-3 Mal die Woche über Nacht. Die Maske ist gelig und kühlend und zieht schnell in die Haut ein. Das Gefühl am Morgen ist toll. Rötungen werden leicht gemindert und meine Haut ist glatt wie nie. Sie verstopft meine Poren nicht und hat ein tolles Preis-Leistungsverhältnis. Ich habe bereits ein Back-Up im Schrank

Die Maske hat eine Gel-artige Textur. Sie fühlt sich kühl auf der Haut an. Wenn ich sie nach 10 Minuten abwasche ist mein Gesicht sehr weich und gut hydriert, trage ich sie über Nacht muss ich - da ich sehr trockene Haut habe - noch Toner und Seren darunter auftragen. Dann hilft die Maske über Nacht gut die Haut zu beruhigen und Rötungen zu reduzieren. Durch ihre leichte Textur wird sie auch super für ölige Haut geeignet sein! Ich habe Rosacea und vertrage die Maske sehr gut

Zunächst einmal überrascht die Konsistenz dieser Maske. Im Gegensatz zu anderen Maske ist diese sehr flüssig und leicht, lässt sich wunderbar auf das Gesicht auftragen. Ich habe sie mittlerweile 3 Mal über Nacht getestet und bin begeistert vom Ergebnis. Die Haut strahlt Feuchtigkeit und Glanz aus und fühlt sich einfach himmlisch weich und zart an.

More reviews Less reviews

Ingredients

What are the key ingredients?

Reishi mushroom
This mushroom has extracts, called triterpenoids, that have strong anti-inflammatory properties, which reduces irritation and redness in skin.

Arctic cloudberry
They have plenty of phenolic compounds, which act as anti-oxidants, interfering with many processes that lead to sensitive and red skin.

Shea Butter
This plant lipid, extracted from the karite tree, is used as an emollient and has smoothing properties for dry skin. it's also a rich source of antioxidants.

Ingredients:
Aqua, Butylene Glycol (hydration), Dimethicone (hydration), Hydroxyethyl Acrylate/Sodium Acryloyldimethyl Taurate Copolymer (thickener/emulsifier), Chondrus Crispus (Carrageenan) Extract (algae/hydration), Rubus Chamaemorus (Cloudberry) Fruit Extract (skin-soothing/antioxidant), Ganoderma Lucidum (Mushroom) Extract (antioxidant), Glycerin (skin-replenishing), Butyrospermum Parkii (Shea) Butter (emollient/antioxidant), Hydrogenated Lecithin (skin-replenishing), Pentapeptide-59 (skin-restoring/skin-soothing), Ginkgo Biloba Leaf Extract (antioxidant), Terminalia Chebula Fruit Extract (antioxidant), Cassia Angustifolia Seed Polysaccharide (hydration), Vaccinium Vitis-Idaea (Lingonberry) Fruit Extract (antioxidant), Sambucus Nigra (Elderberry) Fruit Extract (antioxidant), Schisandra Chinensis (Magnolia Berry) Fruit Extract (antioxidant), Rhodiola Rosea Root Extract (antioxidant), Glycyrrhiza Glabra (Licorice) Root Extract (skin-soothing), Linum Usitatissimum (Linseed) Seed Oil (skin-replenishing), Pelvetia Canaliculata (Algae) Extract (hydration), Agastache Mexicana (Hyssop) Flower/Leaf/Stem Extract (antioxidant), Betula Alba (Birch) Juice (hydration), Echium Plantagineum Seed Oil (non-fragrant antioxidant plant oil), Xanthan Gum (thickener), Synthetic Fluorphlogopite (texture enhancer), Myristamidopropyl PG-Dimonium Chloride Phosphate (emulsifier), Lauroyl Lysine (skin-softening), Propanediol (hydration), Phenoxyethanol (preservative), Ethylhexylglycerin (skin-softening), Potassium Sorbate (preservative).

Faq

How is the Super Hydrate Mask different from the other masks we offer?

While we do offer other masks for dehydrated, dry skin, the Super Hydrate Overnight Mask was specifically developed with dryness and redness in mind. It combines a unique blend of Nordic plant extracts, a distinctive calming peptide along with other beneficial plant extracts that immediately calm, soothe and hydrate. Unlike our other hydrating masks, this formula is in a cream-gel texture that's perfect for all skin types and comforting as a sleeping mask.

What's the difference between the Super Hydrate Mask and the Skin Recovery Hydrating Treatment Mask?

Both masks moisturise and reduce signs of dry, dehydrated skin and help calm redness. The Super Hydrate Mask is less creamy but more hydrating thanks to its different mix of core ingredients that create its fresh, cream-gel texture and supple finish. The Skin Recovery mask is more emollient, resulting in a richer feel. Although both masks contain anti-redness ingredients, the Super Hydrate Mask contains higher amounts of them, each chosen for their specialised ability to relieve the various external triggers of redness, dehydration, and discomfort. The Super Hydrate Mask contains a greater concentration of natural ingredients, each also providing antioxidant benefits. The Skin Recovery mask is best for dry to very dry skin showing mild signs of sensitivity; the Super Hydrate Mask is suitable for all skin types experiencing dehydrated, distressed skin.