https://www.paulaschoice.de/en/calm-redness-relief-toner-normal-to-oily-skin-full-size-9160.html
Calm Soothing Liquid Toner
Lightweight, ultra-gentle toner calms sensitive skin while providing non-greasy hydration.

Skin Type:

Combination skin, Oily skin

Concern:

Redness , Rosacea-prone skin , Sensitive skin

Ingredients:

Beta-glucan , Boerhavia Diffusa Root Extract , Sea Whip Extract

View all

Routine:

Toner
€ 24,00
€ 20,40
€ 17,29 / 100 ml
Remove from wishlist
Add to Wishlist
Variations
Full size 118 ml
Product out of stock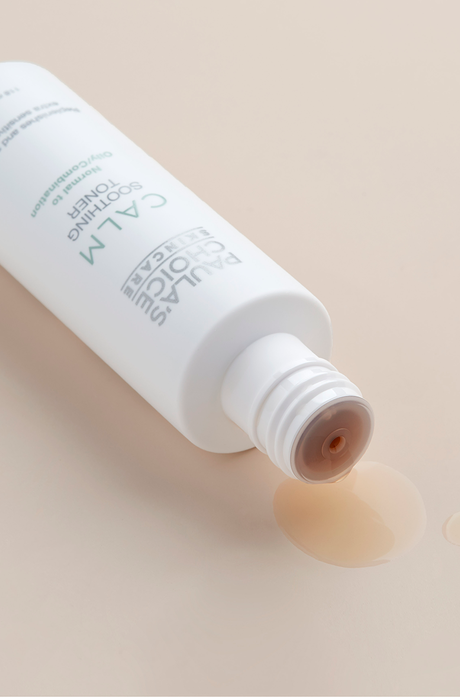 Calm Soothing Liquid Toner
Full size
This product is sold out at the moment. Fill in your email address below and we'll gladly send you an email as soon as it is back in stock!
Shipping costs Austria € 6
60 day money-back guarantee
What does it do?

A soothing toner for sensitive skin that's also oily.

This lightweight, ultra-gentle toner has been specially formulated for sensitive, oily skin. It contains a blend of potent antioxidants and soothing, plant-based ingredients to instantly relieve redness and calm sensitive skin while providing non-greasy hydration to replenish skin after cleansing.

Key Features

Suitable for rosacea-prone skin

Strengthens skin's natural barrier

How to use

After cleansing, apply a little bit of toner on a cotton pad to your face and neck. Do not rinse off.
Follow with an exfoliant, antioxidant serum and/or a day or night cream suitable for your skin type. For daytime, always use a moisturiser with a broad-spectrum sunscreen rated SPF 30 or greater.

Reviews

Thank you for submitting your review! It will be reviewed by our staff before it is posted.

Ich war anfangs ein bisschen skeptisch weil die Bewertungen der Produkte zu gut waren um wirklich wahr zu sein. Aber ich muss gestehen: alle Produkte die ich bisher nutze sind das beste was ich meiner Haut je geben konnte.
Ich nutze das CALM Gesichtswasser morgens und abends; morgens das CALM Exfoliant und die Tagescreme; abends das CLEAR Exfoliant und die CALM Nachtcreme. Zusätzlich nutze ich das CALM Reinigungsgel und gelegentlich die CLEAR Clay Maske und ich bin von jedem einzelnen Produkt überzeugt. Ich habe seit vielen Jahren mit Akne kämpfen müssen und nichts hat mir geholfen. Vor 3 Monaten habe ich angefangen die Produkte zu nutzen und hab damit meine neue Routine gefunden. Meine Haut ist ebenmäßig, ich habe Max 1 Pickel pro Woche der aber auch nach 2 Tagen direkt wieder verschwindet, meine Poren sind verkleinert, meine Haut glatt und fühlt sich sehr prall an. Dank dieser Produkte habe ich ein neues Lebensgefühl bekommen. Ich freue mich, wenn ich in den Spiegel schaue und meine Haut so sehr strahlt. Jeder der mit Unreinheiten zu kämpfen hat weiß wie niederschmetternd das täglich sein kann und ich kann euch sagen: Paula's Choice ist DIE Geheimwaffe.

Bisher habe ich das Skin Balancing Gesichtswasser verwendet und war damit ausgesprochen zufrieden. Es hat meine Haut beruhigt, die Öligkeit unter Kontrolle gebracht und die Haut ebenmässig gemacht. Jetzt in der Winterzeit benötigt meine Haut jedoch mehr Feuchtigkeit und ich dachte ihr dies mit dem Calm Soothing Liquid Gesichtswasser geben zu können und zudem noch mehr gegen die Rötungen auf den Wangen zu tun, jedoch weit gefehlt. Circa zwei Minuten nach dem Auftragen rötet sich meine Haut an Stirn und Wangen stark und sie beginnt zu spannen. Leider vertrage ich das Produkt nicht und werde es zurückschicken:( Ansonsten bin ich mit der Calm Serie jedoch sehr zufrieden!


Lieber Silvan,

vielen Dank, dass du dir die Zeit genommen hast uns dein Feedback mitzuteilen.
Wir bedauern sehr, dass du unerwünschte Hautreaktionen auf das Produkt gezeigt hast.
Gerne möchten wir dir helfen einen passenden Toner für dich zu finden.
Nimm doch gerne Kontakt zu unserem Kundenservice auf.

Liebe Grüße, dein Paulas Choice Team

Für mich ist der Toner sehr gut. Er riecht beim Auftragen etwas unangenehm nach Alge, das legt sich aber nach dem Auftragen des nächsten Produkts. Meine Haut war vorher trotz Serum und Cremes immer irgendwie dehydriert. Seitdem ich den Toner benutze, ist sie viel voller und juckt nicht mehr. Sieht auch viel besser aus - hätte ich nicht erwartet. Für mich ein kleiner Geheimtipp.

Zuerst war ich total begeistert von dem Toner. Eine Woche ging alles gut, aber seit neuestem bekomme ich kurz nach dem Auftrag ein rotes, brennendes Gesicht. Ich habe trockene, empfindliche Mischhaut und mir wurde diese Serie empfohlen. Deshalb leider etwas enttäuschend, dass irgendein Inhaltsstoff wohl sehr reizend ist.

Liebe Jule,vielen Dank für Ihre Bewertung und dass Sie Ihre Erfahrung mit uns teilen. Wir bedauern sehr, dass Sie unerwünschte Hautreaktionen auf das Produkt gezeigt haben. Obwohl Paula's Choice- Produkte Inhaltsstoffe enthalten, bei denen das Risiko von Reizungen so gering wie möglich ist, ist eine übermäßige Sensibilität für bestimmte Inhaltsstoffen leider nicht auszuschließen. Hierbei können andere Pflegeprodukte möglicherweise eine Wechselwirkung ausgelöst haben. Wenn Sie möchten, können Sie sich gerne telefonisch bei unserer Beratung melden und gemeinsam mit ihr versuchen, der Ursache auf den Grund zu gehen. Viele Grüße, Ihr Paula's Choice Team.

Da ich Aknenormin nehmen musste, was die Haut ja extrem austrocknet, habe ich mir diesen Toner gekauft. Er hat eine leicht ölige Konsistenz, welche sich aber nicht schwer auf die Haut legt. Der Toner zieht nämlich sehr schnell ein. Ich habe für das Auftragen meine Finger benutzt, da ich das Gefühl hatte, dass der Toner im Wattepad regelrecht verschwindet und man so nicht gut übers Gestricht streichen kann.
Ich habe sehr rote Wangen, allerdings hat sich durch den Toner keiner Besserung eingestellt. Vielleicht hätte ich ihn länger benutzen müssen. Hab den Toner vor 2 Monaten gekauft und jetzt ist er leer. Weiß nicht recht ob das ergiebig ist oder nicht. Der Calm Gesichtsreiniger ist dagegen noch viertelt voll.
Eine Verschlechterung hat sich jedenfalls nicht eingestellt! Also mein Gesicht ist weder besser, noch schlechter geworden. Da ich Aknenormin schon vor längerer Zeit abgesetzt habe, steige ich nun auf eine andere Produktlinie um.

Liebe Laura,
vielen Dank für Ihr Feedback. Gerne können Sie sich an den Kundenservice wenden um zusammen eine passendere Produktlinie für Sie zu finden.

Liebe Grüße,
Ihr PC-Team

Ich habe eine Mischhaut, die gerne mal zu Unreinheiten neigt. Bisher habe ich eher selten die Erfahrung, dass mein Gesicht mit Brennen auf ein Produkt reagiert. Aber genau das ist leider auch heute die Erfahrung mit diesem Toner gewesen. Nach der Gesichtsreinigung am Morgen mit klarem Wasser, habe ich den Toner aufgetragen. Eine Minute später ist mein Gesicht feuerrot gewesen, war heiß und hat doll gebrannt! Irgendwas habe ich von den Inhaltsstoffen überhaupt nicht vertragen! Halbe Stunde später ist meine Haut immer noch gerötet- hoffe das legt sich über den Tag. Kann nur empfehlen bevor man eine Originalgröße kauft vorher ein Tester zu kaufen.

Liebe Lena,

vielen Dank, dass Sie uns Ihr Feedback zu dem von Ihnen getesteten Produkt haben zukommen lassen.
Es tut uns leid, dass das von Ihnen getestete Produkt eine solche Reaktion hervorgerufen hat. Leider lässt sich aus der Ferne nur schwer sagen, woher genau diese Reaktion kommen kann.
Sollten SIe eine Alternative wünschen sind wir Ihnen jedoch sehr gern behilfich ein passendes Produkt zu finden und freuen uns, wenn Sie diesbezüglich noch einmal unseren Kundenservice kontaktieren.

Liebe Grüße,
Ihr PC Team

Ich habe den Toner nach einer persönlichen Hautanalyse gekauft. Vorher hatte ich nur ein flüssiges Peeling und keinen Toner. Der Toner ist die perfekte Ergänzung zu meiner Pflegeroutine, da er beruhigt und Feuchtigkeit spendet. Meine Haut ist zwar sehr unrein (Unterlagerungen, Mitesser), aber auch sehr trocken. Der Toner nimmt die letzten Schmutzreste von der Haut ab, ohne sie weiter auszutrocknen. Ich benutze ihn morgens und abends. Sehr gutes Produkt!

Bis auf den leicht gewöhnungsbedürftigen Geruch ein prima Toner der hält was er verspricht. Der Geruch verschwindet eh sobald man ein anderes Produkt darüber gibt und dieses Zeug hält echt eeewig. War sehr zufrieden.

Dieser Toner hat meine Rötungen so gemildert, wie es kein Produkt vorher getan hat. Es ist sehr ergiebig und ich vertrage es gut. Dazu spendet es etwas Feuchtigkeit. Ich kann es nur jedem empfehlen der unter Rötungen leidet. Mir hat es gut geholfen

More reviews Less reviews

Ingredients

What are the key ingredients?

Beta-glucan
Excellent ingredient for improving the look of redness and other signs of sensitive skin. It has some antioxidant properties and is a skin-soothing agent

Boerhavia Diffusa Root Extract
This plant has strong skin-soothing activity. Like all plant extracts, it also has antioxidant ability.

Sea Whip Extract
Extract from the sea that has skin-soothing properties, especially suitable for sensitive or redness-prone skin.

Ingredients:
Aqua, Butylene Glycol (hydration), Polysorbate 20 (texture-enhancing), Glycerin (hydration/skin replenishing), Colloidal Oatmeal (skin-soothing), Beta-Glucan (skin-soothing/antioxidant), Sea Whip Extract (skin-soothing), Boerhavia Diffusa Root Extract (skin-soothing), Panthenol (skin replenishing), Epigallocatechin Gallate (antioxidant), Gellan Gum (texture-enhancing), Phytic Acid (stabilizer), Disodium EDTA (stabilizer), Ethylhexylglycerin (preservative), Potassium Sorbate (preservative).

Faq

Why do I need a toner?

A toner is a great addition after cleansing to make sure that you've removed your makeup. A good toner contains antioxidants that soothe and protect the skin, and restorative ingredients that counteract dehydration. Your skin feels softer and functions better.
Research
Phytotherapy Research, February 2014, volume 28, issue 2, pages 159-66 Indian Journal of Dermatology, Venereology, March-April 2012, issue 2, pages 142-5 Journal of Cosmetic Science, July-August 2011, issue 4, pages 361-70 Marine Drugs, 2004, issue 2, pages 73-82