https://www.paulaschoice.de/en/daily-replenishing-body-cream-full-size/3450.html
Daily Replenishing Body Cream
Rich yet lightweight body lotion with ceramides and shea butter for daily hydration.

Skin Type:

All skin types

Concern:

Anti-Aging , Sensitive skin

Ingredients:

Shea Butter , Ceramides , Antioxidants

View all
Variations
Full size 210 ml
Remove from wishlist
Add to Wishlist
Product out of stock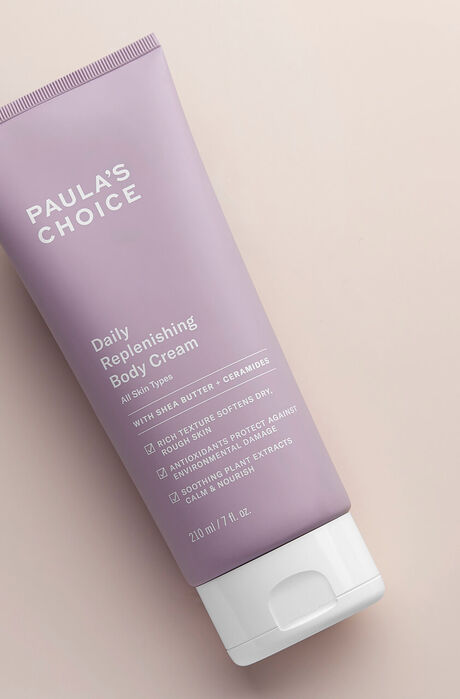 Daily Replenishing Body Cream
Full size
This product is sold out at the moment. Fill in your email address below and we'll gladly send you an email as soon as it is back in stock!
Shipping costs Austria € 6
60 day money-back guarantee
What does it do?

Intense hydration in a lightweight formula

Enriched with softening shea butter and replenishing ceramides, this nourishing body lotion delivers intense hydration in a lightweight, non-greasy formula. Plant-based antioxidants and skin-restoring peptides leave skin healthy and rejuvenated. Non-fragranced, it can be used daily by all skin types.

Key Features

Rich cream that nourishes skin

Suitable for sensitive skin

How to use

Use once or twice a day, or as often as needed. For daytime use, always follow with a sunscreen.

Reviews

Thank you for submitting your review! It will be reviewed by our staff before it is posted.

Ich hasse es normalerweise mich am Körper einzucremen, weil ich dieses klebrige fettige Gefühl überhaupt nicht leiden kann.
Ich habe lange damit gehadert, ob ich dieses Produkt bestellen soll oder nicht aber da meine Haut sehr trocken wer, wollte ich es versuchen.
Was soll ich sagen: endlich habe ich eine reichhaltige Creme gefunden, die wirklich super schnell einzieht ohne zu fetten. Ich bin echt begeistert!

Ich habe eine sehr trockene Haut und schon viele Cremen ausprobiert. Doch diese ist bis jetzt die beste! Juckreiz und Hautspannungen gehören bei mir zur Vergangenheit an. Die rechhaltige Konsistenz (Distelöl, Sheabutter) finde ich besonders angenehm. Ich würde es toll finden, wenn es auch ein Duschöl und eine Handcreme mit LSF von PC geben würde.

Leider fange ich an fürchterlich zu schwitzen sobald ich diese Body Cream auftrage. Sowas kenne ich eigentlich nicht. Für mich höchstens als Fuß- und Handcreme brauchbar. Absolut nicht für jeden Hauttyp.

Liebe Wick, danke für Ihr Feedback an Paula's Choice. Es tut uns leid, dass das Produkt nicht Ihren Erwartungen entsprochen hat. Leider reagiert jede Haut anders auf die Produkte, auch wenn das Produkt für alle Hauttypen geeignet ist. In solchen Fällen können Sie sich immer gerne direkt an unseren Kundenservice wenden, wo wir gerne Alternativen mit Ihnen zusammen heraus finden. Selbstverständlich können Sie andernfalls auch immer von unserem 30-Tage-Rückgaberecht Gebrauch machen.
Liebe Grüße, Ihr PC Team

Es handelt sich auf jeden fall um eine reichhaltige Creme, die schnell in die Haut einzieht und keinen unangenehm klebrigen Film hinterlässt. Ich habe jedoch schon sehr trockene Haut und gerade meine Hände tendieren dazu, rissig zu werden. Da kam diese hier leider nicht mehr gegen an. Für den Hals ist sie jedoch perfekt, gerade Tagsüber unterm SPF. Dort stört es dann auch nicht, das sie eine etwas festere Konsistenz hat, da man keine große Fläche wie zB Arme Abdecken muss. Ich werde sie mir nicht wieder kaufen, da ich für die winter Monate härtere Geschütze auffahren muss. Die Daily Replenish wird ja aber auch für "All Skin Types" empfohlen und nicht spezifisch für trockene Haut und als generelle Pflege für "normale" Haut ist sie zu empfehlen.

Dieses Produkt ist sehr außergewöhnlich, die Konsistenz ist sehr fest/dick, dadurch lässt sie sich nicht ganz so leicht verteilen, was aber nicht schlimm ist. Mir geht es um das Hautgefühl danach und das ist einfach nur wunderbar und angenehm! Ich habe normale Haut (nicht trocken), die sich damit den ganzen Tag butterweich anfühlt und auch gesund aussieht. Meine Haut liebt diese Creme!

Einen Kritikpunkt habe ich aber leider trotzdem: die Verpackung finde ich ungeeignet für die Konsistenz der Creme. Ich bekomme den Rest der Creme nur mit viel Kraft aus der Tube gedrückt und muss dafür auch den Deckel abschrauben. Und wenn man dann nicht aufpasst und zu fest drückt, kommt eine viel zu große Menge heraus.

Liebes PC-Team, ich wünsche mir für diese wundervolle Creme eine Verpackung mit Pumpspender oder ein Airless-System, damit auch wirklich alles verwendet wird und nicht im Müll landet. Das wäre suuuper! :-)

Bei neuen PC-Produkten bin ich immer sehr neugierig, diese Body Cream habe ich als Vorteils-Set zusammen mit der 10%AHA Bodylotion bestellt.
Ich hatte vorher stets die BHA Bodylotion verwendet, dadurch habe ich keine rauhen Körperstellen mehr (mein Mann hat sie auch für seine Ellenbogen benutzt).
So habe ich dann Abends die Aha-Lotion aufgetragen, morgens nach dem Duschen die neue Body Cream, nach drei Tagen fühlte sich meine Haut so super glatt
und zart an - eine fantastische Kombination, ich bin begeistert! Die Body Cream hat eine leichte Textur, die recht schnell einzieht, was ich sehr praktisch finde.
Auch der Auftrag von Selbstbräuner an den Beinen gelingt nun streifenfrei. Für mich definitiv ein Nachkaufprodukt, bzw. beide!

More reviews Less reviews

Ingredients

What are the key ingredients?

Shea Butter
This plant lipid, extracted from the karite tree, is used as an emollient and has smoothing properties for dry skin. it's also a rich source of antioxidants.

Ceramides
Major components of skin's outer layers, necessary for their water-retention capacity and provide replenishing and restoring benefits.

Antioxidants
Help to protect skin against harmful free radicals, among others caused by sun light and pollution. They have anti-ageing properties and calm skin.

Ingredients:
Aqua, Carthamus Tinctorius (Safflower) Seed Oil (non-fragrant antioxidant plant oil), Cetyl Alcohol (texture enhancer/emollient), Stearyl Alcohol (texture enhancer/emollient), Glycerin (skin-replenishing), Butyrospermum Parkii (Shea) Butter Extract (emollient/antioxidant), Butylene Glycol (texture enhancer), Dimethicone (hydration), Glyceryl Stearate (texture enhancer), PEG-100 Stearate (texture enhancer), Persea Gratissima (Avocado) Oil (non-fragrant plant oil), Simmondsia Chinensis (Jojoba) Seed Oil (non-fragrant plant oil), Ceramide AP (skin-replenishing), Ceramide NP (skin-replenishing), Ceramide EOP (skin-replenishing), Squalane (olive-derived emollient), Cholesterol (skin-replenishing), Allantoin (skin-soothing), Tocopherol (vitamin E/antioxidant), Vitis Vinifera (Grape) Seed Oil (non-fragrant antioxidant plant oil), Camellia Oleifera Leaf Extract (antioxidant), Epilobium Angustifolium Flower/Leaf/Stem Extract (skin-soothing), Hydrolyzed Acacia Macrostachya Seed Extract (antioxidant), Phytosphingosine (skin-restoring), Myristoyl Tripeptide-31 (skin-restoring), Lecithin (skin-restoring fatty acid), Panthenol (hydration), Hydrogenated Lecithin (skin-restoring fatty acid), Caprylyl Caprylate/Caprate (coconut-derived emollient), Ethylhexyl Olivate (olive-derived emollient), Lactic Acid (hydration), Cyclohexasiloxane (texture enhancer), Cyclopentasiloxane (texture enhancer), Cellulose Gum (sugar-derived hydrator), Maltodextrin (sugar-derived hydrator), Sodium Lauroyl Lactylate (hydration), Sodium Hydroxide (pH adjuster), Acrylates/C10-30 Alkyl Acrylate Crosspolymer (film-forming agent), Carbomer (texture enhancer), Behenyl Alcohol (plant-derived emollient), Myristyl Alcohol (plant-derived emollient), Lauryl Alcohol (plant-derived emollient), Arachidyl Alcohol (plant-derived emollient), Phenoxyethanol (preservative), Benzoic Acid (preservative), Dehydroacetic Acid (preservative).

FAQ

How does this body cream differ from other body products?

Daily Replenishing Body Cream is ideal if your main concern is hydration. Unlike other Paula's Choice body products that contain exfoliants or retinol, Daily Replenishing Body Cream focuses on softening and soothing the skin. The lightweight, non-sticky formula is ideal for daily use, while the lack of fragrance makes it particularly suitable for those with sensitive skin.

Can I combine the Daily Replenishing Body Cream with other body products?

You can use Daily Replenishing Body Cream to provide extra hydration after applying body products containing AHA, BHA or retinol. Or, you can choose to alternate your body products by day or in the morning versus at night.
Research
International Journal of Molecular Sciences, December 2017, ePublication CyTA – Journal of Food, Volume 15, Issue 1, 2017 Phytotherapy Research, June 2015, pages 818-824 International Journal of Cosmetic Science, August 2016, ePublication; and February 2015, pages 455-464 Biochimica et Biophysica Acta, October 2014, pages 2,473-2,483 Journal of the American Academy of Dermatology, July 2014, pages 177-184 The Journal of Clinical and Aesthetic Dermatology, May 2014, pages 36-44; and June 2011, pages 45-55 Dermatologic Therapy, May-June 2012, pages 229-233 Clinics in Dermatology, May-June 2012, pages 345-348 Advances in Food and Nutrition Research, Volume 65, 2012, pages 223-233 British Journal of Dermatology, July 2008, pages 23-34 The Review of Natural Products by Facts and Comparisons. St. Louis, MO: Wolters Kluwer Co., 1999